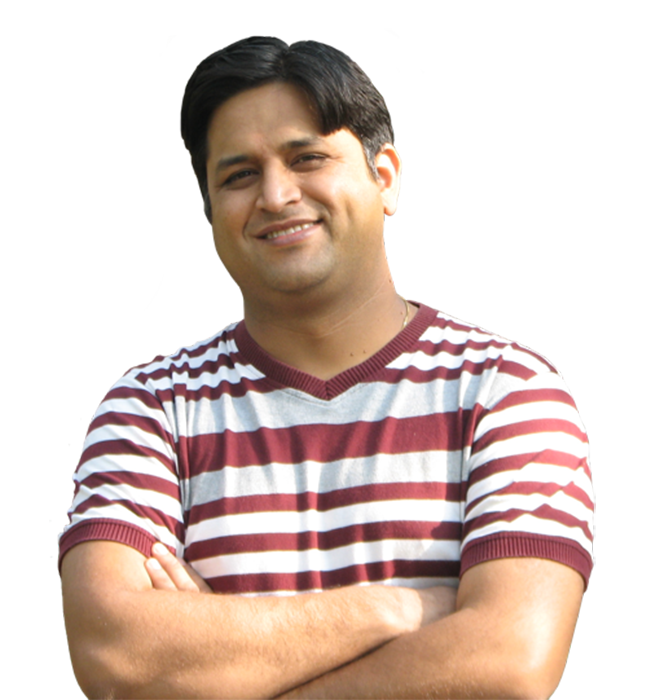 Hi, I am
Avinash Chandra
Branding, Integrated & Digital Marketing Consultant and Founder of BrandLoom Consulting.
I help companies generate more revenue through digital marketing. I have successfully led the Business and Marketing operations of several large & small; American, European, Chinese & Indian Brands and Startups. In totality, I have worked with over 100 Brands during my 21 years of professional career with a proven track record of Building Sustainable & Profitable Businesses.
If you have a dream and a purpose; I am here to help you transform your brand. Together, we can maximize profits and help you build a unique brand that will set you apart from the crowd.




I BELIEVE IN CONSUMER CENTRIC, connected, profitable & sustainable BRANDS.
I believe in Brands and startups that Truly Help consumers. Yes! A Brand is out there to make profit. However, unless you connect and truly help a consumer, your chances of survival are zero in this digital world. It is no longer about attacking or defending, but about finding what you can do profitably.
I don't believe that established businesses can't be agile and connected like the upcoming digital startups. Instead I believe that they can play from their point of strength which is their brand, data, and consumer base to make sure that all of their strengths are leveraged and used equally well in the digital world.
I don't believe that a startup just needs to be an aggressive attacker and use discounting (with investors money) as a strategy to build their business. Instead I believe that by finding their niche and connecting with their prospective consumer at the right point of time, a startup can find their MOJO.




_Reimagine.
Your Business Impact.
Deploy Branding, Digital & Design Strategies to Accelerate your Business Growth. Let us Work Together.
So if you are looking for practical, tried & trusted and complete information on application digital marketing principles then I can help you get the results.
It does not matter what your desired result is. You might be looking to:

Start an online business with little or no capital.
Grow your business online with limited investments.
Perform well in your existing role to get that promotion.
Get that dream job that you have always wanted.
However, before you start your journey of amazing learning with me, let me share how it all started for me.
I was always fascinated with brands, and particularly with those which formed a deep connection with consumers. Even before I started my graduation, I was clear this is where I want to build my career. Well, in India, such a career was a strict no-no, as parents always wanted to see their children become a Doctor or an Engineer.
But, somehow I saved my life and became an engineer only to find that I needed more. Finally, I found my calling. I studied and pursued a career in marketing, which I have thoroughly enjoyed so far.
While studying, I started gravitating towards Digital (so-called Cybermarketing way back in 1999). The desire to learn more led me to demand my Alma mater, MDI, Gurgaon to start a course on Cyber Marketing.
However, studying digital marketing was one thing and using it was another. It took me several years to actually use it for a marketing campaign in 2006. For the last decade, I have been using it in some or other form on the job and while trying my ventures.
During my journey, I learned a lot about brands and how technology can enable the amplification of brands.
I helped several established brands, and startups find their mojo in the last 5-6 years. BrandLoom was a culmination of that approach. However, with limited time in hand, I started feeling that there is a lot, that everyone can benefit from. Therefore, I started working on this blog and several books.
On this portal, I will enable you to build skills and capabilities to meet Consumers demands. You will be able to grow your revenue and profit by improving operational performance, deliver your products and services more effectively & efficiently.
Most of you (and me) grew up learning in the formal education system. Anything which is not taught in the classroom and does not provides a degree at the end of the day in not considered to be useful.
Here's the brutal truth – you have limited time.
You have limited time to prove yourself in a job.
You have limited time to build your own business.
So are you going to search for formal courses before you start growing your business? What you are going to learn today could be obsolete tomorrow. The best learning happens when you are into it and taking appropriate actions.
A couple of months back, a startup approached me. The Founder/CEO said, "we have been doing well on online marketplaces; however, our conversion rates on our website and mobile app sucks".
I asked them "what is pulling you down?"
His answer surprised me. "I am not sure; we have been spending lots of money to drive traffic to our website from Facebook and Google. But conversions rates are horrible."
Well, the beauty of the digital ecosystem is that you can deep dive and identify what is working and what is not.
This is what you will learn on this portal.
I will show you how to build a "Digital Brand Commerce" ecosystem to help you achieve your business or career objectives.
There are a lot of elements to build digital excellence. Digital is an ecosystem, and one activity feeds into another. So if you do not play all your cards right, you will have an unbalanced strategy. Anything unbalanced cannot stand on its feet, leave alone delivering results for your business or your career.
Just reading stuff here and there will not help you build your business or career as there is no proven system available anywhere in the world. Most of the "digital experts" talk about one or the other part as if that is the only thing that drives digital excellence.
Let me set it straight.
Trying harder doesn't work.
You need a practical system to advance your business or career. I will show you the exact system I have used to build brands and businesses.
So with "Digital Brand Commerce" system, just focus on building your career and brand instead of worrying about being on the right path.
That's what I offer HERE. No gyaan. No hiding of real techniques. No BS. No random tactics. Just tested step-by-step systems that work in the real world.
IMPORTANT LINKS
AVINASH CHANDRA IN MEDIA
AVINASH CHANDRA ON SOCIAL MEDIA