Just finished your education? Are you Looking for a job to kickstart your career or want to be on your own? Are you Looking for a job to kickstart your career or want to be on your own?
It takes some courage to start a business on your own especially with added budget constraint.
Yet do you know that from all-time topper of global wealth-chart, Bill gates to the fairly new entrant Mark Zuckerberg, all started their successful entrepreneur journey as a beginner?
Nobody is expecting you to start at the top of the ladder. You just need a good idea with bursting potential. Scouting the internet for an hour may provide you many contents that talk about business ideas. So, what's different about this post then?
Small and new business ideas demand time and energy rather than your monetary prowess. Whether you have finished schooling recently or about to graduate, we have got business ideas for everyone.
If you want to be on your own here some Business Ideas for beginners looking for a profitable business?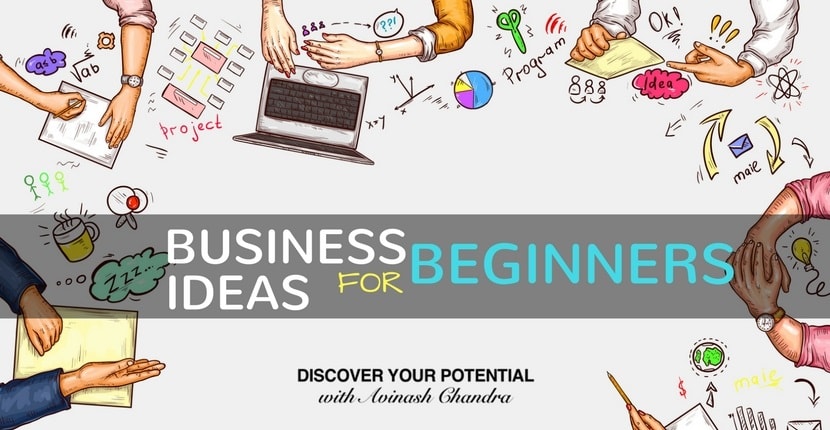 Business Ideas for Beginners in India
As a youngster in India, you can take advantage of tremendous market size. You will be surprised to see that opportunity exist everywhere for a small and medium sized startup. You just need to go out there and spot one you are passionate about.
Most executives, many scientists, and almost all business school graduates believe that if you analyze data, this will give you new ideas. Unfortunately, this belief is totally wrong. The mind can only see what it is prepared to see
1 Photography
If you are creative and have an eye for aesthetic details, photography can offer you a lot. Unlike old generation, the new crop of youth finds it more appealing. This change can be attributed to rise of media and fashion industry.
Assuming, photography is more than a hobby for you, a High-Definition camera is already part of your wardrobe.
So, the only investment on your part is to spare some time in building a profile online. You can take up independent projects or tie up with studios to get the ball rolling.
You can also connect with apparel brands and start-ups who want lifestyle and product shoot images for their websites.
Following are the range of fields that offers a great opportunity to build your photography business
Wedding Photography
Wildlife Photography
Fashion Photography
Industrial Photography
Press photography
Scientific Photography
The best part of photography is, its constantly evolving with new technologies. So, you will always have something new to learn every day.
If you are fairly new to photography you can join as an assistant to a senior photographer or improve your skills through certification/degree offered by many institutes such as
International school of photography, Hauz Khas, New Delhi
Academy of Photography, Kolkata
Pictures are becoming powerful medium to tell a story. If you have the right talent and imagination power to present your ideas visually through photographs, you certainly belong to this space.
2 Food Truck
Food on the go is trending in India. Most of the people do not prefer or have time to go out and eat. They want the food to travel to them. Moreover, running a mobile food business definitely cost less than a brick and mortar restaurant.
Food truck offers you one such budget friendly business idea to earn some quick bucks.  Don't panic! we are not asking you to buy a truck. You can rent it until your business expand to a limit where you can buy one. Operating a food truck requires you to have simple skills, basic facilities and of course a relatively small amount of capital.
There are success stories to inspire you where people started a basic food-on-wheels business and converted them into multimillion industry. Prem Ganapathy, one among India's richest entrepreneurs started his food business by renting a hand-cart for INR 150 a month. He sold idlis and dosas opposite Vashi station, Mumbai. Today, he owns a chain of luxury restaurants across the world.
Food truck offers you low-cost-high-returns business that has growing appeal among the urban masses. If you have culinary arts degree or have fond love for food, this is the ultimate idea to grow your business on.
3 Tour guide
Do you have an excellent communication skill? Do you like storytelling and have a sharp memory? Do you love planning a travel with maximum utilisation of budget and resources?
If your answer to all these questions is YES then opening up a tour guide business should be on top of your mind. Be it school-trips, college-tour or tourist-travels, people need someone experienced, knowledgeable to arrange their trips and guide them through. Especially when people have little time, they want quick and effective way of covering all the destinations of their choice.
The best part of being a tour guide is you don't have to spend any money to start this business. All you need is to have a website where you can
Share experience and stories about the places you have been to.
Suggest good and affordable hotels and restaurants.
Advise people about dos and don'ts for a specific destination.
Inform people about must visit places, its timing and mode of transportation.
In the last couple of years, India has seen a significant rise in the number of foreign tourists. The revenue for tourism industry has also increased multi fold. These are the positive signs for anyone aspiring to open up a tour-guide business.
4 Sports Coaching
India basks on the rich sports culture and has become a hub for competitive sports of all kinds. Talk about any sport today and you will find there is more money involved than ever. No wonder, youngsters are finding it more appealing to choose sports as their prospective career.
The growing trend of sports has benefitted the coaching institutes/academies a lot. More and more number of people are looking out for smart and skilled coaches who can teach them the basics and improve their techniques.
If you have been involved in any of the major sports and have the zeal to help people with your experience and expertise, this field calls for you. You can start coaching school students or community members, or you may choose to coach one on one basis. You can build your brand value over time and catch the attention of sport academies looking to hire independent coaches.
5 Translation Service
Translation services have taken giant leap in recent years(1). Due to rapid globalization, multi-national companies need their documents to be translated into different languages. The lack of a common language has made it difficult to orchestrate the meetings in many cases. Thus, translators are high in demand.
In India, a translator on an average is paid anything between 4-5 lacs/year. There are many city-based translators operating independently. They help overseas businesses convert Technical literature, books, software codes, marketing documents into the language of their choice. Even audio and video recordings are being translated from one foreign language to other.
You would be happy to know, setting up a translation business does not cost much. The only thing you need is to have fluency in any of the foreign languages.
There are some institutes that provide certificates/diploma in foreign languages
6 Night Food Delivery
Hungry at night? Need someone to save you from hunger?
Just shout "Night Food Delivery", the ultimate saviour.
How many times we crave for food while studying or working late at night. The person who started this idea might have gone through the same pain. The idea is not new for metros with many players already operating the business but the field is wide open in tier-2 cities. If you happen to be among the early starters the chances are high to make a good return on investment.
It does require an initial investment on your part, especially for packaging and delivering the food at customers door. Your food quality and taste should delight the customer's tongue at reasonable price. The success of any food business is dictated by customers, more the numbers better the profit. Have a Facebook page of your business and engage customers by sharing videos on food and cookery.
7 YouTube Channel
Video contents are at the heart of internet. Users find it more engaging than anything else.
How about having your own YouTube channel where you can talk about anything from a simple advice to your unique expertise, sharing DIYs or funny moments. Many people create funny videos and make a series of it. That's an instant hit on YouTube.
Make sure to be creative with your channel name. It should be catchy and relevant that people can remember and should not be longer than 3-4 words. Post your videos on all the Social Media pages-Facebook, Instagram, Twitter, LinkedIn, Snapchat, etc. Social media really helps in increasing your customer base. Last and most important thing is to monetize your channel with Google AdSense. It helps to show ads in or on your videos.
Make sure you always share high quality original contents that stand out among your subscribers.
8 Recruitment Services
This is one of the simplest and easy to start business with very low investment. People are always looking out for jobs and you can help them by providing a channel that can connect them with right opportunities.
You can either charge a fixed amount for scheduling a meeting or one-month salary as a commission once they crack the interview. You can start from home initially and later expand as the business grows.
9 Courier Service
If you can invest a moderate amount and arrange manpower, courier service is a potential business to earn some quick bucks. Initially you can tie up with some reputed companies that are offering courier services. You can target your business to a particular city or region and expand it later as you get more manpower and capital.
You also need to consider the type and size of packages you want to deliver based on transportation mode and manpower you have. For example – if you have bikes and cars to deliver the packages, you need to restrict the size. You need to have proper license and permissions before you kick start this business.
Conclusion: Small Business Ideas with Low Investment
I am not certain that you got a good business idea from the list above. Yet, I am sure that you got some deep insights for a quick start to build your Business idea into a great business. Well, I do not claim that this is everything you need to create a great company. However, it is just a start.
I will be happy to help you, if you need my help in any form, whatsoever. Feel free to connect with me.