SEMRUSH is a complete suite of digital marketing management tools.
It gives online business owners and marketing professionals a complete analysis of incoming traffic from multiple channels. This allows the business owners and marketing professionals to figure out what will be the best marketing approach to improve traffic and engagement for their business.
SEMRUSH will also allow you to gain insights into your competitor's traffic.
What works for them? What keywords do they rank for? What keywords or advertisements bring them the maximum traffic?
And much more.
Once you have identified these details, you can use them in creating more engaging content and taking the traffic away from your competitor!
Features of SEMRUSH:
Wonder what can SEMRUSH do for you? Here is a comprehensive list of all the features it has.
Domain-specific keyword ranking
Position tracking
Comparison of domains by keywords
Crawl Audit Tool
Organic Research
Advertising Research
AdSense
Backlinks
Keyword Research
Ranking
See your competitor's organic positions
Study your competitor's Ads texts
Find good long-tail keywords
Compare various SEO metrics
SEMrush line graph and pie chart
Compare several sites together, domain to domain
Track various keyword metrics
Detailed as well as pin-point accurate ad data
Detailed as well as an in-depth look at your ad campaign data
See your competitors ranking metrics
Impressed? I have a coupon code for you here which will allow you to try out the SEMRUSH PRO account absolutely FREE for 14 days.
You will not be charged anything for the next 14 days. Also, you can cancel the subscription anytime before your 14 days are up and you will not be changed anything. But I recommend that try it for a couple of months and check out the benefits of increased traffic.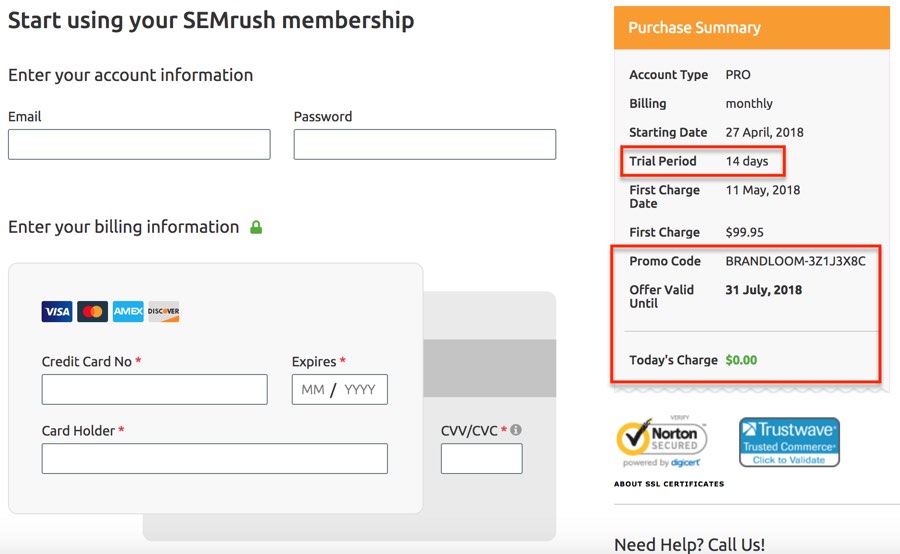 I recommend SEMRUSH as the cornerstone application to your business and income growth online.