Ecommerce in India is booming. Everywhere you look, brands and businesses are setting up websites or creating apps and selling their products and services online.
The statistic shows that the retail e-commerce sales compound annual growth rate from 2019 to 2023 for India will be 17.8%. India will rank first in terms of B2C ecommerce growth rate globally.
In a nutshell, ecommerce presents the inevitable. As our lives get more digitized, the way we shop is changing too, and in an age where every brand wants to reach out to a global audience, it is a crucial step in the retail evolution.
India is one of the largest consumer markets in the world. Being the youth capital of the world, India has emerged as one of the most lucrative business destinations for digital and ecommerce businesses. In the last few years, there is a huge surge in interest and investment in the ecommerce in India, and many studies assert that the influx is not going down any time soon.  But are the estimates of projected gains really true? Or is it just a hype?
So let us take a look at the ecommerce situation in India to understand what the future holds.
What is E-commerce?
It is essentially a way of shopping but the place has changed from physical markets to the virtual/online/internet world. People are buying and selling products and services, transferring money, paying bills, selling data, granting loans, and doing much more through the internet. All these are an eCommerce transaction.
According to a study, approximately 1.8 billion people worldwide purchased products online in 2018. The total share of eCommerce to the total global retail sales was 11.9% in 2018. This is what makes ecommerce one of the most important business sector for our economy.
Related Readings
History of Ecommerce in India
It was in the early 2000s that the Indian internet invasion began. Online transactions came much later, mostly being restricted to paying bills for utility services and buying train tickets- and eventually, flight bookings.
Ecommerce in India, as we know it, today was slowly growing. In 2007, the Indian ecommerce industry saw the launch of Flipkart. While online shopping was technically present before that, it took flight with the deeply discounted model that Flipkart introduced. Soon, young people were flocking online to buy gadgets and clothes in unprecedented numbers.
The change did not go unnoticed. Global players now saw a huge potential market in India. The next benchmark in India's ecommerce market was the entry ecommerce behemoth Amazon. Amazon India emerged as the main competitor to Flipkart, and they went neck to neck in discounting and holding regular sales.
Meanwhile, other big players like Snapdeal, ShopClues, HomeShop18 and other online commerce sites also made their entry. However, as the market grew more competitive, many were pushed out, while the bigger players acquired other smaller ones.
In 2018, the sector saw the takeover of Flipkart by WalMart in one of the biggest deals in the Asia Pacific region. How this new development plays out is anybody's guess- but one thing is for sure- Indian shoppers will surely be spoilt for choices and will be aggressively courted by the global giants.
Future of eCommerce in India: Aspects that are fuelling the growth
India is considered the youth capital of the world. It is a no-brainer that this is the focus demographic for ecommerce operators anywhere in the world. In a country where internet penetration is growing in tandem with youth aspirations, the universe sees a sea of opportunity for ecommerce to flourish.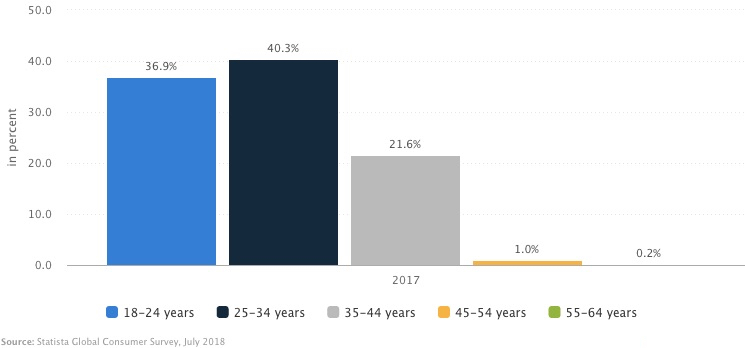 Millennials today are setting industry trends. Since technology and internet is by and large the domain of the upwardly mobile youth, it does not take a rocket scientist to understand the kind of opportunity it presents for entrepreneurs and industry heavyweights alike.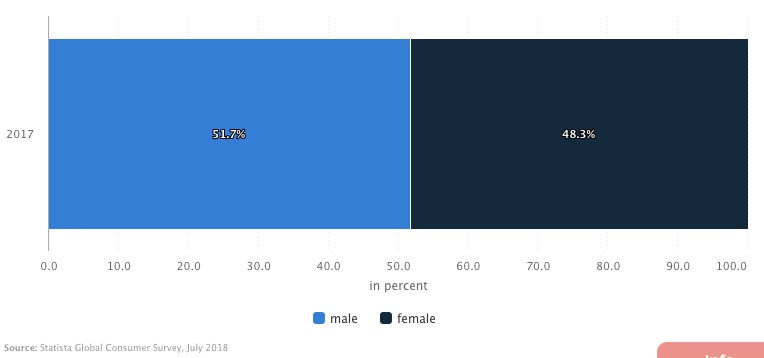 As the adage goes, you have to "catch 'em young'. Any brand worth it's salt must look to stay relevant by appealing to the youth. This is the single most crucial factor in ensuring a brand's longterm survival in the digital age.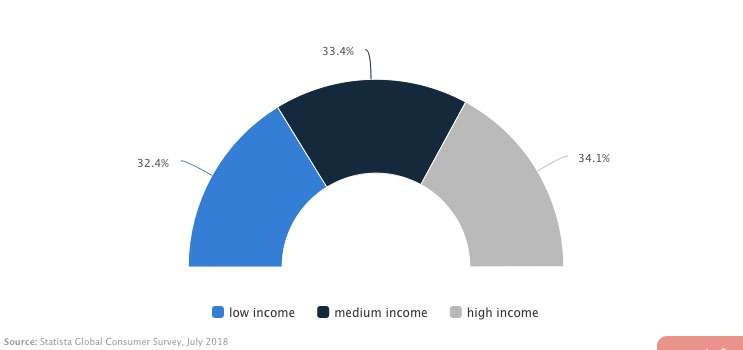 As broadband usage rates have gone down, more people are going online and shopping online. Cheap, internet-enabled cellphones have made it possible for everyone to carry the world in their pockets. Look around, and you will see every other person busy peering into their phones. Earlier, we had to wait to get back home to start surfing. Now, we can do that to our hearts' content even while riding an elevator or travelling across the country.
Is India ready for ecommerce
It is a no-brainer that ecommerce in India is not possible without access to the internet. While in terms of retail market size India is much bigger than several countries in Europe combined, internet penetration in India still lags behind.
According to a 2018 study published by Pew Research Centre, only 25% of the Indian adult population uses the internet regularly. Again, this is mostly restricted to urban and semi-urban areas. Lack of proper infrastructure plays a big role in restricted access to the internet for our citizens. Moreover, in remote areas, owning a cell phone with internet access is still a dream for poor people.
However, the situation is changing, and fast. India is a highly competitive market for telecom service operators- this has led to intense price wars, which have progressed to cheap internet usage rates among service providers, much to the benefit of customers.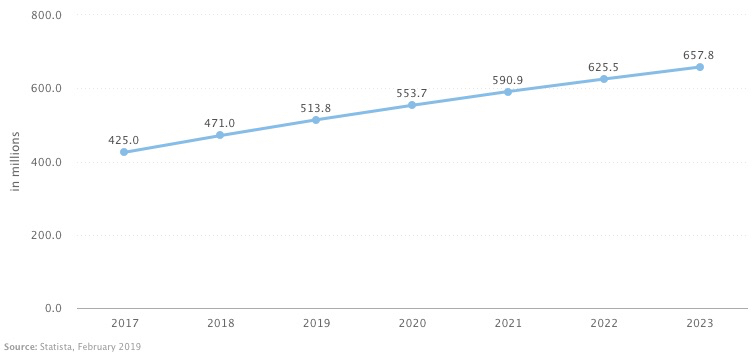 India has one of the fastest growth rates of digital proliferation in the world. A study by the Aranca says that internet penetration in India took a massive leap of 24.23% between 2007 and 2017.
In 2007, the penetration rate was just 4%. As of Dec 2018, it stands at 42%. What it means is that approximately 566 millions Indian have access to internet. Out of this 493 million (or 87% population) is actively using internet.
293 Million active users live in urban india and rest in rural markets of India. (Source)
Just imagine the market size from that data. In sheer numbers, these projections mean that the number of internet users in India is more than that of several other countries combined. There is definitely a huge potential to be unlocked in the online commerce sector.
The growth of eCommerce in India with the Rise of Digital Payments
The growth of eCommerce in India is led by and co-existed with- the rise of digital payment methods and platforms. Online payment is a boon for busy customers, who often do to find time to visit a bank. What was once restricted to just net banking for paying utility bills and services, has today transformed into a vast sector. Today, you can pay your utility and even consumer bills from your cell phone.
There are several apps and digital payment platforms that have enabled this shift. Since most people now are wary of carrying large amounts of cash, digital payment has become their favourite way. Sensing the preference of the customers, more and more companies are now enabling digital payments- and as a result, snagging the digitally savvy customers.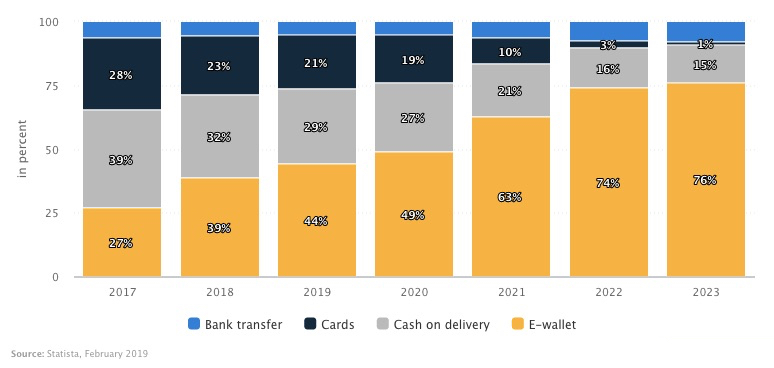 This has also been a blessing to small businesses and startups. Enabling digital payments helps them attract more customers. This is the reason why you will see many companies encouraging digital payment via their own apps or other partnered platforms while offering attractive discounts to customers.
The Government of India has been actively pushing for large-scale adoption of digital payment method- as this is hassle-free, convenient, fast, and eco-friendly. This has been crucial to the "Make in India" movement, which aims to foster indigenous entrepreneurs and manufacturers. With digital payments becoming more popular, it is now possible for them to conduct transactions with clients, customers and suppliers from all over the world.
With the launch of UPI and Bhim, more people are now paying online- a development that is already showing a significant increase in sales for online retailers.
India eCommerce Market Size
The ecommerce industry is booming in India, with electronics and fashion/apparel sector leading the charge. According to a study by Statista, the industry grew from $20.5 billion in 2017 to an estimated $25.3 billion in 2018 and is projected to grow to 62.3 Billion in 2023.  The study determined that the e-retail industry in India is poised to be $40.8 billion in 2020.
Other market projections go even further. The Internet Brand Equity Foundation estimates that the e-commerce market is expected to reach US$ 64 billion by 2020 and US$ 200 billion by 2026 from US$ 38.5 billion as of 2017.
Size of India eCommerce Market
India eCommerce Market size 2016: $ 16 Billion
India eCommerce Market size 2017: $20.5 Billion
Size of eCommerce in India 2018: $25.3 Billion
Size of eCommerce in India 2019: $32.3 Billion
Size of eCommerce in India 2020: $40.8 Billion
Size of eCommerce in India 2021: $49.3 Billion
Size of eCommerce in India 2022: $56.7 Billion
Size of eCommerce in India 2020: $62.3 Billion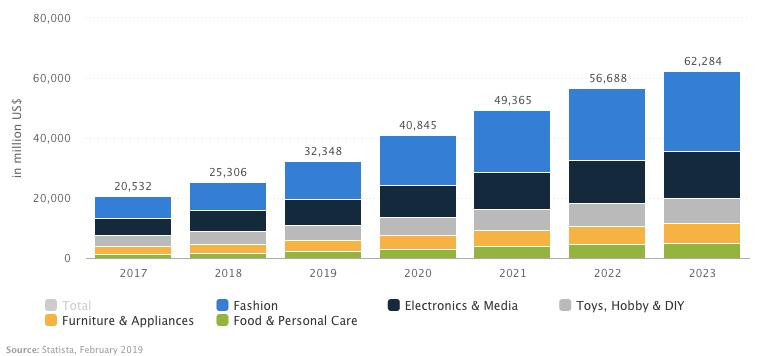 The same study says that urban Indian centres, with an estimated population of 444 million as per 2011 census, already has 295 million using the internet as of December 2017. Rural India, with an estimated population of 906 million as per 2011 census, has 186 million internet users as of December 2017.
There is, therefore, a great opportunity for increasing penetration in both the spheres- especially in rural India. Though studies show that rural youth are now adopting the internet fast, lack of infrastructure still posits a big hindrance for ecommerce aspirations.
The scope of eCommerce in India
A recent study by PwC and Nasscom estimates that the Indian ecommerce market may grow more than fourfold to $150 billion by 2022, fuelled by rising incomes and a surge in internet users. The Indian middle-class population is also growing, which means a rise in the number of aspiring consumers. Companies will do well to reaching out to them- because, in sheer numbers, this is a massive market potential waiting to be unlocked.
The study projected that the number of internet users is expected to nearly double to 850 million in five years. Among them, 150 million users are expected to do digital transactions and they will mainly be based in tier-2 and 3 cities. These customers can take advantage of diverse language choices available for surfing the internet, payment modes and products.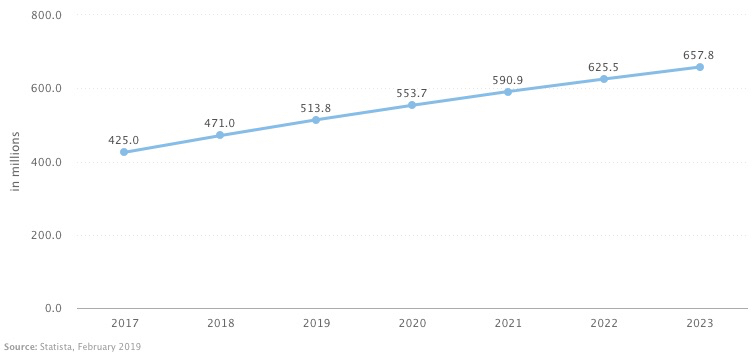 It can be assumed that growth in the ecommerce sector will involve the growth of all significant sectors- e-travel and e-ticketing, e-tail, financial services such as e-wallets and insurance, consumer services (classifieds and e-services) and digital content segments.
Impact of eCommerce in India and
E-commerce has helped businesses and customers with huge cost reduction in areas like searching, labour, distribution and transportation. It saves money as well as time, which benefits both consumers and sellers- which in turn has made ecommerce extremely popular. This has resulted in great growth in the e-commerce sector as a whole.
E-commerce has had strong effects at macro and microeconomic levels. Overall, ecommerce has a number of factors aiding its growth, which increases its scope in the market:
1. Daily Increase in Internet Usage
Today people are using internet 24×7. Most of their time is spent in the digital world- for work, recreation y, consuming media, gathering information, and shopping. Internet usage is increasing daily and people are now more affected by what they are seeing online- they take many decisions after checking on the internet and social media. This has had a huge effect on their shopping behaviour too.
2. Youngsters are The New Market
Due to digitization, the market has divided into several categories with different niches. It is found that 60% of online consumers are youngsters who keep themselves updated with trends and are the ones most affected by the developments in the e-commerce industry.
3. Middle-Class People as Active Participants
In India, middle-class people comprises of a sizeable part of the population. E-commerce is popular among this demographic because it is convenient and it makes many products available to them that speak to their aspirations. Most of the middle-class families now prefer shopping online instead of going outside to the market- because, in our busy lives, online shopping is a faster and more convenient way of shopping.
4. Online Payments and Cash on Delivery
Easy payment gateways have made e-commerce more preferable. People are paying their bills and expenses sitting in their homes. Indians love this trend and are able to ignore the dreaded traffic which makes e-commerce more effective. Cash on delivery is also one of the most preferable paying methods in India, 70% of Indians like COD and this feature has proven to have inspired a sense of trust in the consumer.
5. Easy to Use
E-commerce has made trade and transactions very easy. People are easily paying their bills from home, shopping, comparing things and rates, giving feedback, connecting to companies directly, getting their money back if not satisfied, and many more. People have got these things from e-commerce apps and websites which are easy to use.
6. Low Setup Cost
E-commerce has made setting up a business very easy. It has cut all infrastructure costs for small retailers and brand owners. Anyone can now create a website and can trade with their products and services from home or from a small place. A number of service providers and sellers are running their e-business from their homes and earning well.
eCommerce Trends in India
With the acquisition of Flipkart by Walmart, the Indian ecommerce industry is scheduled to undergo a significant change. Since its launch, Flipkart has been the chief domestic competitor for global giant Amazon. During its reign, Flipkart pushed out other big players like Snapdeal, while acquiring popular lifestyle shopping portals like Myntra and Jabong.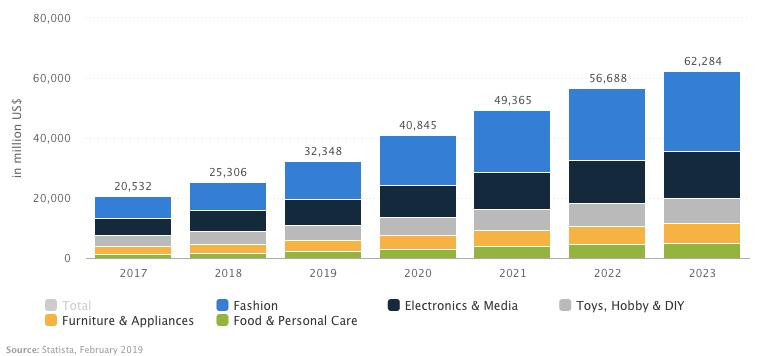 While other fashion online retailers managed to launch, they were either pushed out or taken over. As of now, there are many such companies which are surviving on the fringes. In the most popular categories- fashion and electronics, Amazon and Flipkart are the leaders.
With Flipkart being taken over by Walmart, there are now no homegrown retailers who can challenge Amazon. However, Walmart brings its considerable financial might to Flipkart, so it will be interesting to see how the rivalry plays out. Most probably, we will see even more aggressive discounting and an increase in product variety on both ends.
In this highly competitive space, one cannot expect to rake in big profit margins. The Indian shopper too has proven to be savvy enough to go for the best deals. What now, can be done to attract new customers and inspire brand loyalty in them?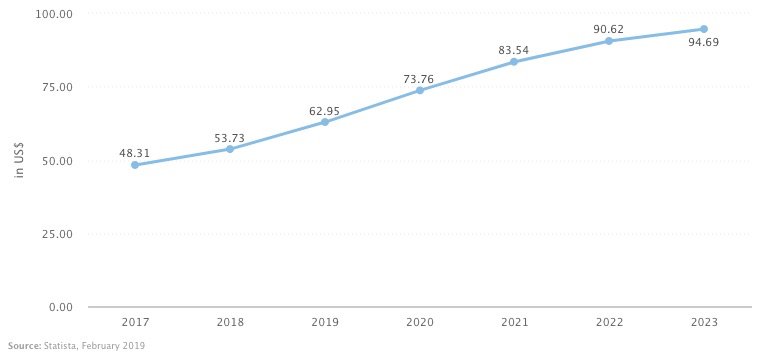 The answer, of course, is providing great customer service. How a company treats its customers has always been a deciding factor in determining the former's survival. The next frontier for the battle in the Indian e-commerce industry is set to be fought around a seamless shopping experience, building digital trust, voice-based or conversational commerce and creating an inventory of localised content," said Sandeep Ladda, partner and global technology, media and telecom sector leader at PwC India.
Latest eCommerce Trends in India
The digital world is in a state of constant flux, and here, trends emerge every day. Online marketing is not just limited to advertisements but has developed its roots in several sectors like social media, experiential marketing and much more. Latest trends which are aiding the e-commerce sector's growth are-:
1. Niche Based Product Placement Advertising
E-commerce has started advertising with different types of videos which appeals to the right customer niche at the right time. Brands have started approaching people through movies or vines which people like to watch, and influencers have become important in this respect. Tiktok and YouTube have become the largest approachable video platforms for product placement advertisements.
2. Marketing Automation
eCommerce companies have started contextually connect with users based on their behaviours. Marketing automation is enabling these companies to stay connected with users when they are about to make a purchase.
3. Customized Messages
Customization is getting more important than generic messages. People pay more attention to customized messages and like to respond to them.
4. Mobile-Friendly or Responsive Websites
E-commerce sites are becoming more mobile-friendly as people spend a lot of time on their mobiles. E-commerce has gone mobiles through apps and easy loading websites which make shopping for consumers easier and keep them connected with their favourite brands.
5. Augmented Reality
Augmented reality product pictures are also an important trend for sellers in e-commerce as it provides an interactive experience to customers with product. They experience products features closely and get more deeply engaged with the products than a normal picture.
6. Snap to Shop
E-commerce has given a feature of clicking your favourite product's picture and shopping for it or visiting the product page. People can now snap pictures of things they like and can get the product on websites.
7. Number of Payment Gateways with Several Benefits
The more websites have payment gateway the more they attract the consumers. Websites nowadays have multiple payment gateways with attractive offers which make the consumer more interested in buying online instead of going to the market.
8. Experiential Marketing
E-commerce websites are not just advertising themselves but giving people real-life experiences and memories through events to build an emotional connection with the brands.
9. Influencers are the New Aage Celebrities
Studies prove that young people are more influenced by social media influencers then regular celebrities. This makes influencers convenient spokespersons for e-commerce sites and brands, and they are using them more often for their product reviews or product launch.
Challenges in eCommerce in India
While ecommerce is booming in India, it is also not without its pitfalls. Here are some challenges that the sector is facing in India:
1. Internet is Still a Dream for Some
There are still some places where people don't have access to the internet.
2. Lack of Clear Cyber Laws
India lacks in proper cyber laws, and people are still afraid of getting duped online by fraudsters. On the other hand, lack of clarity in regulation and loose intellectual property laws also leave a big window for fraudsters to duplicate or pirate products.
3. Lack of Quality Control
E-commerce is successful in providing products door to door but unfortunately, in most cases, there is no check on the quality. People often end up getting totally different things, or what they get is remarkably different in quality than what they see on websites.
4. Online Transaction Security
People are still not confident with online payments as they have fear of getting their account details leaked.
5. Delivery Delays
Sometimes delivery remains just a dream for consumers as delivery dates keep extending and sites deliver products after months.
Is India ready for eCommerce
As more customers are now going online, local area ecommerce now stands poised on the brink of huge growth potential. Think about the last time you wanted to dine out. Chances are, you fired up your preferred food delivery app or travel website and selected from the list of eateries you spotted in your vicinity.
Local listings are going to become more critical, and this is something all small business owners should keep in mind. The competition is with your next-door rival will now spill over to the virtual space. This presents a significant opportunity for small businesses as well as other retailers.
If they shore up their digital presence and capacities, not only can these businesses rationalise costs and grow their influence- they will also see an increase in revenue. Retail ecommerce sales can have a significant impact on a company's margins.
Conclusion
It goes without saying that there is a massive market for ecommerce in India, and it is slated to grow even further. While a large number of people still do not have access to the internet, it is changing slowly, and with the influx of more internet users, online shopping and ecommerce are also expected to grow proportionately.
The ecommerce space is not only booming, but it is also highly dynamic and is seeing constant changes- in terms of customer trends, technological advancements and product offerings.
Retailers, multinationals and small businesses alike should now prepare themselves for the future digitally. As more customers go online and choose to seek out services and payments online, anyone who does not update themselves will be left behind.