YouTube has become one of the most surfed platforms with over 1.86 billion users worldwide and over 500 minutes of content being uploaded for viewers every minute ! But only a few content creators taste success with their videos. Well, today we look at the most viewed YouTube videos which have set the bar high for creators and digital marketers.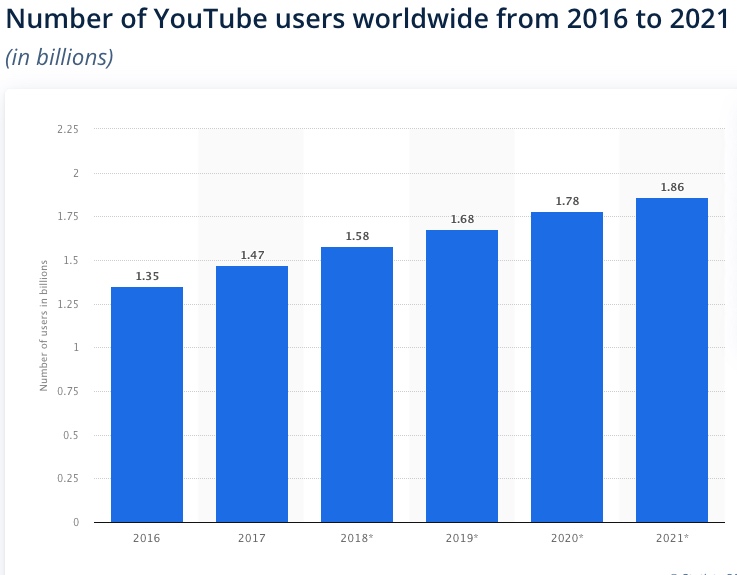 So here is a list of the top most viewed YouTube videos that have received the maximum amount of views up until 2021.
1. Baby Shark Dance – Pinkfong Kids Sings & Stories – Highest Viewed Video on YouTube
This is one song you won't be able to get out of your head. There is nothing difficult about Baby Shark Dance, which was created by Korean pop company Pinkfong.
That's basically all it has: sharks on repeat. It went on to become the most-viewed youtube video on this list, but this song's influence can be seen in other videos, including some that have gotten hundreds of thousands of views.
To be quite honest, the popularity of Baby Shark Dance wasn't all that unexpected. The lyrics and tune of the song are really catchy. In my opinion, it's safe to say that Baby Shark's reign as the most watched video of all time will continue.
2 Luis Fonsi – Despacito ft.Daddy Yankee – The Most Viewed Song on YouTube
"Despacito" featuring Puerto Rican singer Luis Fonsi and Puerto Rican singer Daddy Yankee charted at #1 on the Billboard Hot 100 for 97 days, and it garnered over a billion views in little under a year.
Averaging up, the video racked up a total of 2 billion views in 24 hours, making it the quickest to collect 2 billion views and the first to reach 4 billion, 5 billion, 6 billion, and now 7 billion views.
3 Johny Johny Yes Papa – LooLoo Kids
This video has a mischievous baby and his Papa as the main characters in this short, animated music video. In the song, the infant can be seen attempting to consume sugar cubes even though his father disapproves.
Do you think the child will receive the sugar? To be honest, you'll just have to wait and see. On the contrary, the song itself is really very enjoyable – it's short and simple. Considering that it has been viewed/listened to over 5 billion times, it's a great thing.
4 Ed Sheeran – Shape of You – most viewed music video on youtube
Even if you have not seen the video , you definitely must have heard about it. It holds the records for being the third-fastest video to achieve a billion views, and it also ranks second when it comes to videos that reached 2 billion and 3 billion views.
Within two years, Shape of You racked up all of its view count awards, debuting in January 2017.
5 Wiz Khalifa – See you Again ft Charlie Puth – One of top viewed youtube videos
See You Again by Wiz Khalifa and Charlie Puth is the first video on this list to have a movie tie-in, which is why it is shown in theatres before being released on the internet.
It was unveiled in April of 2015 and has attracted 5 billion views to date. It is in honour of Paul Walker, who starred in The Fast and the Furious films. He died in 2013.
This video has replaced Gangnam Style as the most watched video on YouTube from July 10 to August 4, 2017. That reign was brief, as it was overtaken by Despacito a few years later.
In November of 2016, See You Again reached the 2 billion view mark, making it the second video to do so, and it is one of just 10 videos watched more than 4 billion times.
6 Masha and The Bear – Recipe for disaster (Episode 17) – One of The most viewed YouTube Channels
An example of this Russian animated television programme for youngsters, Masha and the Bear, is "Recipe for Disaster." The programme is popular both in its nation of origin and throughout the globe. Many episodes have massive views on YouTube. It is in an series on Netflix, too.
Although there were over a million views of the Recipe for Disaster episode, it is of special importance because of this. It is one of just 10 videos that have been seen 4 billion times.
Watch the episodes of the channel, Recipe for Disaster, posted by the movie maker, and you'll see how many people watched only from one particular episode.
7 Bath Song -Cocomelon-Nursery Rhymes – One of the highest viewed song on YouTube
It has happened over the course of a few years, but instructional films for children are gradually making it into the top 10 most watched YouTube videos of all time.
On the other hand, our number 7 pick, Cocomelon's Bath Song, has knocked Gangnam Style down to No. 10 on our list.
It's strange how we find it so surprising. It's simply a little song about bath time, just under three minutes in length, and with a chorus similar to the Baby Shark Dance.
8 Learning Colors- Colourful Eggs on a Farm – One of The Most Viewed YouTube Animated Video
If kids are going to be gazing at screens for a significant part of the day, then it's logical that the programmes parents choose for their kids should be free to access, and instructive.
There are a lot of excellent shows like this on Miroshka TV: Learning Colors Multi-Colored Eggs on the Farm.
It's a film designed to educate youngsters, which has garnered over 4 billion views after being posted for the first time in three years.
The video is five minutes long and provides an explanation of colours via eggs on a farm that are crudely animated.
It has a narration in Russian and teaches Russian-speaking youngsters the names of various colours.
Every other piece of the video is done in Russian, apart from the background music (which is performed in English as "Old MacDonald Had a Farm") and any subtitles that occur.
The film is slower paced and has certain sequences that go on for a while, but the humorous and goofy moments will make younger viewers laugh.
9 Uptown Funk – Mark Ronson featuring Bruno Mars – One of Most viewed YouTube Video in 24 hours
While the top three videos on this list are all much newer, Uptown Funk still pulls in views as a possible chart-topper. Ronson's video debuted on YouTube in November 2014 and quickly gained popularity.
Worthy of comparison to the views it receives is the fact that it also defeated tough competition from its contemporaries.
For example, global successes such as Katy Perry's "Roar" saw billions of views because of making big-budget music videos for them. Uptown Funk remains unmatched.
10 PSY-Gangnam Style – One Of The Highest Viewed Videos on YouTube India
Psy's Gangnam Style was the YouTube video that set the all-time record for views, as it was watched more than a billion times.
As well, it accomplished this objective in under six months following its debut, taking place from July to December 2012.
That video became the first to achieve 2 billion number of views in May 2014, and it wasn't until later that year that another video reached that milestone.
Gangnam Style is one of the most viewed videos on YouTube. Over the last nine years, the company has held onto its top 10 ranking against new competitors.
11 Marron 5 – Sugar – One of top viewed youtube videos
Sugar was used in Maroon 5's fifth studio album, V. It was made available on January 13, 2015, as a single.The song reached at #2 on the US Billboard 100.
David Dobkin, who has directed music videos for such artists as Backstreet Boys, helped the band make their video. He drew upon his experience directing the movie "Wedding Crashers" for this piece.
Maroon 5's video features the band crashing many weddings throughout Los Angeles. This is not a performance.
The weddings featured in the Maroon 5 music video have all been crashed.
Reality is that each groom was given prior notice and was aware of the possibility of having a renowned band perform at their wedding, but other individuals involved in the weddings were unaware of the details.
Forget the way in which the brides found out about Adam Levine serenading them during their weddings: it must have been a delight to them.
12 Justin Bieber -Sorry – One of the highest viewed song on YouTube
Well, nobody would be surprised to find a Justin Bieber song in the top 17 of the most popular video list. He is a YouTube Generation icon.
The video premiered on October 23, 2015. In addition to being number one in Canada for seven weeks, the song topped the charts in 13 other nations, seven of which were weeks at the top in Bieber's home country. Last year, over 11 million copies of the song were sold globally.
Most unusually, they filmed the song's dance video in New Zealand, using the ReQuest Dance Crew from New Zealand and a New Zealand choreographer by the name of Parris Goebel. It reached 2 billion views in only four years, beating the previous records in half the time.
13 Katy Perry -Roar – It is always in the top 50 most viewed youtube videos
For anybody who hasn't seen the Katy Perry video for "Roar," she is in the jungle and the animals there have been turned crazy.
She unveiled Roar as the first single from her 2013 album "Prism", which was self-titled. In the song, the lyrics discuss standing up for yourself and empowering yourself. It was a resounding success.
The video recounts a fictitious tale of Katy Perry surviving an aircraft accident and adjusting to life in the jungle. Tamed a tiger, she even does.
The Los Angeles County Arboretum and Botanic Garden was used for filming.
When Roar became the first artist to have two music videos surpass 1 billion views on YouTube, in July 2015, Katy Perry became the first musician to do so.
14 One Republic – Counting Stars – One of Most viewed YouTube Video in 24 hours
OneRepublic's third studio album, "Native," serves as the basis for the song "Counting Stars" (2013). While it only peaked at number one in Canada and the United Kingdom, the song sold over one million copies all over the world.
The music video was shot on May 10, 2013, in New Orleans, Louisiana.
The music video features the band performing the song in a gloomy ground floor of a building, with hanging light bulbs as its only lighting source, while the scenes above include religious revival services, in which members of the congregation and other people are dancing and singing along with the music.
A member of the military falls through the floor, then comes through the ceiling during the music as the video ends.
To date, the video has become the first music video to receive 1 billion views by a group.
15 Ed Sheeran – Thinking Out Loud – It had the most viewed trailer on YouTube
Ed Sheeran's Thinking Out Loud was recorded for his second studio album, "×" (2014). Sheeran's second UK number-one hit lasted 19 weeks in the Top 40 until the track topped the chart in November 2014. "Bravo" also topped the Australian, Irish, New Zealand, Danish, Dutch, Slovak, and South African charts.
Prior to June 2015, it was the first song to be included in the UK Top 40 for a whole year. The record was the first to be played on Spotify over 500 million times.
Most of the music video was shot at the Millennium Beltmore Hotel in Los Angeles, California, utilising a 16 mm film camera that was reloaded throughout the whole shooting. "So You Think You Can Dance" participant Brittany Cherry tangos with Ed Sheeran.
16 Katy Perry – Dark Horse – Most Viewed YouTube Video in 2019
In September of 2013, Katy recorded Dark Horse with rapper Juicy J, and it was released to the public.It merges trap and hip-hop styles.
Pepsi used the song in a marketing campaign on social media. The fans voted on Twitter to choose which song they preferred, which song became the first single from the album "Prism": "Walking on Air" or "Fans."
Second-best selling song of 2014: Dark Horse sold 13.2 million copies and was the second-best selling song in the record industry. They held off on releasing the video until February of 2014. The song is set in ancient Egypt, where Katy stars as "Katy Patra" — an Egyptian queen and love interest of Julius Caesar.
The first music video by a female artist to reach one billion views on YouTube was for the song "Dark Horse" by Katy Perry.
17 Blank Space- Taylor Swift
Three weeks after the song was released, it had already topped the US Billboard Hot 100, where it replaced Shake It Off as the number-one single.
For the first time in the chart's history, a woman managed to dethrone her own song at the top.
Joseph Kahn was hired to direct the video for the client. In the video, Taylor Swift was inspired by the notion of presenting herself as a deranged monster.
"A Clockwork Orange" is one source of inspiration, and so is the talk about Taylor Swift's personal relationships.
Highest Viewed Videos Of YouTube in India
Here is a special addition to the list :
1.Phonics Song With Two Words By ChuChu Tv : Most Viewed Indian Video On YouTube
This song is great for children learning . It is a song about Alphabets and the alphabets are associated with the words they stand for through animated pictures.
2. Lakdi Ki Kathi by Jingle Toons :Highest Viewed Indian Video On YouTube
https://www.youtube.com/watch?v=3bLfzgZ-wO8
Lakdi Ki Kathi is a very popular Hindi Rhyme that has now been made popular by Jingle Toons around the globe. It has been brought to life by the beautiful animations in the video.
3. Laung Laachi Title Song by Mannat Noor ,Ammy Virk, Neeru Bajwa and Amberdeep – Most Viewed BollyWood Song on YouTube
This song is also used as the title track of the movie Lukka Chuppi starring Kartik Aryan and Kriti Sanon . It is also one of the most viewed Hindi Songs on YouTube The song was so well received by the audience that it even surpassed the popularity of the movie.
4. Lehenga by Jass Manak – Most Viewed Punjabi Song on YouTube
This song by Jass Manak starring the Bigg Boss contestant Mahira Sharma has not not only been trending on YouTube since it's release but has also become a part of numerous instagram reels and tik tok videos.
5. Vaaste by Dhvani Bhanushali : Most Viewed Indian Song on YouTube
This melodious song by Dhvani Bhanushali was very well received by the audience . It became the go to song for Indian wedding and festivities after it's release.
6. KGF Chapter 2 TEASER : Most Viewed Trailer of YouTube In India
This trailer is the sequel to KGF which gained a lot of popularity around the world for having a very intriguing and interesting plot and excellent direction . The movie ended at a cliffhanger and people have been awaiting the advent of the Sequel .
CONCLUSION
With the advent of Covid the whole world has gone on the virtual mode. People have been using platforms like YouTube for gaining knowledge , learning a skill and spending their leisure time. The popularity of YouTube has increased manifold during this period and these interesting songs and videos mentioned above only make it more attractive for users.