Biggest Social Media Marketing Companies in India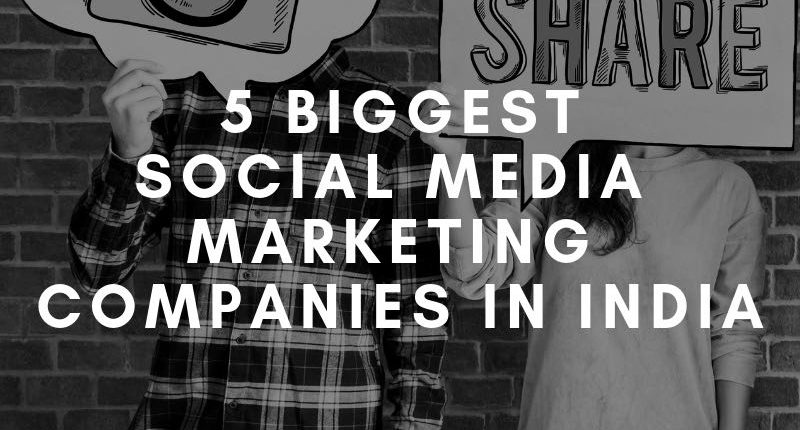 Social media is an integral part of our lives. For any company or brand, it is a crucial area of importance. Social media plays a significant role in locating and engaging with customers. It will not be an exaggeration to say that if you are a contemporary player if you do not engage with your customers via social media, you are as good as dead.
Social Media Marketing Companies can help you engage fruitfully with your customers on social media. By using social media, you can build your brand efficiently and ethically. With ROI-driven Social Media Marketing Companies in India, you can engage with your customers through ethical and targeted campaigns, and soar past your competitor.
How popular is social media in India?
Let's start by looking at ourselves. Off the top of your head, you can name at least two social media platforms you have an account in, and you are more likely to be active on at least one. Go to any home, and chances are you will hear grumpy elders complain how much "kids these days" are always hooked on to their mobiles and "doing Facebook."
Social media is inescapable unless you choose to fall off the grid completely. This is not an option for most people, because we all need to keep in touch with friends and acquaintances, stay updated on the news and of course- need some recreation.
According to a study by HootSuite, India saw a 31% growth in the number of social media users between January 2017 and 2018. As we know, phone and data tariffs are incredibly cheap in India and internet penetration is happening fast even the remote corners of our country.
Just think of the number of people you can present your brand too if you engage in social media marketing. Social media channels are essential for providing an excellent platform for your brand.  At the very least, you should be on Facebook, Twitter and Instagram.
The Need for Social Media Marketing
Social Media Marketing means creating and sharing your ad content on social media platforms to achieve your branding, marketing and revenue goals. If you pay attention, you can see that almost every product brand that you can recall has a social media account. It is now considered a crucial aspect of any brand's marketing strategy.
No marketing strategy is complete until you consider the digital world. Similarly, no digital marketing strategy is perfect until it takes social media marketing into account. There is a real earning opportunity here. Kendall Jenner, who currently ranks as the highest paid supermodel in the world, walks on very few shows and has featured on far less number of magazine covers than her peers. She isn't a favourite with designers for their ad campaigns either.
Yet, she makes more money because she is a powerful social media "influencer". The brands and products she endorses on her social media profiles on Facebook, Twitter and Instagram rake in millions from her promotion, and she, in turn, outdoes all other supermodels in the money department.
Similarly, if you can promote your brand on social media, you can get more visibility on the internet. Social media platforms have their algorithms that make sure that the brands registered with them become visible to the right kind of user. This, in turn, will help you generate more clicks and in the end- more revenue.
What should you look for in a social media marketing company?
There are many social media marketing companies. But you must be careful who you partner with. Here are a few things you should look out for:
Does the agency gel with the vibe of my brand?
It's a no-brainer that most brands want to attract young customers. In that case- would you go for an agency populated by serious men in suits? On the other hand, if you are marketing medicines or wellness products- wouldn't you instead go with a more mature person who understands the importance of staying healthy and is knowledgeable of the subject?
Is the agency ethical?
Many marketing agencies engage in unethical social media campaigns. This may include buying likes, spamming and posting inappropriate content for grabbing eyeballs. They may get you the attention you think you need but ultimately will backfire. Google and social media platforms today are vigilant and more prompt at removing content they find fishy. Make sure you do not engage with an agency who favour black hat marketing tactics.
Is the agency good at its job?
Everything can be excused if the agency can deliver you results. You should have long-term growth prospects and brand equity its mind. You must check if they can live up to the conversion claims they make. So vet agencies carefully and look at their track record. Agencies which have worked with prominent market players are more trustworthy in this respect.
5 Biggest Social Media Marketing Companies in India
1 BrandLoom Consulting
BrandLoom offers you some services related to digital marketing. Remember- social media marketing is just a part of a comprehensive marketing strategy. As an agency, it takes into account everything- from web designs to content creation- and ensures that your brand gets seen by your potential customers and engages positively with them.
BrandLoom conducts social media campaigns across several platforms. The agency helps you design a social media strategy best suited to your needs, and help you execute it on a day-to-day basis.
BrandLoom can not only help you reach the customer, but also educate them on your brand. It makes them aware of your presence and engage with them in such a way that they are encouraged to try your services out for themselves. With time, you will have a loyal customer base.
How your social media marketing Agency helps you achieve your Business Objectives
There are many ways in which you can engage with your customers on social media.
Social Media Agency helps you find the right customer:
Every customer is unique. When you go on social media, you can find the customers who are more likely to use your products. Many social media marketing tools help you find the customers who best suit your vibe.
Social Media Marketing Agency helps you increase traffic to your website/app:
If you can promote yourself on social media platforms, you can generate more traffic for your website. For example, if you are a fashion boutique, you can catch the eye of your customer with a post or ad featuring one of your creations. If the customer finds it attractive, chances are, she will click on it or fire up the search engine to find out about your company and check out more items on your catalogue. If they like what they see, they will return, and may even spread the name via word-of-mouth publicity.
Social media companies help you promote your brand:
If you have a smartphone, the chances are that you have a social media app in it. Most of us are logged in permanently on our phone apps. Hence, going on social media gives you an excellent opportunity to become visible to your customers. Customers have to know you to Google you. But on social media, they can view you directly without doing an internet search if you flash across their timeline. This gives you good chances of lead generation and enhances brand awareness.
Social Agency helps you with Fast feedback from the market:
Social media is that rare area where a customer can directly talk to the brands. If you are on social media, you will get instant feedback from your customers. You can know about their grievances and see where the chance of quality improvement is. If there is a third party involved in getting your products or services delivered to your customer, you can also understand how they function. This way, you can address customer issues right away.
Social media management company Helps you build your reputation:
Social media marketing is a valuable PR tool. How do you want to present yourself to the world? Where do you want to position yourself in the market? What are the values your brand stands for? Let the customer know where you stand. If you can engage positively with your customers on social media, it helps tremendously in building brand reputation. A social media goof up can have far-reaching consequences.
Social media optimization company helps you create your own niche:
Your brand has its own personality and values. Use social media to highlight it in the best way- and you will find that you are in for more sales. A famous example is Wendy's chain of restaurants. Wendy's Twitter account is well known for sassy comebacks, topical jokes and an active presence. There are many fast food chain restaurants, but Wendy's has a cult fan base that flock to it because it is excellent at engaging with them via their Twitter account.
Conclusion
Remember, it is not enough to build a reputation online; you also have to maintain it, that is why your brand needs one of the best social media marketing companies in India. Your agency needs to present your brand in the best possible manner and helps you establish yourself in your own marketing niche. This way, you can communicate your brand values and build up your brand equity.