You want your marketing money to generate new leads, engage current customers, and ensure ROI, but you want it to be cost effective as well.
Email marketing is the answer to your dilemma.
Even with the explosion of new technology, marketers keep coming back to email marketing which is one of the primeval forms of digital marketing.
And marketers still believe it is a very effective mode of marketing to a targeted audience.
As the business world changes constantly, email marketing has the ability to adapt to meet those changes.
Email is the third most influential source of information for B2B audiences, following only the recommendations of partners and industry leaders. So, basically, it is only after word of mouth.
So below, we have an explanation of the different benefits that email marketing offers to your business- a return on investment and how you can measure it (ROI) over the course of your email campaigns.
What is e-mail marketing?
E-mail marketing is sending marketing messages to a group of people, opting for e-mail.
In a more specific sense, every e-mail sent to a potential or current consumer is considered e-mail marketing.
This includes e-mail sending ads, requesting a business, or requesting sales or donations.
E-mail marketing strategies usually seek to achieve three main goals: building trust, confidence, and brand awareness.
The term is often used to enhance merchant relationships with current or past customers, promote customer loyalty and repeat business, make new customers or existing customers buy anything faster, and share third-party ads.
What are the benefits of e-mail marketing?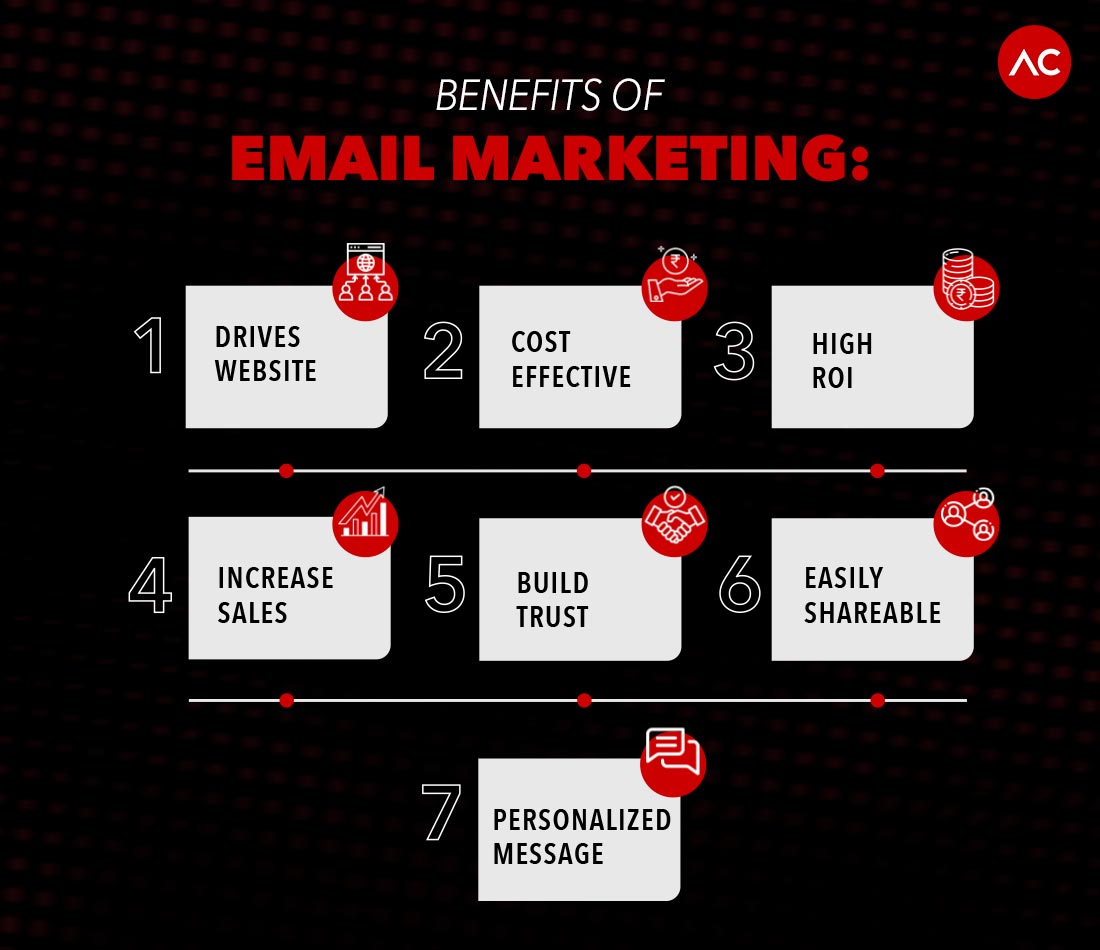 E-mail marketing is profitable because it is fast, efficient, and less expensive. Using this marketing method will allow you to reach potential customers and keep them, encouraging them to revisit the site. Additionally, sending e-mails to e-mail subscribers is a great way to improve conversion tracking.
The advantages of e-mail marketing:
E-mail marketing can also build customer trust over time, making it more repetitive for customers.
Any successful business knows that regular customers of your business will benefit from continued growth over time.
After all, repeat customers are happy customers. And satisfied customers will endorse your business to others.
It is an effective way to inform your customers about new products, sales, or offers.
E-mail marketing is one of the best ways to inform people about your product in real-time and keep in touch with that audience.
A large number of internet users report registering or saving the information of products they care about.
If you want a way for your customers to contact you and stay updated with your business, start marketing via e-mail service.
Types of Email Marketing
E-mail Newsletters:
These are regular e-mails to customers who choose to receive updates from the company. Newsletters often do not have clear marketing messages but seek to build product-customer relationships. They usually have a conversational tone and contain news and information that interests the customer. The goal is to stay in touch with the company even when the customer is not buying anything.
Transactional E-mails:
These are e-mails sent after specific actions have been initiated. When a customer buys a product or book, e-mails are sent to confirm that purchase. Transactional e-mails often contain new marketing messages as well.
Research shows that sales e-mails open up 51.3% of the time, while newsletters open up only 36.6%.
Recognizing that they have a captive audience, marketers often try to incorporate new marketing strategies into transactional e-mails. For example, flight booking e-mails often ask if you want to upgrade your seat to make money.
Direct E-mails :
Such mails are used to intimate customers of new products, sales, and unique items. They provide customers with specific information about the product and often provide a link or other way to access the product quickly. They are usually mailed coupons, catalogs, and sales brochures.
Objectives of Email Marketing
A well-attributed email marketing strategy allows you to achieve long-term and short-term goals. The objectives of email marketing are as follows:
Increase product familiarity:
An email campaign is a reasonable chance to assist customers with your product. The more they see important emails from your product in their inbox, the more likely they will pick your company when looking for a product.
Remember that marketing-focused emails alone will not help you create the right image in the minds of your customers. So, combine marketing emails with informative content.
Increase sales:
It is probably the purpose of all advertisers. If your product is trustworthy, it will not take a lot of pressure for your customers to buy directly from your email. You can notify subscribers about upcoming sales, and hot deals and even give them personal discounts.
Build trust:
If you have not yet built trust among consumers, use emails. Be polite and straightforward – customers appreciate this. Add updates and testimonials to your campaigns so that subscribers have proof before they choose to buy. You can also add a link to your site's landing page that contains customer feedback. At the very least, your product page should have a review section.
Drive traffic to your site:
It does not ask for much effort to attain this goal. All email campaigns include links to a few site pages, so clients will follow the links if you can create an eye-catching topic and a relevant presentation. It will direct traffic to your popular pages or promote those with no interaction with users.
Reduce long sales cycles:
When you sell complex products or services, it takes a long time for your followers to make a purchase decision. Through the email campaigns, You can share step-by-step instructions, helpful checklists, and video instructions to help customers see the benefits of using your product.
Prepare for everyday activities:
That's all about trigger and custom emails. With their help, you can automatically send campaigns responding to your customers' actions. Such emails include the following: welcome and subscribing, registration confirmation, discarded cart email, order confirmation, password reset email, and re-opening campaigns. In this way, you will deduce costs by managing these processes personally and focusing on the more essential things.
E-mail marketing strategy
E-mail marketing helps in targeting specific groups of customers or people. The way to do this is to provide customers with special birthday deals or services.
For example, a restaurant can send e-mails to customers and offer a 50% discount on their entries on a birthday. This type of personalization helps grow business and maintain customer relationships – and can lead to increased sales and customer loyalty.
Effective e-mail marketing requires effort, Here's the list of tips to get the most out of your e-mail marketing campaigns.
Effective Measures to be taken for e-mail marketing:
Make your email list
In order to deliver successful email campaigns, you need a valid email list. It will be the database of email contacts who have expressed interest in receiving marketing communications from your brand or product.
Follow the rule
E-mail vendors must comply with the provisions of the CAN-SPAM Act. These terms include a clear title, a straightforward way to unsubscribe, and your name and address at the end of the e-mail.
Combine your messages
Use your e-mail to improve relationships with customers by sharing your information with others and giving them tips. Share information that gives them more information about your product and company. And you can always put ads.
Respect your members
Manage your list well. Remember that the people subscribed to your product or brand, trust you with their information. They deserve your respect. If you want the opportunity to transform them from customers to fans and promoters of your product, make them feel special.
Follow the plan
Stick to the plan when you create a newsletter. Sending e-mails on the same day (or days) each week will help your customers know what to expect and when to expect it from you.
Configure mobile
A study by commercial analysts and the company Litmus found that more than half of the e-mails on mobile devices were open. That means, if your email does not show up well on mobile, half of your audience will think you are not good at email craft.
E-mail marketing has a high ROI.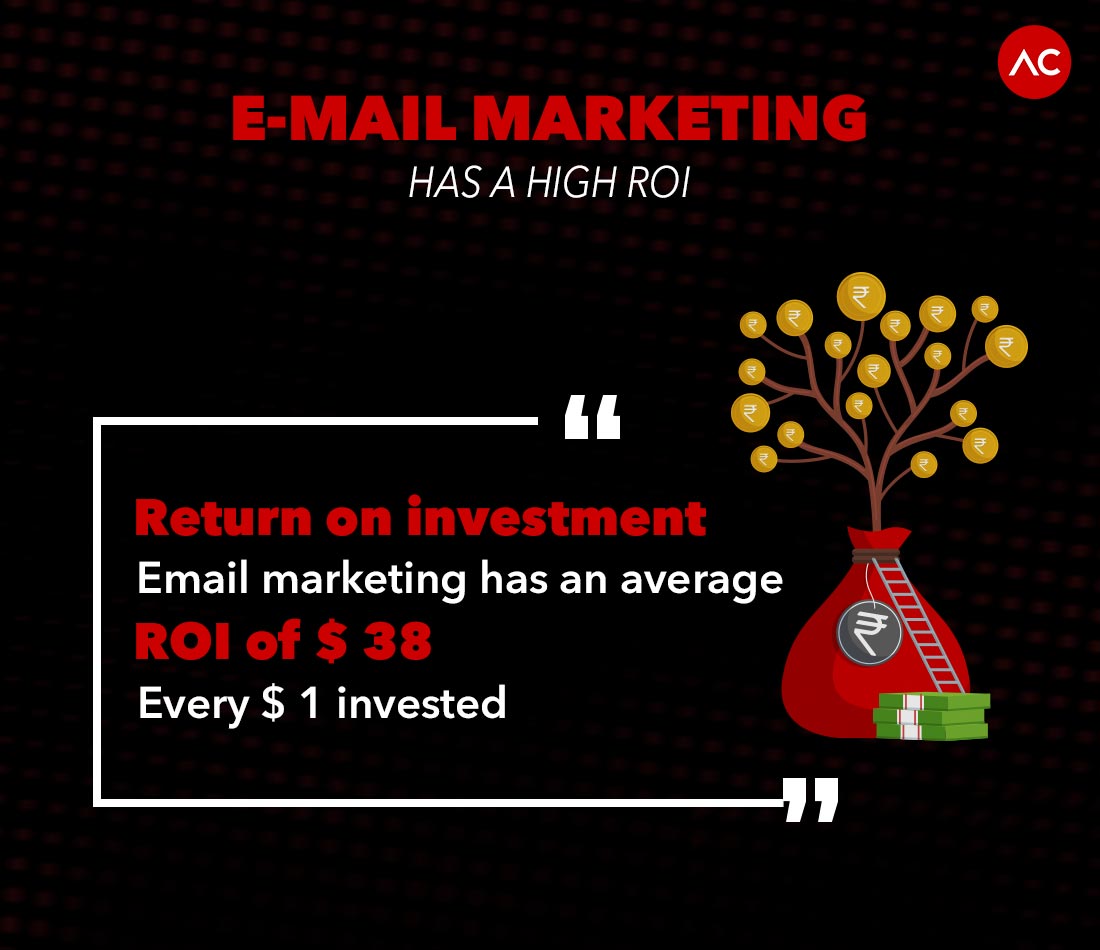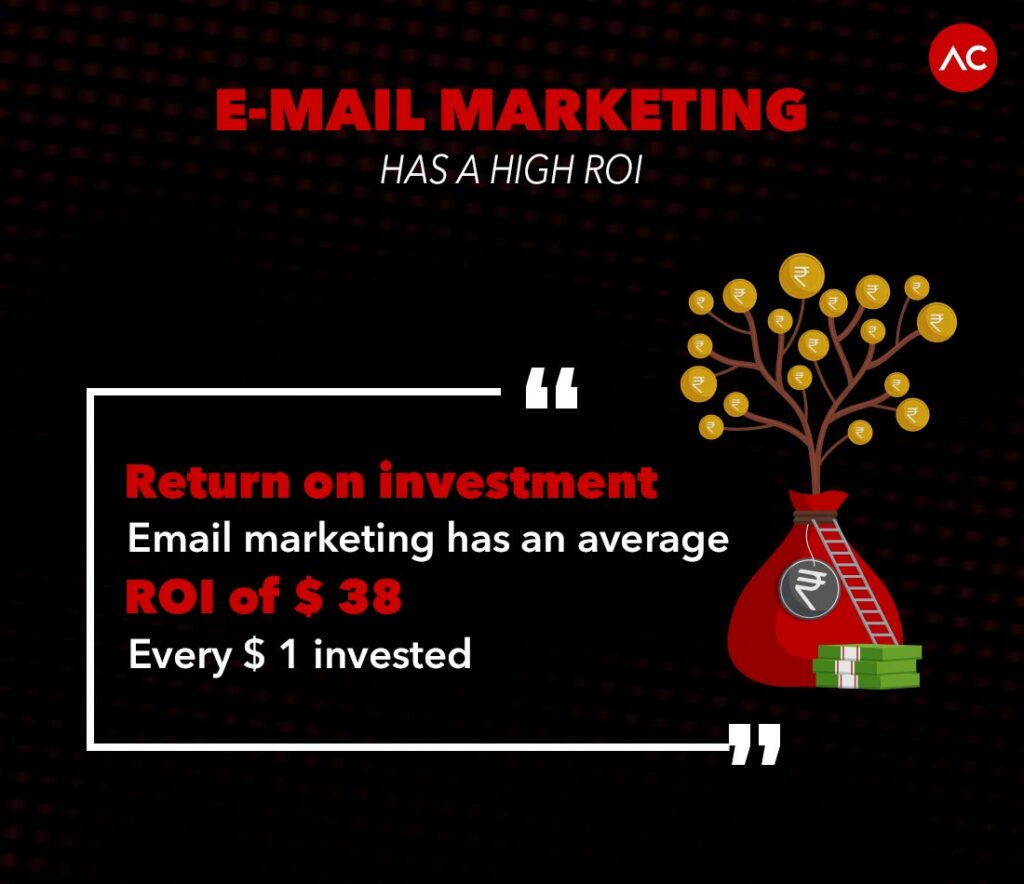 The unmatched ability of e-mail to transform conversions means that e-mail is the most effective marketing channel for your company's Returns on Investment. E-mail marketing offers a median return of 3,800% on business investment, and for each $ 1 invested in e-mail marketing, the average return on investment is $ 38.
It is clear from these statistics that e-mail is the cheapest channel for advertisers, then why override other media when it comes to ROI?
Unlike social media, where you send status updates to every fan regardless of location, interests, and purchase history, e-mail allows you to be more targeted to your contacts.
How to do E-mail marketing: Email Marketing Tips for higher ROI
Here are some practical e-mail marketing tips:
Always ask for e-mail addresses, so you do not send unsolicited messages
Keep registration records
Always give people the option to opt-out
Display your privacy policy
Keep your e-mail address list secure
People perceive that e-mail marketing is outdated, but they are wrong. E-mail marketing has been in use since the birth of the Internet. Since then, it has come a long way and is still a handy marketing tool. Many business people argue that e-mail marketing is more critical now than ever before.
85% of US retailers have good reason to consider e-mail marketing as one of the most effective ways of getting customers! Now is the time to incorporate e-mail marketing into your digital marketing strategy.
And BrandLoom can help you with Email marketing which will work really well to impetus an audience that is familiar with your product and services to take some action and generate higher ROI with proper planning and execution.
Conclusion
Business email marketing is a booming and well-used tactic for promoting a business. The strategy is affordable, easy to execute, and has a good impact on your campaigns.
Rather than replacing your other marketing activities, email marketing perfectly complements them. You can grow your customer base and add to customer loyalty with well-run and good email marketing campaigns.
Undoubtedly reading about your brand repeatedly with great content helps to remind readers of your business' value, especially if they take your advice and find it useful. However, email marketing has lower risks and higher profits, but this is only possible with proper planning and implementation tuned into higher success rates for your business.
Frequently asked questions
What is Email Marketing Software?
E-mail marketing software and automated tools make sending and monitoring e-mail campaigns with ease.

For example, you can use MailChimp and ConstantContact to send e-mails and monitor how your customers communicate with your e-mail.

It is a proven excellent resource for any business owner who has some time to track every little detail of their e-mail campaigns. You can also use e-mail marketing software to track click-through rates, distributions, available prices, skip rates, and conversion rates. When talking about e-mail marketing, you should not ignore your campaigns because you need to make sure it returns to your investment.

So, it is considered an apt idea to have tools that will help you keep track of these crucial metrics.
How does the email marketing tool work?
E-mail marketing tools like Campaign Monitor contain additional data about your customers – including information collected on integrated systems such as your CRM, customer service solutions, and more.

Campaign Monitor uses segmentation and dynamic content to deliver the right message to the right person. For example, they want to ensure that women in the United States receive promotions for washing clothes during the summer months. Or Australian men receive an e-mail about a particular product in the winter. The tool will Find out the gender and location of your customers.
What is Email newsletter?
This use of dynamic content separation helps ensure that the content they post is for individual recipients and that links are driven by clicking, purchasing, and also increasing the ROI of their e-mail marketing campaigns.

These are regular e-mails to customers who choose to receive updates from the company. Newsletters often do not have clear marketing messages but seek to build product-customer relationships. They usually have a chat tone and contain news and information that interests the customer. The goal is to stay in touch with the company even when the customer is not buying anything.

What are the steps of email marketing?
6 Simple Steps To Your First Email Marketing Campaign
#1: Build a Target audience List.
#2: Make Sure Your Design is appropriate and aligns with the motive of the email.
#3: Write Content That depicts a Story.
#4: Focus on Your Subject Lines precisely.
#5: Do not forget to create a Call To Action That Pops.
#6: Review and Test Your Mail Before Sending to the audience.
What are the benefits of email marketing?
With the attribute to being a great source of marketing communications, here are some of the benefits of e-mail marketing:

– Shows high ROI (return on investment). Returns on investment is $ 38 for every $ 1 spent on e-mail marketing.
– It is considered An effective channel for finding new customers.
– E-mail marketing has 40 times more effective in gaining new customers than on Facebook or Twitter.
– It Easily integrates with other communication channels. Use your opportunity to expand your audience and include your e-mail and profile in SMS or web notifications on social media.
– One can use it to their advantage to drive traffic to the website. And get relevant traffic that can help reduce bounce rates.

BrandLoom, as a result-oriented and ROI-driven marketing Consulting firm, can help you in your email marketing strategy with in-depth planning and execution.