Do you want to create an excellent social media presence for your business?
Are you tired of reading through lengthy articles for helpful tips that will help you rope in those likes and views?
We know the pain. That is why we have done a round-up about what you should NOT do on social media.
Let's get started right away. Here are a few things not to do on social media!
Social Media No-No #9: Wing it
Here's the cardinal rule for a successful anything- PREPARE IN ADVANCE.

Avinash Chandra
Social media posts are no exception. Except for those times when you have to do something spontaneous, you MUST have a proper plan for posting.
How to ensure that?
It would help if you had a proper social media calendar for every month. This will help you cover special days and create content that is seasonally appropriate for your brand.
For example, for a brand like Cadbury, the time to go the extra mile for social media engagement is the days leading up to Valentine's Day. The reason- chocolates sell the most during the season of romance.
So here is what you should do:
Decide beforehand what posts to put for what day of the week. Do this at least a month in advance.
Have your posts done at least a week prior. This makes sure that you don't miss out on posting.
If you don't plan, you will not see results. So ensure that you stay ahead of the curve- you can always add something spontaneous, but that should not become your default strategy.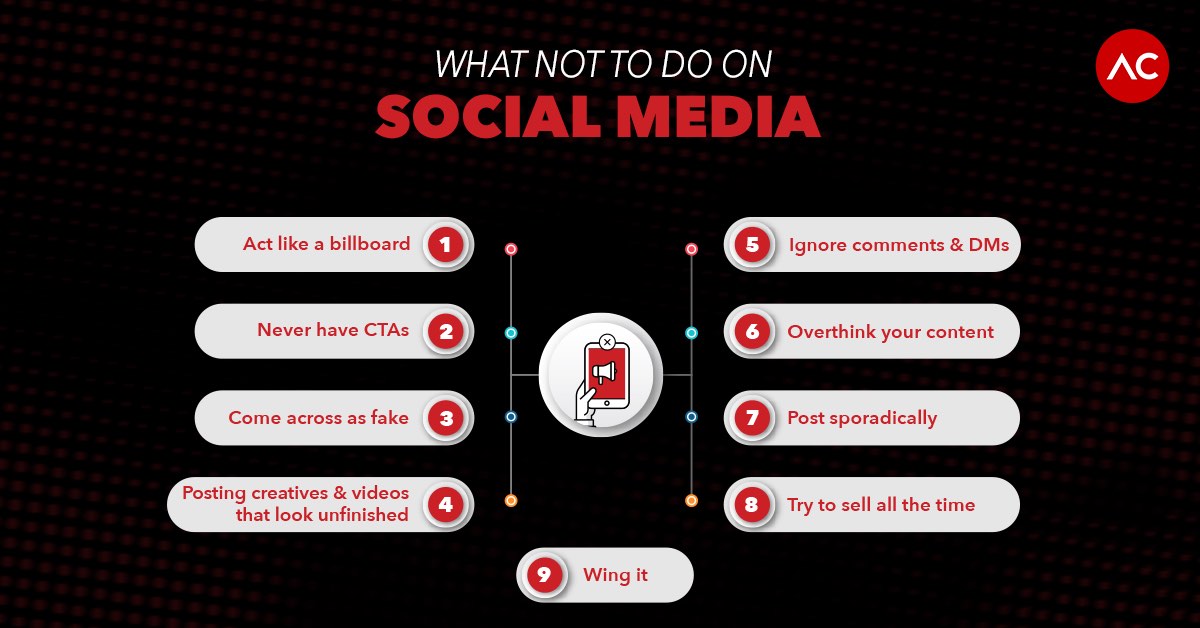 Social Media NO-No #8: Try to sell all the time
Yes, if you have a product- you should promote it on your social media. Here's the catch- if that is all you do- your target audience will drop off.
How annoyed do those hard-sell phone calls make you? If you are only pushing for sales on social media- you become that dreaded hard seller to your followers.
Even if you post about your products- you should try to engage rather than sell on social media. If you want some inspiration, check out the social media for Netflix. They do a great job of talking about their movies without asking you to pay up.
Social Media NO-No #7: Post sporadically
Look up any brand that you like on social media. They all post regularly.
You should do it too.
See, the moment you stop posting, you lose your traction on the platform.
Any handle that updates content on the regular is favored by the algorithms and gain momentum faster.
Not to mention- social media platforms have TONNES of brands that generate a tremendous amount of content every minute. Your audience will never lack something to look at, but YOU will lose out of your audience. It's a classic case of "out of sight, out of mind."
Social Media NO-No #6 Overthink your content
Social media is a place where you have to be consistent. If you dawdle too much over what to post, you will end up wasting time.
Think of the Twitter handle for Merriam Webster. The dictionary is an internet legend for its funny comebacks and witty posts. But do you see it post something epic every day?
Of course not. Most days, it posts about standard stuff. That's because the brand knows that posting regularly is more important than hitting a 100 every day.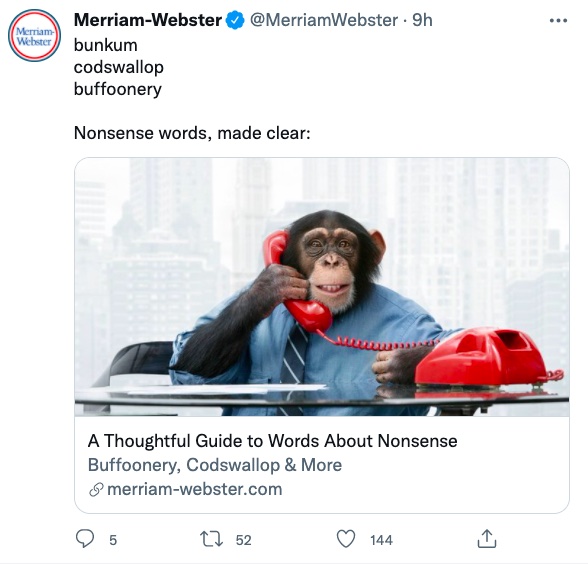 So don't overthink it. Even if you commit a mistake or have a typo- it really doesn't matter in the long run for your brand.
It doesn't matter if your post today doesn't make it to the internet hall of fame. There is always tomorrow. What is important is that you keep posting.
Social Media NO-No #5 Ignore comments & DMs
The primary aim of being on social media is to INTERACT with people. So when people DO interact with your brand- you should take the convo forward enthusiastically.
Check your comments and DMs. Is someone asking a question? Is there some good feedback there? Does someone have a suggestion? Or is someone simply saying they like you?
Engage with your audience. Answer them- it shows them that you care. You can look at brands like Wendy's, which regularly converses with its audience- and even gives some sassy replies.
Social Media NO-No #4 Posting creatives and videos that look unfinished
The world has moved ahead in terms of technology. As a result, our expectations about media and technology have changed significantly.
If you are posting photos or videos- make sure they are professionally edited and look polished. Social media is a powerful PR tool, and you want to put your best foot forward for it.
Well done photos and videos create a good impression on your audiences and are more engaging.
Secondly, good quality visual content shows that your brand is well equipped technically. In the age of technology, it is a definite plus.
Yes, even the memes you want to use. Edit them carefully.
Social Media NO-No #3 Come across as fake
Make sure there is no disconnect between your brand's personality and its social media messaging. Be authentic.
Imagine a brand like Microsoft. If today it starts to write its posts using gangsta rap words, it will feel incongruous. Similarly, if Bill Nye the Science Guy starts using sports jargon- it will have a pretty jarring effect.
Make sure your brand messaging is consistent. Don't try to pretend to be something you are not. If you do, you will end up confusing your audience and putting them off.
Social Media NO-No #2 Never have CTAs
Yes, selling on social media is tricky. But you should have a clear CTA for every post that you make.
Let's look at it this way- every post has a purpose. When you are posting something on social media, you want your audience to take some desired action. It may be something as simple as wanting them to subscribe to your channel.
If you want something from your audience, you have to prompt them to do it. Whether you want them to buy something, or click on the link or visit your website- you should always have a CTA.
Think of the popular YouTubers like That Guy With The Glasses or Yashraj Mukhate. Every post of theirs comes with a CTA. Their video descriptions will always ask you to follow, like, or share. You should do the same.
Social Media NO-No #1 Act like a billboard
After doing all that, here is the most important tip for you- INTERACT. Your social media handles are not static billboards- your job doesn't stop after you put up a post.
You have to engage your audience actively. You have to find new ways to initiate conversation. How can you do it?
Go live from time to time
Conduct relevant polls
Ask them questions
Take questions from them and address them in your posts and videos
Post behind the scene stuff to give your audiences a chance to be participants in your brand's story
Tag people
Conduct contests
Put up puzzles
Ask for their feedback
Give a shoutout to, share, and cross-promote other relevant social media handles and users.
The more you do this, the more activity you are likely to see. Start slowly- and with time, diversify your posts so that you can initiate more conversations.
Conclusion
Remember, social media is like a cycle. The more active you are, the more you will engage, and the more you engage with your audience, the more involved they will be- which will give you more ideas for staying active.
If you feel like you need help coming up with an excellent social media strategy, talk to us. Connect with my social media marketing agency to discuss social media strategy.
FAQ's