Are you looking for ways to grow your online business? Have you explored performance marketing or performance-based affiliate marketing programs? These performance led programs have been gaining popularity among brands and companies?
Why?
For an entrepreneur, the risk of using affiliate marketing to boost growth are extremely low, and the returns could be very high.
Affiliate programs are performance driven.
What it means is that as a business owner you only pay when a customer converts rather than when they visit your website (which is the case for advertising on Google / Facebook ? Twitter or Bing or any other advertising network).
So here's the deal:
I will help you start a Performance-Based Affiliate Marketing Program for your business. The goal of this program will be to help you grow your Online Business with profitability.
Related Articles
However, if you want to earn money with affiliate marketing program as a blogger or publisher, go to my Affiliate Marketing Programs Guide to make money online.
The goal of this guide is to help you grow your online business with performance-based affiliate marketing program.
Before we talk about how to start an affiliate marketing program, let us first understand what it is.
What is Performance Marketing
Performance Marketing is an online marketing and advertising program. With performance marketing advertisers (sellers, merchants or retailers) and marketing companies (affiliates or publishers or bloggers) get paid when a specific action is complete; such as a sale, lead or click.(1)
Do you know that:
Affiliate Marketing today is responsible for 16% of e-commerce sales.(5)
With this kind of contribution, now this performance-based marketing is on par with email marketing and ahead of both social commerce and display advertising as a driver of e-commerce transactions.
What is an Affiliate Marketing Program
Affiliate Marketing is a type of performance-based marketing program in the digital world where you (as a Business Owner) share a part of your earnings with a partner (affiliate) for referring paying customers to your online business.
How Affiliate programs drive Performance
It is an online marketing technique: Affiliate marketing, being an online marketing technique, brings a lot of transparency, measurability to the art of referring traffic to others businesses.
Performance Oriented: Affiliate programs drive real results for a business. Reward to traffic driver (publisher or blogger) goes only in case the desired results are achieved.
Online Businesses reward members for each referral: Online businesses who run affiliate marketing programs share a part of their revenue with the affiliates. Therefore it is a win-win situation as the entire digital ecosystem supports each other.
Affiliates refer customers acquired by their marketing efforts: Affiliates are bloggers, authors, consultants and independent professionals who monetise their knowledge online.
Affiliates work like Influencers: Bloggers can be highly influential and are the third-most-consulted consumer decision tool for shoppers. Bloggers work like micro influencers. Through the power of influencer marketing, bloggers enables brands to connect with consumers and establish trust.(8)
The affiliate gets a reward or share of sales from the online business running the program.
Affiliates bring customer through their digital marketing (SEO, SMO, Content marketing and at times paid search & social media promotions) efforts and drive it to a merchant site (running the affiliate marketing program).
Depending on the kind of product sold an affiliate can earn anything between $1 to $1000.
Rules of Affiliation – what affiliation really means
In the context of affiliate marketing affiliation means that the affiliate is officially connected to an online business to bring customers. The meaning of an official connection is below:
That Affiliate has a formal business relationship with the online store.
Affiliate follows the rules set by the Online business running the affiliate marketing program or the affiliate marketing network.
The relationship is set up for mutual profit.
The affiliate should disclose the nature of the relationship to the user of its online content.
Affiliate Marketing vs Referral Marketing
Affiliate Marketing & Referral Marketing both drive traffic or bring customers to a professional or business. However, what differentiates the two is primarily the nature of the relationship between the traffic driver (Affiliate or Referrer) and traffic receiver (professional or business).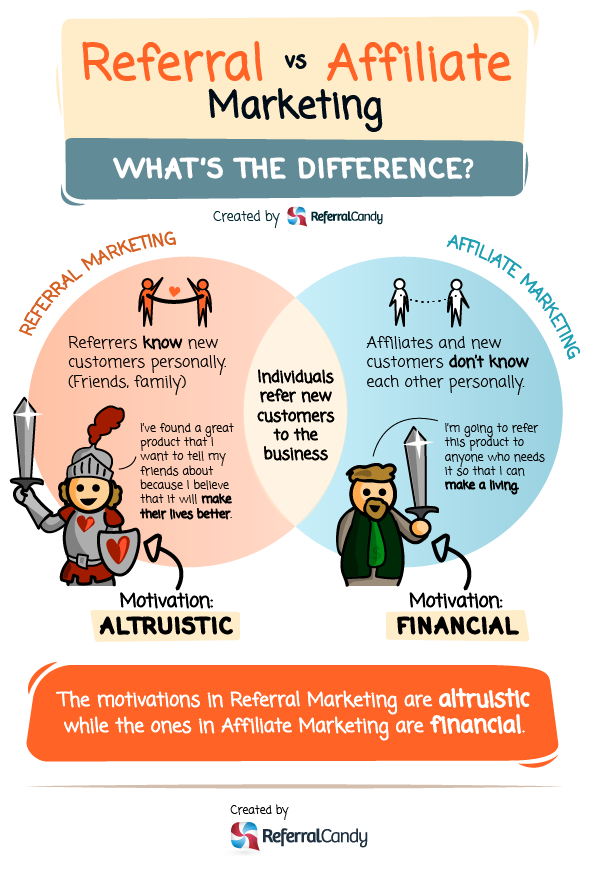 Below are the fundamental differences between the two types of programs
| | | |
| --- | --- | --- |
| | Affiliate Marketing | Referral Marketing |
| Relationship between Traffic Driver (Affiliate / Referrer) & Traffic Receiver | Formal Relationship | Informal Relationship |
| Relationship between Traffic Driver (Affiliate / Referrer) & Customer (User of the Content / Information Seeker) | No relationship | Friend / Family / Any form of connection |
| Type of Traffic Driver (Affiliate / Referrer) | Third-Party Advocates | Existing customers or friend or family |
| Primary Motive | Financial | Altruistic. Support a friend, or family gets better product or service. |
| Customer Acquisition Channels | SEO / Email Marketing / Paid Advertising | Close Connections directly or on Social Media |
| Relationship Type | Transactional | Engagement Driven |
| Cost | 20% to 60% of the cost of product or service | Negligible |
| Success Driver | Affiliate Marketing Network; Value of the Reward | Quality of Product / Service; Customer Service; Happy customers |
Want to learn more: Difference Between Affiliate Marketing vs Referral Marketing programs
How Affiliate Marketing Works
At its core, affiliate marketing is a transactional relationship between 3 parties
The Affiliate Marketing Triangle
Affiliate Marketer or Advertiser: A professional or an Online business that wants new customers and willing to share a part of revenue earned with the referrer.
Affiliate or Publisher: Affiliate is a business partner, who is willing to bring customers to the affiliate marketer through email marketing or SEO or any other form of paid advertising.
Customer: Customer is the one who buys a product from the affiliate marketer. Affiliate introduces the customer with the marketer.


Below are the other critical elements of an Affiliate Marketing System:
Online Business Website or Mobile App: It is the place where a customer completes the transaction.
Affiliate Publishing site: This is the place which attracts and convinces a customer to jump to the Online Business website or mobile app to buy a product or service.
Affiliate Marketing Network: At times to increase reach in a short span of time,  an advertiser can enrol with an Affiliate Marketing Network with a large number of active affiliates or publishers. Leveraging an existing affiliate network allow an advertiser to increase its partnering affiliates in a short span of time.
Now let us see how affiliate marketing works?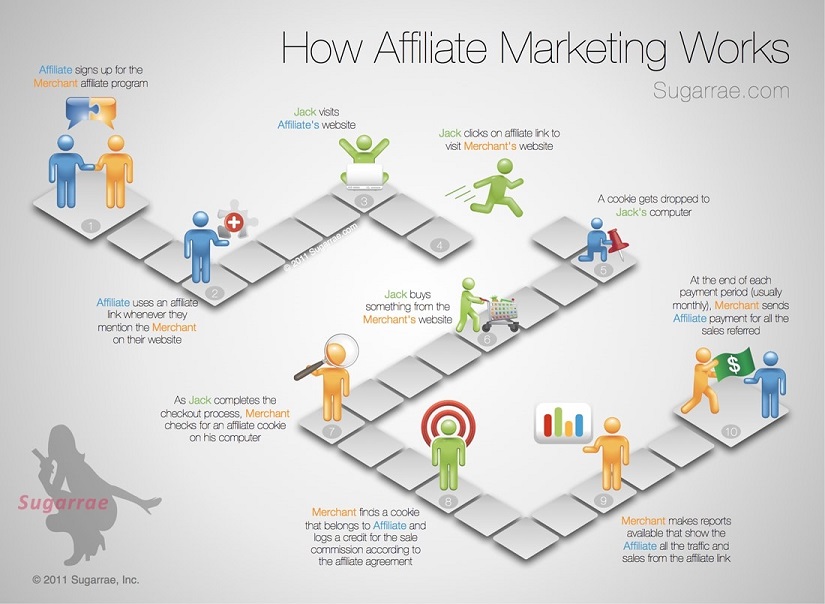 A technology called "cookie" enables affiliate marketing. A cookie stores information like username, user preferences, passwords, shopping cart contents and several other things on the browser.
Affiliate marketers install a cookie on the system of the user of the affiliate content or publisher.
This cookie identifies the affiliate marketer (advertiser), affiliate (publisher), the creatives on the publisher site. If the website users click on a link on the publisher site to go to the affiliate marketer website and ends up buying a product or service, a cookie enables the transfer of information.
Affiliate marketers share their revenue with an affiliate on the basis of information collected by the cookie.
RELATED READING :

Affiliate Marketing Programs Guide: How to Setup, Start & Make Money Online
How to start a Performance-Based Affiliate Marketing Program
So you want to boost your online business with affiliate marketing.
To start an affiliate marketing program, you need to have the mindset of sharing your success.
You must be wondering:
That you are struggling at this juncture, how can you share your success?
To succeed as an affiliate marketer, you need to bring a large number of affiliates on board. These affiliates will help you achieve your business objectives by driving traffic to your website. If the referred users end up buying on your website, you will share a part of the predetermined profit.
Therefore, if you are willing to share your profit with an affiliate, read further.
Great, so you want to grow your online business with an affiliate marketing program. Here are five simple steps:
5 Steps to Start an Affiliate Marketing Program
Below are the five steps with an example to help you launch an affiliate marketing program.
Choose your product or service category wisely
Competitor Research
Build your Value Proposition
Identify a suitable Affiliate Marketing Network
Market your Affiliate Programs
Let me know if you have any other question on the steps below:
1 Choose your product or service category wisely
Affiliate Marketing programs are all about promoting goods and/or services.
If an affiliate can promote a product or service successfully, both the brand and publishers can reap rich rewards.
Therefore, to be successful choose a product or service category based on what is popular. That should be the product category on your affiliate network in the beginning.
Here are my simple rules of thumb to help you choose a category:
Identify categories which are multiplying in your industry compared to other types. You can use Google Trends for a straightforward and quick analysis. In the below report you can see that T-Shirt as a group has grown much faster compared to other categories.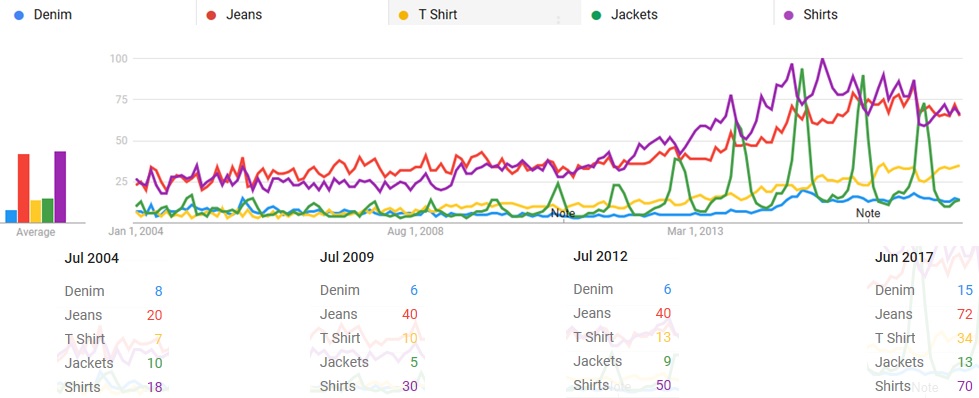 Look for keywords that have a large volume of organic search. You can use wordstream for the same. Wordstream will also show you Keyword Difficulty Index. Higher the keyword difficulty index, competitive will be the category from the perspective of prospective affiliates.
You can also use SEMRush to identify keyword volume and difficulty index. This is something which will help you fine-tune your category. For example, after you have determined T-Shirt as a category, we can further fine tune. Here we can decide if we want to target men or women.
2 Competitor Research
Competitor research is an exciting phase in the journey to start an affiliate marketing program.
If a competitor in your category is running an affiliate program chances are that they are also running Google shopping ad or Google search ads. So put your keyword in Google and generate results on Google SERP.
Something like below you will see on your page: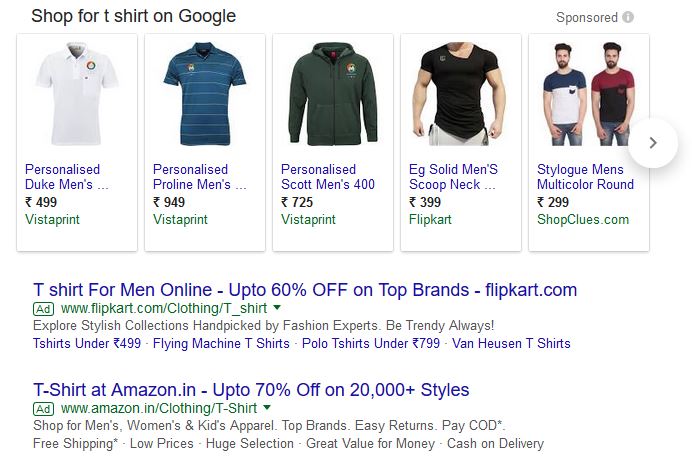 Pick up the names of all the competition visible on the page in the form of an ad.
In the screenshot above you will see the names of Vistaprint, Shopclues, Flipkart, and Amazon.
There must be several more; however, it will be a good idea to study their affiliate marketing programs for a start.
This is a critical stage in the overall viability of the program. You need to offer at least equal or higher commission to woo top affiliates to start working for you. After all, you will be competing for their attention.
If you are against established competitors, your job could be tighter.
So what all you need to know to compete
Just search for a phrase "Competition name + affiliate" on Google, and you have their affiliate program listed on Google.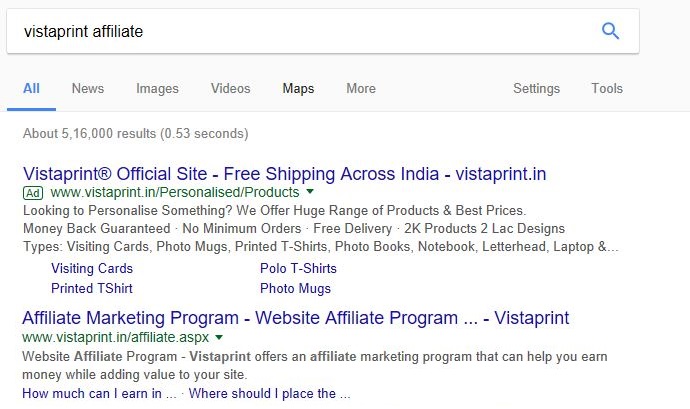 Now you have the URL of your competitor. Click on the affiliate marketing program link, and now you have access to whatever you need.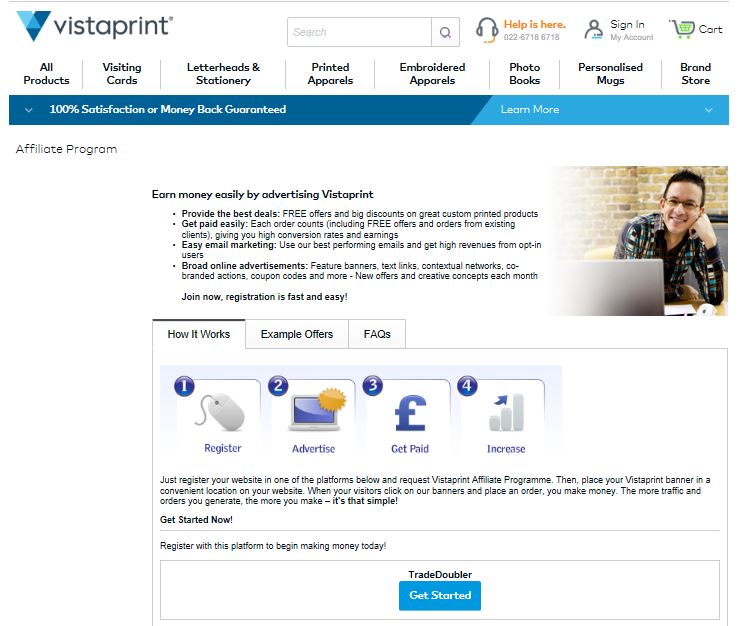 So here is what we need to capture from this page:
Which affiliate network they are using. In the case of Vistaprint, they are using TradeDoubler.
What commission they are offering to their affiliates. You might be forced to match or increase the affiliate commission. This is something which might break your finances. However, do consider the overall benefit you will get having a member working for you. You might need to invest more to acquire a new customer.
Are they offering recurring commission or only for the first time.
What kind of affiliate advertising support your competition is offering.
3 Build your Value Proposition
Once you have done your competitor research, now is the time to develop your value proposition. You need to create your value proposition keeping in mind two critical stakeholders:
An affiliate
Your potential or targeted customer/consumer
As a brand all your marketing activities are designed to generate interest among your potential clients, that is precisely the case for an affiliate. Your target consumer is a target user of your potential affiliate too.
Therefore now you have an additional help with the same target consumer in mind. You can connect with some prospective affiliates to figure out what works for their audience.
RELATED READING : Building Strong Brands & How Branding helps you build your Business?
Learn from Affiliates what matters to them or their customers
How do we identify these potential affiliates to do a dipstick research? Well, Google is there to help again. This time enter the following phrase in Google search box: "Niche category you have selected + reviews."
Let us see below, for T-Shirts; I entered "T Shirts for men reviews":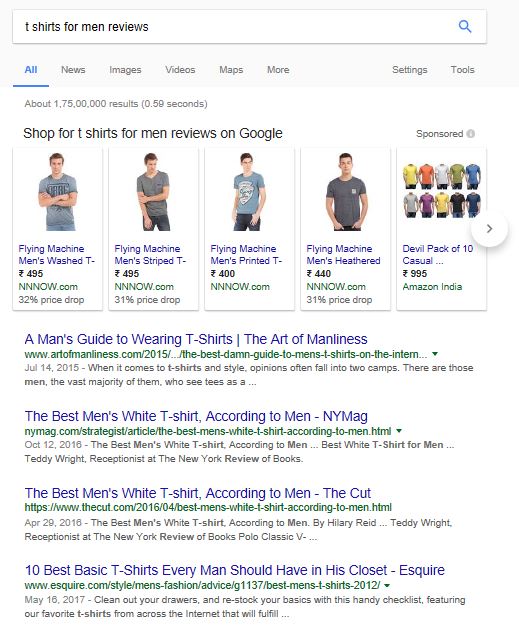 And you have several website listing in the SERP. All these websites are affiliate websites helping your consumers take a better decision. These are the guys who will be your target affiliates.
Well, you can reach out to them and ask them what their users need. However, I am not sure if they know what your prospective consumers are interested in. Therefore, you need to dig deeper.
If you have deep pockets, identify 20 affiliates and ask them to come for a Group Discussion to a central location. An expert in a group discussion can help you find out what works for them and their audience.
So what do you do if you are in a hurry or do not want to spend money in a group discussion?
Just copy all the URL's on page 1 of Google for your search above.
And head straight to SEMRush or Similarweb.
RELATED ARTICLE : Top 10 Payment Gateways in 2017 – Choose the Best for your Business
How to check the traffic of your potential affiliates
Identify the monthly traffic, top pages and organic keywords of the prospective affiliates you have identified.
Let us see the traffic analytics of one of the identified affiliates: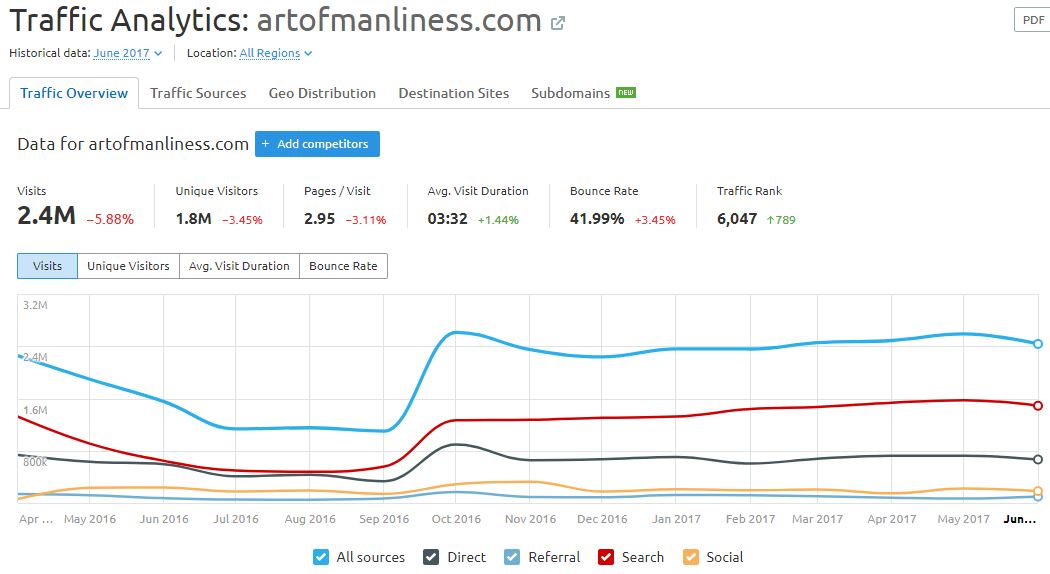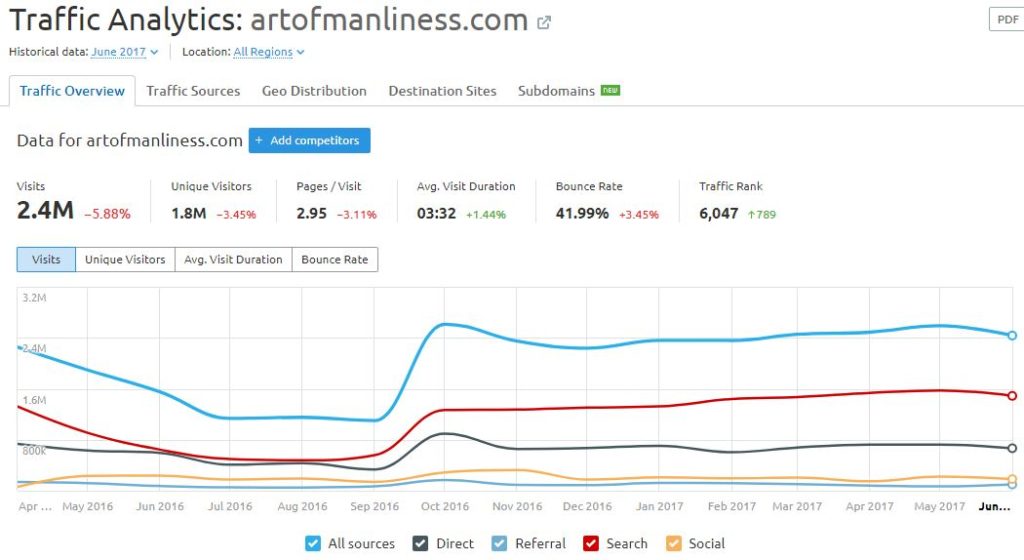 You can see from the above that this prospective affiliate gets massive traffic on a monthly basis. The maximum contribution is the organic searches, and that is what makes him successful.
Now identify his top website pages and go through all the pages to determine, what his audience wants.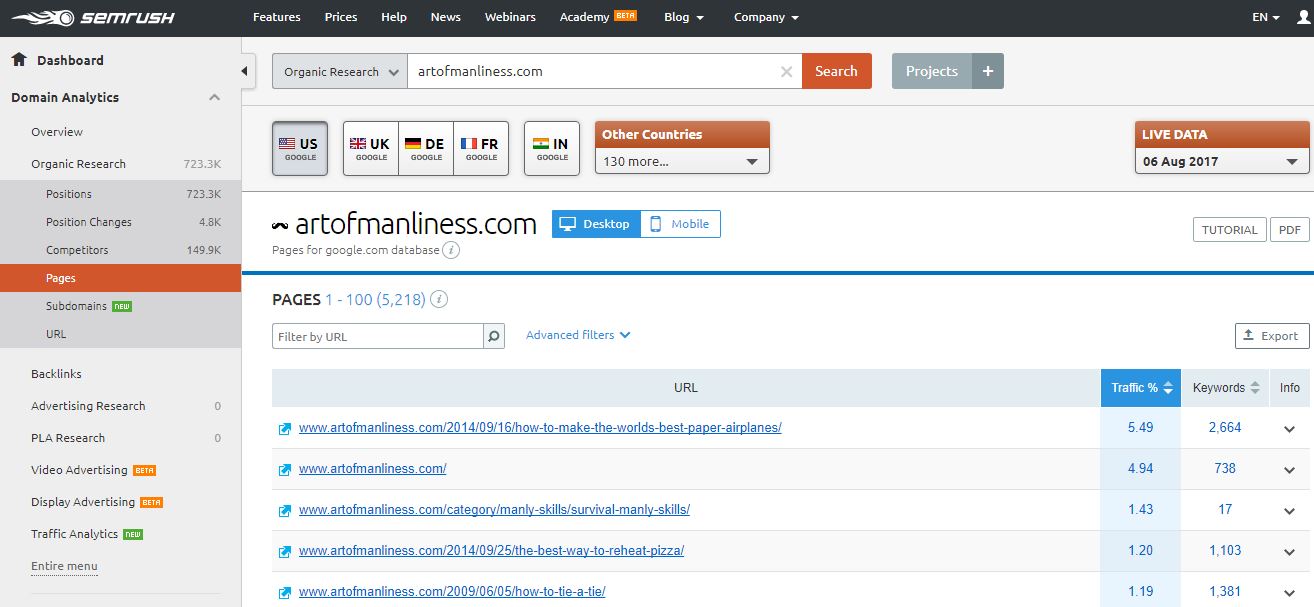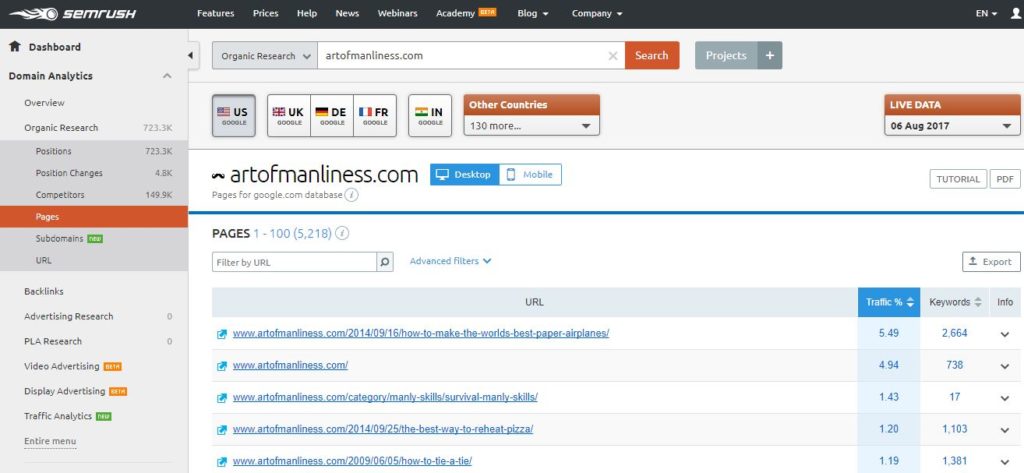 All the feature or propositions you recognise here will help you find value propositions for your product or service.
4 Identify a Good affiliate network
Well, I am not going to review affiliate networks here. As good or bad is always relative. At this juncture, we are merely looking at affiliate networks that have affiliates like the one we have identified above. Once we identify some appropriate affiliates with the steps above just put their URL's to similarweb.
Once you see similarweb results navigate to the middle part of the page and you will see the referral section. See what I got for the affiliate we have discussed above: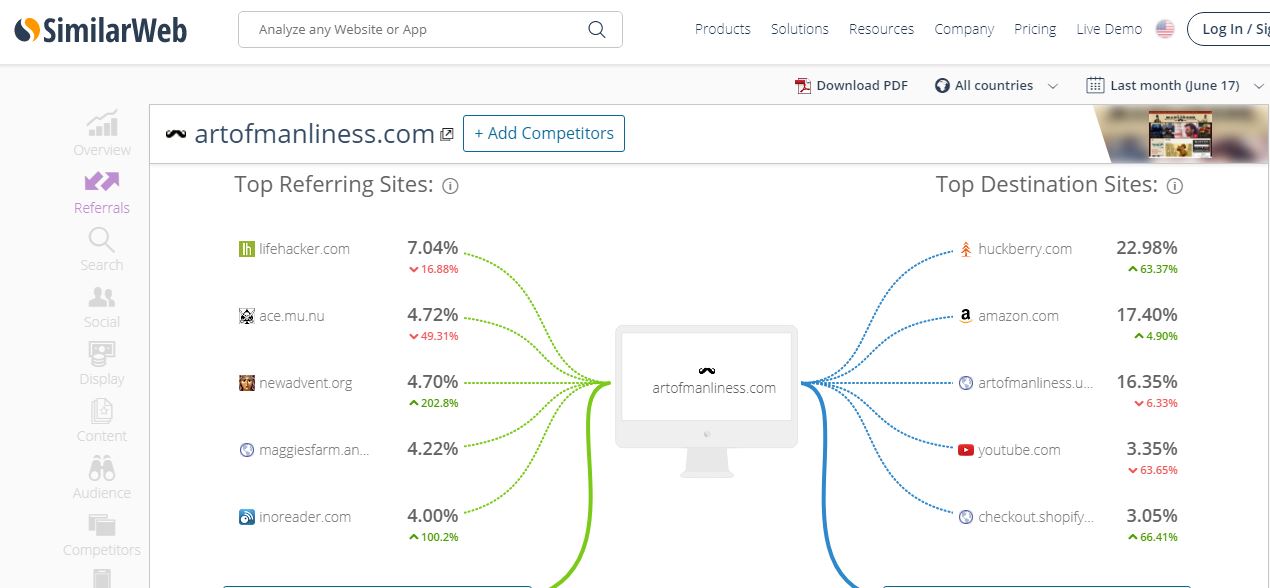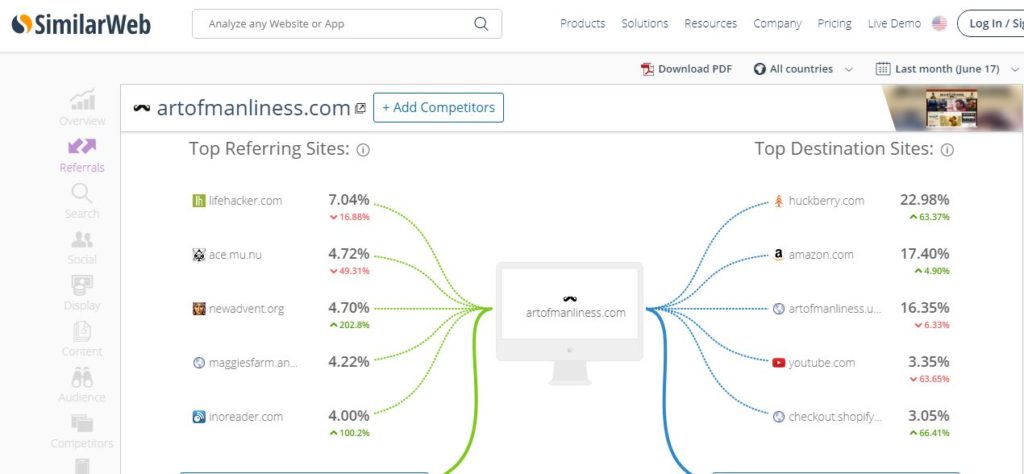 You can see that the affiliate is driving traffic to Huckberry, Amazon and several others.
Directly go to google and insert "referring site + affiliate" and you will get the affiliate marketers page and if you are lucky all affiliate networks they are using:
See below what I got for my search: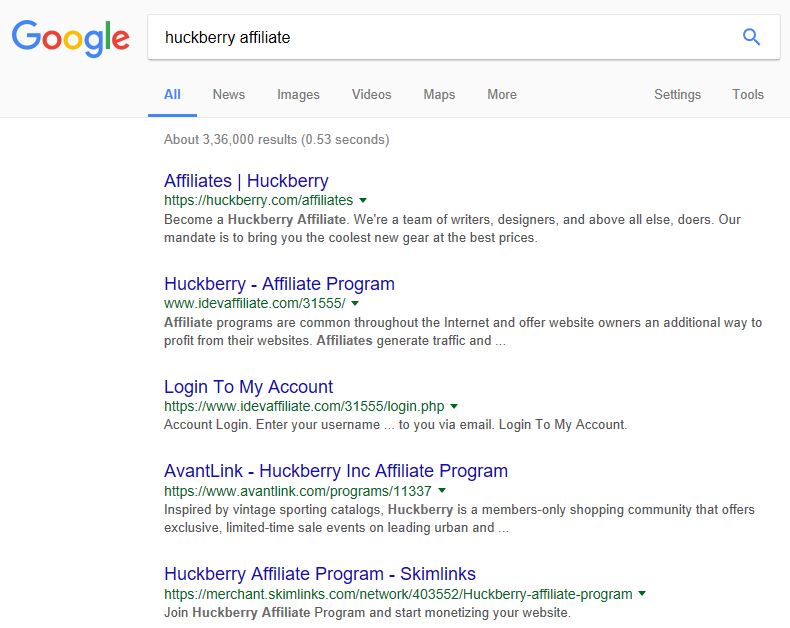 You can see that the competing affiliate marketing network is using the following affiliate networks:
IDEV Affiliate
AvantLink
SkimLinks
Reach out to all the affiliates networks. You need to ask the following questions:
Affiliate Network charges
Number of affiliates in their network from your niche
Affiliate commission offered by competing affiliate marketers in your niche
Affiliate Network charges
Based on the above you can choose one or multiple networks. My recommendation is to negotiate hard the fees they ask for as it could be a challenge for a small business or start-up. Below are the heads under which affiliate network levy their charges:
Joining Fee or One-Time Network Access Fee: This fee provides you access to the affiliate network, its tools & resources, and publishers.  Affiliate networks will assist you with integration and launch of your affiliate program.
Security Deposit or Escrow Account Deposit: Affiliate network will keep a security deposit to ensure that their publishers or affiliates get paid for driving traffic to your site
Transaction Fee: This is towards every transaction that takes place on your site which is powered by the affiliate marketing network. The affiliate network can ask for a minimum revenue on a monthly basis to be eligible to stay in the program.
Annual Renewal Fee: You might have to pay yearly charges in the form of a renewal fee if you decide to stay in the program.
5 Marketing your affiliate marketing program
Your affiliate marketing network will help you promote your program by sending an email to their network members. As a business, you can also support your business by identifying prospective affiliate by running the step 3 multiple time.
Once you have identified these affiliates, send them a personalised email and ask them to join your affiliate program. Meeting them face to face will help you build the credibility of your program and brand.
Things to Watch Out for
Online businesses find affiliate marketing to be very attractive as they have to pay for performance only. Therefore, affiliate marketing can be very profitable, the return on investment can be terrific, but it has to be done correctly.(3)
But affiliate marketing has a dark side.(2)
Here is what a business owner or markets needs to know:
A new marketer or beginner can get defrauded. So always hire an expert affiliate marketing firm during your journey to start a performance-based affiliate marketing program.
Please also note that you will not have complete control on your communication.
Affiliate recruitment is not a one time process, you need to continually recruit new affiliates to drive maximum results for your business. If you don't, your competition will.(6)
Automate your payment processes. It could be daunting to calculate it on a regular basis.(6)
Too many businesses just sign up with a network and turn on the switch, and then they wonder why they have a mess on their hands.(3)
Therefore, first get up to speed on the best practices for running an affiliate program and then launch your program.(3)
Conclusion
Performance-based affiliate marketing programs could generate fantastic business results. Affiliate marketing can be very profitable, the return on investment can be terrific, but it has to be done correctly.(3) It is cost effective and helps all kind of businesses to grow.
It is estimated that almost 15% of all digital marketing revenues comes from affiliate marketing.(4)
I hope that you launch your affiliate marketing program soon and grow your business rapidly.
Best wishes.
Avinash
Here are hand-picked articles to read next:
Frequently Asked Questions
Q1 Can I get SEO value from the affiliate marketing links?
Traditionally Google does not pass SEO value to the affiliate links. Matt Cutts confirmed this in an interview with Eric Enge:
Eric Enge: If Googlebot sees an affiliate link out there, does it treat that link as an endorsement or an ad?
Matt Cutts: Typically, we want to handle those sorts of links appropriately. A lot of the time that means that the link is essentially driving people for money, so we usually would not count those as an endorsement.
Therefore one can conclude that Google doesn't count affiliate links as editorially given backlinks.(7)
Sources & References
Save
Save
Save
Save
Save
Save
Save
Save
Save