You have seen him, you love him but he also makes you cringe through the laugh. We are talking about one of the top YouTubers in India Bhuvan Bam. Bhuvan is one of India's favourite Youtube comedian and content creator. He is the young Indian sensation who runs his insanely famous Youtube channel 'BB Ki vines'. His videos are marked by sarcastic and relatable comedy that resounds with the young Indian crowd.
His famous characters' Bancho,' 'Hola' and 'Titu Mama', gained him over 2.4 billion views (as on 8th May 2020) and even more hearts. Bhuvan Bam YouTube subscribers number currently stands at 17.1 million (as on 8th May 2020) with average view count standing at a blaring 16.45 million. His videos have made waves with the young minds both due to his characters and hilarious Hindi lingo.
Who is Bhuvan Bam?
Bhuvan Bam, age 26 is a singer/ composer/ songwriter, stage performer and most importantly a Youtube star from New Delhi. He became popular after a video that he made mocking a reporter.
Bam has watched a news reporter on TV covering the Kashmir floods. The reporter was asking a mother who lost her child in the flood outrageous and silly questions. This jolted his instinct and he knew he had to do something about it. He made a homemade satirical video which went viral overnight, especially in Pakistan. This was the beginning of BB ki vines on Youtube on June 2015.
Failure to Success Overnight
But this isn't the first video he uploaded though. "The Chakhna Issue" was his first but it didn't gather much momentum with just 10 to 15 views. Ever since he has done about 160 videos on his channel alone. In 2018, Bam was the first Indian YouTube content creator to cross the 10 million subscriber mark. He is currently the Director of BB Ki Vines Private Limited and a partner at AMB Youthiapa LLP. AMB Youthiapa produces his channel merchandise.
Early life and signs of a comic
A Maharastrian, Bam was born in Gujarat, and later his family moved to Delhi where he studied at Green Fields School, New Delhi. He got his bachelor's degree from Shaheed Bhagat Singh College. During his college days, he loved to entertain crowds doing comedy in school and making random videos during his college life. He was also into singing and had performed at various bars in Delhi.
Once he debuted on Youtube, his whole career took a massive turn. His satirical and incredibly relatable videos were a hot favourite among teenagers in India. Bhuvan Bam subscribers are mostly post-teenagers. He also had fans across Bangladesh and Pakistan in the same age group. When his first hit video released, a majority of the viewers were from Pakistan. It took a while before the Indian audience latched on to his content,
Bam had once said "My initial audience was from our neighbouring countries. My videos went viral in Bangladesh and Pakistan. My fans thought I'm from Karachi. After 7-8 months, I started getting viewers from India,". (source)
What makes him click?
The ingredients that made his videos a massive crowd-pleaser were its originality and casual yet striking scripts. His sketches are very close to real-life experience encountered by an average person. They are sprinkled with his comical elements and characteristic satirical tone.
When asked about his venture, Bam said in an interview "BB Ki Vines truly changed my life. I was totally confused on what to do in life. I was doing music. BB Ki Vines was in my mind since school days. I loved making people laugh by cracking jokes and I was the entertainer in my class. BB Ki Vines started unexpectedly."
What makes Bhuvan Bam a Success story on YouTube
My team runs one of the largest influencer marketing platform and they have been researching this for more than a month. We came up with 2 factors behind Bhuvan Bam's success.
Factor 1: Bhuvan Bam is Viral Video Making Machine
The first factor that I want to highlight is how Bhuvan Bam has turned himself into a viral video making machine. For most YouTubers, Viral Videos are like a dream.
Most Youtubers get one viral hit and then spend weeks/months before another viral hit comes in. Bhuvan Bam has perfected the viral video formula.
His understanding allows him to make videos after videos that get onto the youtube trending video page and get tons of views. So, what is his secret?
YouTube Viral Video categories
Most viral videos are based around a central theme. The viral videos can be classified into 5 categories:
1 Money related Viral videos
2 Reaction based Viral videos
3 Challenge-based viral videos
4 Pranks
5 Drama
What Bhuvan Bam does very cleverly is that he uses multiple viral themes in a video. Take for example this video "Angry Masterji". This video like other videos by Bhuvan Bam is a Drama video with pranks. On top of its reaction in the video by Bhuvan Bam is a class in itself.
Bhuvan is a master at combining various viral video types in one video. The result in this case 18 million views in just 3 weeks.
Factor 2: Bhuvan Bam know how to beat YouTube Algorithm
Not every video goes viral. Several amazing videos that could have gone viral fail to attract even one view. Therefore, making a viral video or getting a video go viral are two different things. How to make sure that your video goes viral is something Bhuvan Bam has perfected. He does this by beating YouTube algorithm.
Today YouTube cares only for two things more than anything else:
1 Click-through rate
2 Watch Time
Click-through rate is the number of people who click on your thumbnail when they see your video thumbnail and watch time is the amount of time people spend watching your video after they click on it. For YouTube, these two matrices are most important today. Based on this YouTube takes a call to show or not show your video to other people.
You see a lot of people try to overcomplicate things when it comes to beating YouTube algorithm. Bhuvan Bam keeps it simple and focuses on making people click and stay on a video.
In terms of CTR, it is all about your tile and thumbnails. These things Bhuvan Bam absolutely dominates. His titles are short and snappy and there is always a shock value. I can not tell you how many times I have seen Bhuvan's videos just out of curiosity it generates.
Bhuvan bam's YouTube Thumbnails
His thumbnails seem overly simplistic and at times even poorly made in 5 minutes. These thumbnails perfectly suit the types of videos that he makes. His thumbnails seem to be amateur by design. Things that go viral on the internet. People do not like seeing polished things like a viral video. Most of his thumbnails show some kind of reaction.
Another thing is that over 50% of traffic on Youtube comes from mobile. Bhuvan knows that to grab attention and be click-worthy on small screens, he needs to keep his thumbnail readable and simple.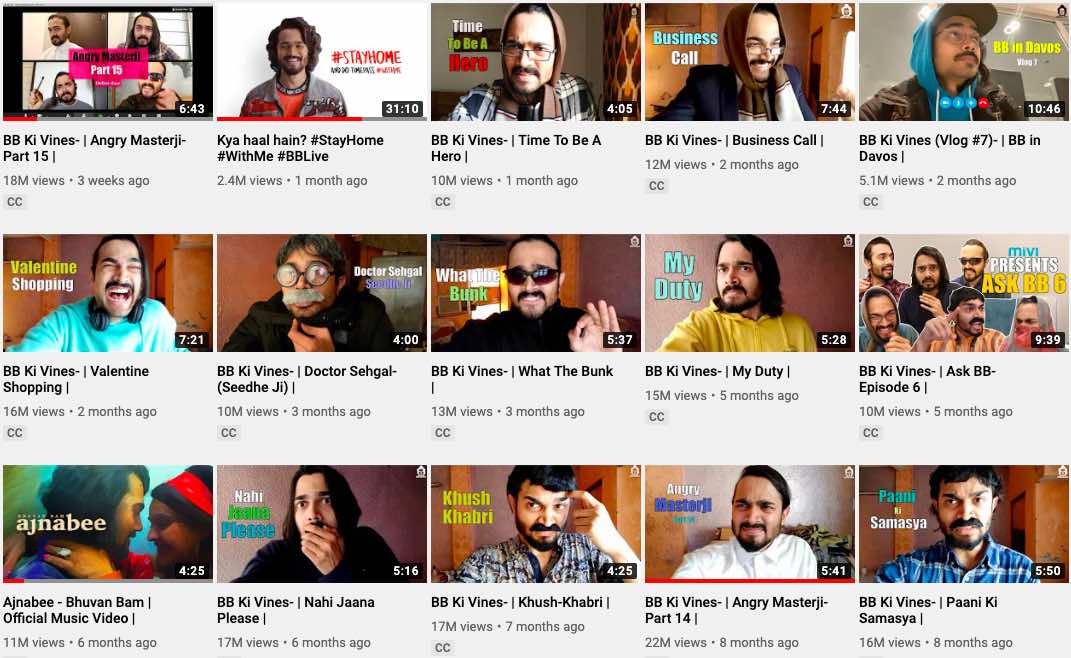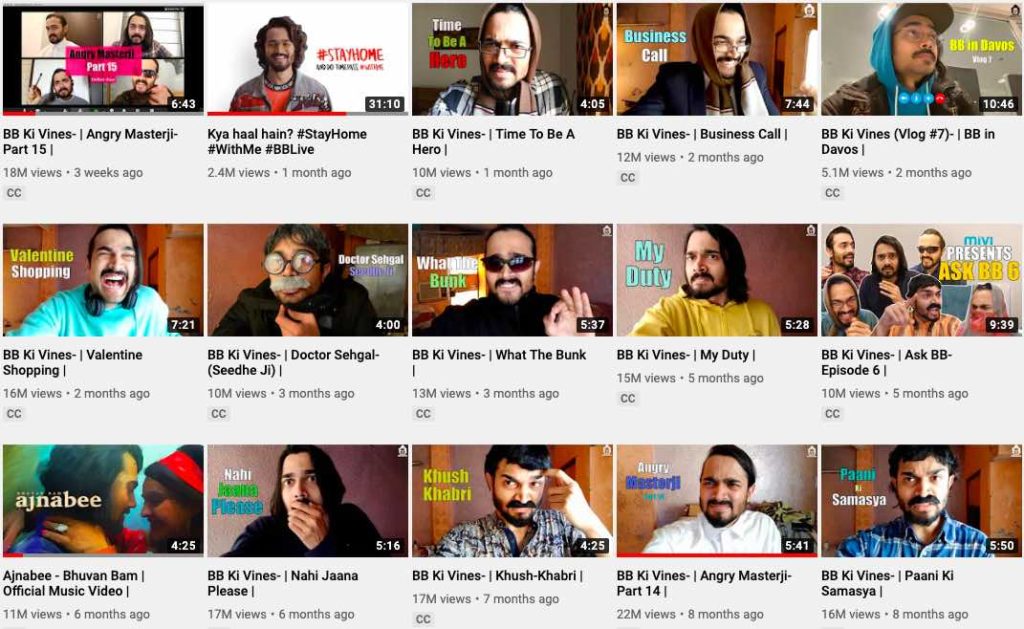 How he keeps viewers glued to his videos
Well, being click-worthy is one thing, however here is how Bhuvan generates hours after hours of watch time. he does three things:
Intro Hook: He gets straight to the point as the video start. He explains what to expect in the very first 10 seconds of video what to expect. This is the hook point.
Perfect Video Length: The second thing is very obvious. His videos are not too long. It is not possible to hold a drama for a very long time. He keeps his video within 2 to 8 minutes time duration. Enough to hold a viewers attention.
Bhuvan uses a lot of retention strategies to stay on the journey and not click off. He keeps the suspense till the end so most viewers stay till the end to see the final point. He also has moments of up and down during the video. So Bhuvan is a great storyteller and keeps you emotionally involved in the journey.
This is what makes Bhuvan Bam one of the fastest-growing YouTubers in history.
The story of BB Ki Vines
After the overnight success, Bam knew this was his path forward. BB Ki Vines features videos that are 2–8 minutes long with stories revolving around the life of an urban teenager. They are usually whimsical conversations with his friends and family, all played by Bam himself. He also fiddles with repeating characters like Bancho, Sameer Fuddi, Titu Mama, and Hola. The characters have evolved into household names among the youth. Currently, he has a huge fan following who inspires him to keep making his content.
The man has 17 million subscribers on his YouTube channel. He is literally a one-man army. He does everything from scripting, performing and shooting his videos all by himself using the front camera on his phone. Initially, he used to upload his videos on Facebook, and later shifted to YouTube.
BB Ki Vines Stats
Joined YouTube on: June 2015
Subscriber Count: 17.1MM
Average Video Views: 16.3 million
Total Views: 2.42 Billion
Videos Made: 161
Although his content is widely popular, it has also received a lot of criticism too. His videos have been branded by many commentators for its overtly sexual content and abusive language. But his sturdy fan following always came to support him. His supporters justify this by saying that his conversation style is exactly how the youth talk today and their no shame in accepting that reality.
Bhuvan Bam songs
Bam is also a passionate singer. He had released a music video "Sang Hoon Tere". in January 2018. "Teri Meri Kahani", "Safar" and "Rahguzaar" were also his creations that followed.
Bhuvan Bam and shortfilms
Bam has also been part of the short film Plus Minus.
"I first met Bhuvan during the promotions of Haraamkhor. We hit it off and became friends. One day over lunch we pitched him the story of Plus Minus. It was magic to see his eyes light up. We decided to produce it together," says Guneet Monga, founder of Sikhya Entertainment. (source)
The short film was a total hit and became the fastest growing video on the internet in 2018. It also won the 2019 Filmfare Award for Best Short Film.
By December 2018, he was such a celebrated YouTuber that when he started his new digital series on YouTube called Titu Talks, it featured Shah Rukh Khan as the first guest. Bhuvan also performed a live set of 'Titu Talks' with filmmaker Karan Johar at the YouTube FanFest in Mumbai.
Not without critics
Although his content is widely popular, it has also received a lot of criticism too. His videos have been branded by many commentators for its overtly sexual content and abusive language. But his sturdy fan following always came to support him. His supporters justify this by saying that his conversation style is exactly how the youth talk today and their no shame in accepting that reality.
Characters in BB Ki Vines
Talking about Bhuvan Bam, he is a brilliant storyteller. His videos are made more intriguing with the fictional characters he has created to tell his stories. These characters have different personality, traits, style and accents and have a striking similarity to the common man.

If you haven't watched his videos yet, here's are the usual characters. Bhuvan Bam, nicknamed BB is the protagonist. The lead character is Banchordas Chhatriwala or Bancho. Sameer Fuddi(Bancho's cousin) is a main character who is always unsure of what he says. Mr. Hola,Mrs. Verma, Babloo Ji, BB's mother, and Dr. Sehgal are also usual characters in his videos. The videos are conversations with each other, Bam dressed as each of them, throwing slapsticks mid-conversation that will guarantee uninterrupted laughter.
The best of BB Ki Vines videos to watch:
Titu Mama
Angry Masterji Part-10
Group Study
Ghaplebaaz ko pakdo
The 'Bhuvan Bam net worth' question.
Let's talk money. Bam's videos are massive hits and amass a growing number of subscribers. The man has managed to keep his content fresh and exciting over the years. So how much does he earn and how does he do that? Initially, he earned most of his bucks through live musical performances and his original songs.
Once YouTube took over, and his popularity propelled, his earnings now come from advertisements on his YouTube channel and "YouTube Partners" campaigns.

BB Ki Vines today has uploaded 160 videos, has over 17.1 million subscribers and over 2.5 billion total views.
BB is one of the top 10 highest paid YouTubers in India
There is no exact figure to quote his net worth, but we can sure approximate from the stats.

Let's look at Bhuvan Bam monthly earning from YouTube. It is estimated that he earns approximately RS 1 Crores per month from the 'BB ki Vines' channel. This brings his annual income is around Rs 12 Crores.
Being a huge internet sensation, especially among the youngsters, he is also a frequent face at events, stage shows, college fests which earns him revenue.
He operates on a very low production budget
His profits are also on the higher side because his videos have a meagre production cost. The man shoots his videos on his own phone camera, plays his own characters and he doesn't use a fancy set. Therefore he spends little to none to produce his videos. Talk about savings! When you have talent like his, it is true that it pays on its own.

The numbers
Bhuvan Bam Net Worth has been recorded to be growing at a rate of 1400% for the past two years. This, in turn, suggests that Bam's monthly income and Net Worth may grow at an exaggerated rate of 500% by the month.
Estimated Earnings from Youtube
Monthly Income from YouTube: Rs 1 Crore Approximately

Bhuvan bam net worth: The net worth of Bhuvan bam based on his channels earning potential during the next 5 years would be Approximately Rs 60 Crore.
BB Ki Vines award
As fame climbed, many awards also came for the talented star. Bhuvan Bam was the winner of the Most Popular Channel on Youtube at the WebTVAsia Awards 2016 held in Seoul, South Korea. He was nominated alongside big guns in the industry like All India Bakchod, The Viral Fever, Being Indian, and East India Company.
He was felicitated at the first edition of Game Changer Awards by the Hindustan Times.
Bam was nominated as the most influential social media personality, two years in a row at the IWMBuzz Awards.
India won the YouTube Creator Summit golf competition In 2017 and BB Ki Vines was a main contributor to it.
In recent years, he collaborated with "The Viral Fever" in "TVF Bhootiyapa Bachelors vs. Ghost". he was invited by Jeeji of Jeeji Veerji(a YouTube channel).
Bam also spoke at TEDxIIITD held at IIIT Delhi. he also spoke at TEDxJUIT at Jaypee University of Information Technology in 2016, inspiring many of a young audience.
He also made it to the red carpet in Cannes in 2019. He made his debut for the first-ever World Blogger Awards here. The awards were held on 24th May in Cannes at Hotel Martinez. Here Bhuvan was the 'Global Entertainer Of The Year 2019' award for his excellent contribution to digital entertainment.
His huge popularity among the young on the digital scene got tons of recognition from national and international institutes. His talent at being a far-reaching influencer and a stunning social media personality has paid off very well.

Talking about his success when he was among the several YouTubers invited to the World Economic Forum recently, Bam says, "With the kind of creators emerging in India, the future of content creation is bright. At times I feel there are more creators than viewers. The digital medium has provided a platform to budding artists to voice their opinion, for free,"
In the limelight
Beside his youtube stints, Bhuvan bam is also known for raising his voice for some fo the political issues. The comedian's tweet went viral after he spoke about how Bollywood celebrities had remained quiet when the JNU issue was raging. People lauded his honesty and bravery in speaking up as an influencer and an individual about a political topic that most would have safely stayed away from.
The comedian also made his sympathy and response to the issue clear on social media. The comedian also said that he was warranted threats for his tweets.
Bhuvan Bam contributes generously to the PM Cares Fund
In more recent times, his philanthropy did make it to the headlines. With the outbreak of the coronavirus sending the nation in a spiral and with financial assistance an immediate need, Bhuvan Bam went out of his way to donate his one month's earning to the PM Cares fund.
He had distributed the sum of Rs 10 lakh among the PM-CARES Fund, the CM Relief Fund, and the Feeding India initiative.
Commenting on the gesture Bam said, "Usually I prefer to not talk about these things but our country needs us right now, this is important and we need to go out of our way to help everyone,". (source)
"This is my way of showing my support to pledge contributions to the PM CARES fund, CM relief fund and Feeding India. I am grateful for all the people who are putting their lives at risk for our country and this is my way of giving back," he concluded.
Bhuvan Bam also collaborated with YouTube Impact Lab Initiative to create awareness about young girls' education. He was also an attendee at the latest edition of the World Economic Forum (WEF) held in Davis this year.
conclusion
Conclusion
BB Ki Vines has taken the Indian Youtube scene by storm. Bhuvan Bam was simply exploring the possibilities of his new camera and witty humour when he started. It was persistence and understanding the platforms and its audience that drove him to an instant success. It's also a joy to watch Bam's growth through the years and his indulgence in philanthropy. So when it comes to social media, the mantra is to know your audience and reflect your genuine self in all you do.
Frequently Asked Questions
What is Bhuvan bam income from youtube?

Bhuvan Bam income per month from YouTube is approximately US$140k in May 2020. Apart from this BB ki vines income come from several other media assignments and influencer marketing contracts. As per BrandLoom's estimate, bb ki vines monthly income from other contracts is approximately US$ 500k/month. Therefore Bhuvan bam monthly income is pretty sizable. The total monthly income of Bhuvan bam would be approximately US$600k to US$700k/month.

Who is bhuvan bam?

Bhuvan Bam, age 26 is a singer/ composer/ songwriter, stage performer and most importantly a Youtube star from New Delhi. He became popular after a video that he made mocking a reporter.

How much does Bhuvan bam earn?

Bhuvan bam earnings are approximately US$600 to US$700/month. BB ki vines earning per month are primarily from his YouTube channel and rest from other media/brand promotion contracts.

What is bhuvan bam age?

The age of Bhuvan bam is 26 years in 2020. Bam was born on 21 January 1994 in his birthplace Baroda, Gujarat.

What is Bhuvan bam real name?

The real name of the famous singer, comedian, musician, songwriter, Actor, Youtuber Bhuvan Bam is Bhuvaneshver Bam.


Which was Bhuvan bam first video?

Bhuvan bam's first video was "The Chakhna Issue" but it didn't gather much momentum with just 10 to 15 views.