A new blogger has to face many hurdles. One of the first hurdle new bloggers must cross is selecting the correct blogging platform.
The question revolves around Blogspot vs WordPress vs Tumblr vs Wix vs Joomla and the list goes on and on. . . . . .
You may get confused with the various options suggested by Google search. Every platform that appears on the first page of google search results, promises to be the best for a specific category.
And, if you choose the right blogging platform, you will overcome a major hurdle on your way to becoming a successful blogger.
Here is a comprehensive list of platforms that we have chosen & compared just for you.
Best Blogging Platform Comparison
| | |
| --- | --- |
| Requirement | Suggestion |
| Professional blog with full control on the content. Need customisation and support to integrate advance plugins and themes. | WordPress.org |
| Interested in microblog/photo blog and want to share the work with others. | Tumblr |
| Personal/Hobby blog with mostly written content. | WordPress.com, Medium |
| Looking out for modern technology and most cutting-edge blogging platform. | Ghost |
| A business owner with a need for a polished website and a blog to go hand in hand. | Squarespace, Wix |
| Want to start a blog with no design or development skills. | Tumblr, WordPress.com, Medium, Wix |
| Want to start blogging right away with no money to invest. | Blogger (BlogSpot), WordPress.com |
On a standard basis, the most popular blog publishing platforms are WordPress, Tumblr and BlogSpot. In this post, we are going to compare the two most sought after blogging platforms – WordPress and BlogSpot.
Wait! Let me make it very clear, by WordPress here we mean WordPress.org (the self-hosted version of WordPress) and not WordPress.com (the free wordpress-hosted blogging site).
WordPress.com and BlogSpot both offer free blogging platforms to start a blogging career. The word "FREE" associated with these platforms may lure you to these platforms. However, if you are looking to run a real & successful business, you WILL need to move to a self-hosted blogging model.
WordPress.org, on the other hand, provides a near perfect solution for all your blogging needs.
So let's find out why WordPress is better for you than BlogSpot.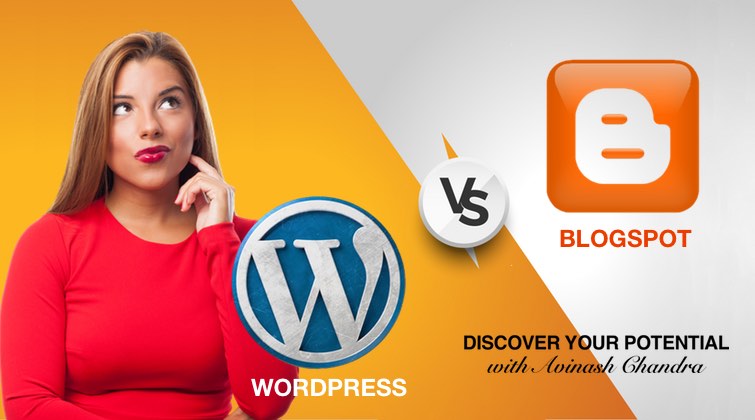 WordPress Vs BlogSpot
Just a little google search will tell you that many bloggers have moved to WordPress.org after starting their blog on BlogSpot. Let's discuss the limitations of BlogSpot that WordPress.org eliminates.
1. Ownership of your blog
This is the main reason for many bloggers to choose self-hosted WordPress.org CMS over any other free blogging site including BlogSpot.
Users want to have complete ownership and copyright to the content they publish on their blogging platform.
With the self-hosting nature of WordPress.org, you get better controlling-power. The looks design, display, features, content – everything can be controlled by you. You are free to modify anything on your site be it the theme, design, plugins, structure, look and feel, etc.
In addition, you can extend your website capability by adding e-commerce or a product or a service portfolio.
With WordPress.org, you get the flexibility to move all your website content to any other platform/CMS of your choice if you want to.
A prevalent problem that many BlogSpot bloggers have faced and reported is about Google removing their blogs without any warning!
At BlogSpot, technically you do not own your blogs and Google can delete them if
They find inappropriate content on your blog.
Your blog does not adhere to Google's terms and conditions.
People or spammers report your blog as spam.
You have not logged in to your BlogSpot account for more than two weeks.
It's scary to wake up and find all your blogs gone. Just deleted by someone. What if you have not taken any back up. That's why I always recommend using a self-hosted WordPress.org blog.
2. Monetization
BlogSpot has a built-in Google AdSense widget (an application, or a component of an interface, that enables a user to perform a function or access a service. This is known as the gadget in BlogSpot) to support monetization through advertisements.
However, if you want to subscribe to any other advertising network, then you have a severe challenge.
Though you can use other advertising networks, you need to insert advertiser code manually into your blog through text gadgets.
On the other hand, WordPress.org provides many AdSense ready themes which enable you to insert AdSense code to your blog quickly.
Moreover, you can also display advertisements in between your post contents using plugins. With WordPress.org, you get complete control and freedom to run banner Ads and affiliate links. WordPress.org also supports page wise advertising.
So, if you are serious about making some money; consider self-hosted WordPress.org platform to build your blog site.
3. Search Engine Optimization (SEO)
Any blogger would like to optimise his/her blogs for search engines to get traffic. Search engines bring organic traffic which is key to a profitable blog. Even though Google owns BlogSpot, it is not SEO friendly due to the following reasons.
Requires manual optimization of the blog for search engines.
Themes available are not SEO friendly.
Needs significant template changes are required to achieve better on-page SEO.
Cannot include metadata inside blog which makes content optimization difficult for social media sharing.
Permalink structure is not SEO friendly.
SO, if you want better search rank, BlogSpot admittedly is NOT a good option.
On the other hand, self-hosted WordPress.org is much better equipped to make your website SEO friendly with its:
Specially designed themes (free and paid) to achieve better on-page SEO.
SEO Supports SEO plugin like Yoast which is a great way to optimize individual page/post by yourself.
Supports metadata inside blog to optimize content for social media.
4. Themes and Templates
BlogSpot has limited theme options and frankly speaking they do not look professional either. The quality of themes available on the internet is substandard too.
Customization is limited to changing color and layout. There are few widgets available on BlogSpot, but you need to code yourself if you want to customize them.
So, BlogSpot has not much to offer to advanced bloggers.
On the other hand, WordPress.org is a clear winner when it comes to customization.
It has more than 3000 free and paid theme options and widgets to choose from.
WordPress.org provides you with FTP access; you can use it to alter template and change the look and feel of website theme. And to top this wordpress comes with GPL license which means you are free to modify everything and publish it as your own. Under the GPL license of course!
In addition to all that, they have an excellent support system in place to help you customize your website. If you ever need a professional website, WordPress.org is your go-to place.
5. Plugin and Support
BlogSpot provides easy to use plugins for basic functionality, but they are limited in number.
You need to edit the theme even if you need simple functionality like showing related posts or social media sharing.
If you want to integrate essential features like Google Analytics, you will need to insert the code into the template.
On the other hand, WordPress.org is blessed on that front.
It is the home to hundreds of free & paid powerful plugins to modify and extend the default features.
Whether you want to display ad or user subscription form, integrate an online store or create a portfolio, WordPress covers all your blogging needs.
There are premium plugins to provide security, speediness, quality maintenance to WordPress users.
On top of everything, WordPress.org has an active community of developers, excellent documentation, forums and chat rooms to help you develop a supercharged professional website.
6. Reselling your blog
Suppose, due to any unforeseen reason you want to quit at BlogSpot.
You will not lose any money as there is no investment involved but what about the sincere effort you have put on creating meaningful contents.
BlogSpot does not allow reselling of blogs, and you should consider this point before starting a blog on this platform (or any free blogging site).
WordPress, on the other hand, requires you to invest a certain amount but, it also allows reselling your blogs. What would you prefer? Spending a little some or losing the copyright of your quality articles. I guess, it not a hard choice to make.
This post may look more biased towards WordPress.org. But, we have used both the platforms and found that WordPress.org is much more suitable for advanced blogging.
It indeed provides more features, updates, control and support than any other free blogging platforms. If you just want a sprint on blogging; try BlogSpot, but if you are up for a marathon; go for WordPress without a second thought.
Save
Save