As businesses compete for market share, they make significant investments in content marketing programs.
Content marketing has delivered resounding success since its inception.
With its ability to grow audience engagement, build brand awareness, and boost sales, content marketing is a key growth method for most businesses.
You must provide quality, consistent content if you hope to build trust, develop relationships, improve conversions, and generate leads.
In today's age, customers expect brands to deliver high-quality, consistent content.
Let's analyze content marketing — the benefits of producing consistent, high-quality content, and how you can use it for your benefit.
What Is Content Marketing?
Content marketing involves creating and distributing relevant, useful content to current and potential customers – blogs, newsletters, white papers, social media posts, email, videos, etc.
When done correctly, this content demonstrates a company's expertise and shows its values to the people it serves.
With consistent content marketing, you build relationships with your prospective and existing customers.
When your audience observes your company as a trusted partner who cares about them and provides valuable advice and guidance, they're more likely to choose you when the time comes.
The goal of content marketing is not immediate sales but rather leading production combined with strong brand recognition.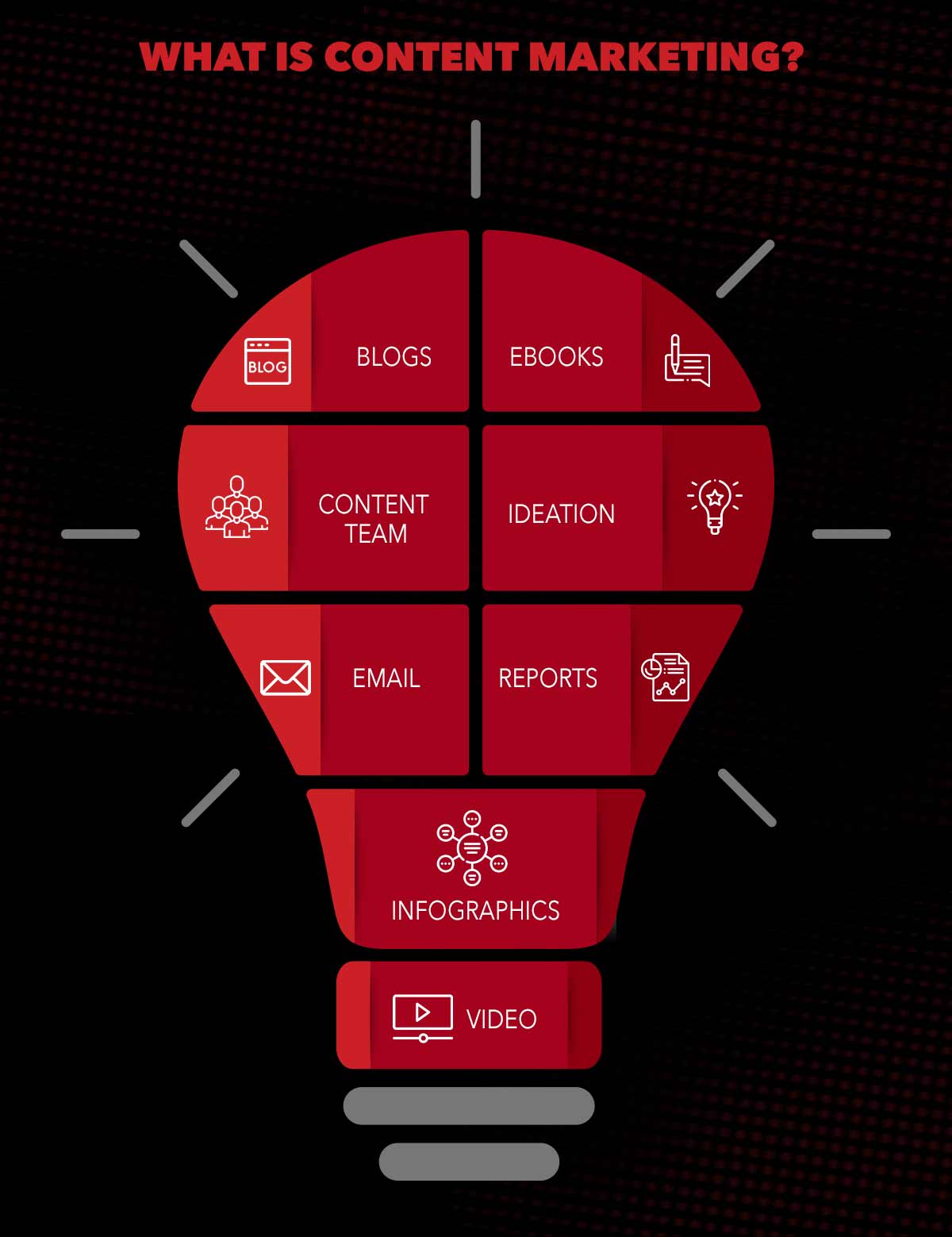 Why it's important
Content marketing is a highly effective marketing strategy. The data proves that content marketing gives companies a competitive advantage. For example:
Businesses with blogs receive 67% more leads than other companies
47 percent of buyers view 3 or 5 pieces of content before contacting a sales representative
The average growth rates of companies that use content marketing are about 30% higher than those that do not.
Seventy-two percent of business-to-business (B2B) marketers say that content marketing increases engagement and leads.
Content marketing is used by leading brands
Research shows that the vast majority of marketers are using content marketing today.
In fact, it is executed by many prominent organizations around the world, including P&G, Microsoft, Cisco Systems, and John Deere.
The practice is also executed by small businesses and one-person shops all over the world, mainly because it works.
Why use Content Marketing?
Content marketing is not the only way to be online. So, why choose this alternative?
The strategy of Content Marketing is a foundation and complement of all other strategies of Digital Marketing.
Whatever marketing channel you choose, you will need relevant content.
The same is true whether you choose email marketing or corporate blogs.
Experts agree that content is king.
Using content, you can achieve a variety of specific objectives in many ways, like teaching customers how they can use your product or service to solve their problems.
In today's market, people have the power to choose what content to consume.
They are immersed in a sea of information, so if you want them to choose your brand, then you need to present them with the best options.
What are the benefits of Content Marketing?
Previously, we discussed Content Marketing benefits and explained how it could contribute to the growth of your business. Now we will elaborate on each point, showing how it works.
Benefits of content marketing:
Builds trust and brand identity
Great for organic search
Ability to generate leads
Supports in optimizing sites' search
Helps in social media engagement
Helps as a separate revenue stream
Proven source to maximize ROI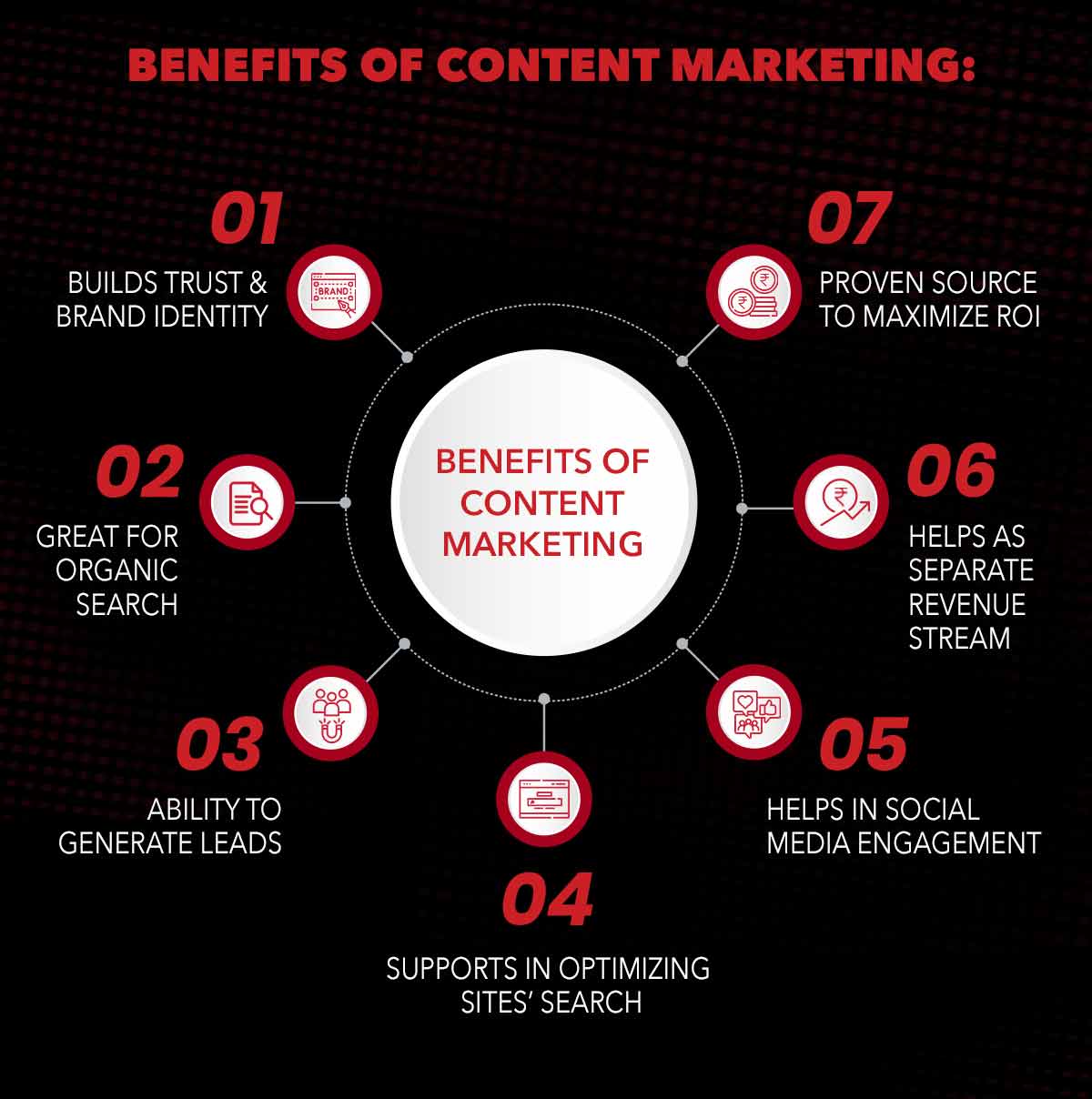 Attracts visitors and grows your site traffic
It's challenging to make your company stand out among a glut of information available online, but your content makes you noticeable, especially to search engines like Google.
You can also utilize your content to generate more attention in email marketing campaigns or social media campaigns, which makes more people visit your site.
Creates value for your audience
The content you create and deliver to your customers is not only useful, it gives the right message- to the right people, at the right time they need.
It will exceed expectations and will transform you into an authority on that subject, generating value for you and your target audience.
Engages your audience
If you give your audience important and useful content, they will view it as incredible info and will share it with their friends and followers.
And that's not all: people will interact with your content in another way as well, like leaving a comment and reactions.
Generates a positive brand perception
Above all you read, Content Marketing helps your audience when they need it, and people often do business with products they already know, rather than anonymous companies.
Educates the market about your products and services
Most people do not even know that they have a problem and that it can be solved with your product or service.
Content Marketing is able to teach the audience that the solution exists and how it works.
Drives sales to the next level
Sales are the main goal, of course, even when there is a second one. Content marketing can be present at all stages of the purchasing process and drive your audience until the final decision.
If the drive is made by the individual without the content, the seller as an example. That is why a small number of people were reached.
When you use Content Marketing, you win more ads, you reach more customers, but you target them more effectively.
As we have said before, you can teach your audience why they need your products and services, and thus you will sell easily and on a large scale.
Generates more leads
The most important site or blog's goal is to generate leads. It is part of the strategy that will drive sales, once each lead is a potential client.
Lead is a visitor to your blog or other content channels that converts in a form, leaving some information about him or her.
With more information, it is easy to know whether the lead will be worth it or not.
Even if your site already has visitors, if you are investing in Content Marketing, you can turn them into leads, providing attractive offers for them to leave useful information to close the deal.
And the more you produce leads, the better the sales potential.
Reduces Customer Acquisition Cost
Customer Acquisition Cost (CAC) is a metric that indicates the cost invested in the marketing and sales areas to acquire each new client.
Besides that, most content produced is evergreen, which means its informational content will generate results for a long time. This also makes the content a company asset and increases its value.
So, beyond reducing CAC, content brings more value to your business and contributes to helping your clients without the need for your sales team's efforts, making it free to focus on a more personalized and assertive approach.
Increases the client's lifetime value
The lifetime value is the total value spent by the clients on your business. It means that the more they buy or the longer they stay as your clients, the bigger will be their lifetime value.
If you offer usable and relevant content to your clients, you'll be able to keep them for more time on your base or portal.
The content should be endowing and informative in and of itself, Remember good content converts.
Now, let's see what makes content effective.
What Makes a Piece of Content Effective?
Every part of the content is unique, with its purpose, style, and message.
If your content reaches one or more of the following features, it will help to encourage your audience to continue engaging online with your product. And that is what leads to change.
Information / Education
Does the content mean something new? Does it offer an interesting, original or practical idea? Does it provide useful information?
It is emotionally satisfying
Does the content give emotional appeal or make the reader laugh, cry, think or feel? Can the reader connect and relate with it at a deeper personal level?
It's fun
Is the content fun, up-to-date, and readable? Does it capture the thought and leave the reader wanting more?
It is important to the community
Is there any content your readers would like to share? Is it clickable and relatable? Can it even be spread?
There are several types of content marketing businesses opt for. Each one uses a different set of tactics, approaches, and elements to reach the goal.
Types of content marketing
As you develop your content marketing strategy and your website, here are some of the most effective and structured types of content marketing your business can use to collect and transform multiple leads and build improvised relationships with your customers.
Types of content marketing:
Blog Articles
Video Tutorials
Email
Content Marketing in social media
Info-graphic Content Marketing
Webinars
Podcast content marketing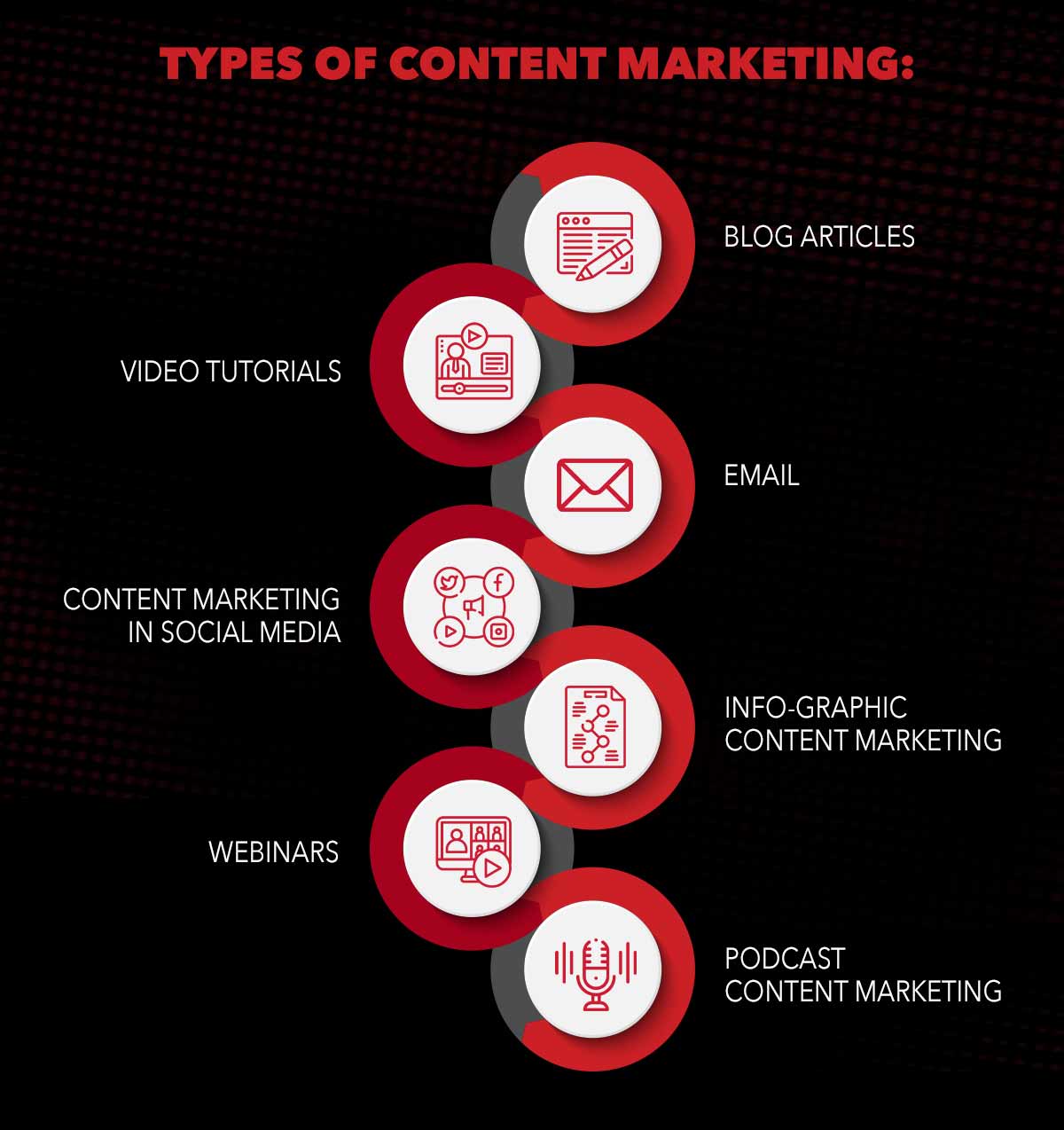 We categorize them according to where your chances are in the buyer's journey:
Blog Articles :
Blogging businesses typically earn 67% more per month and generate 13 times more ROI.
Properly developed, blog posts help digital shoppers find your website and learn about your products and services through live search.
Video Tutorials :
People watch 19 hours of video on average online per week, and when it comes to learning about products and services, 69% indicated that video was their way of going.
That is because the video is quicker and easier to digest information, and it is a powerful way to connect with potential buyers to read your blog.
Email :
Email is an effective way to keep your customers involved with your business with an ROI of 4,200%, ($ 42 for every $ 1 spent on average!).
Keep your access short and informative rather than sales (pressuring people to buy).
Inboxes brim up quickly, and if you want to retain your customer, you need to be clear about the value you provide so that your email can be opened, read, and enjoyed.
Content Marketing in social media:
With over 3.6 billion globally active social media users, it's quite easy to understand why several entrepreneur houses put money in social media marketing.
There are several platforms (e.g. Facebook, Instagram, Pinterest, LinkedIn, Snapchat) to market on with and several ways and approaches to share and market content on each of them (e.g. photos, live videos, pre-recorded videos, stories). if you are looking for a social media marketing services company, contact BrandLoom.
Info-graphic Content Marketing:
Info-graphics depicts content, information, and data in an easy-to-grasp, graphic format.
With a proportionate blend of simple wording, short sentences, and clear images, info-graphics are a great way to effectively communicate with your audience through your content.
They work effectively well if you're trying to extract an educational and/ or complex topic down so the audience can digest it.
Podcast Content Marketing:
There is a growing trend among the 12-to-32-year-old generation to listen to podcasts, with an average of six hours a week in a survey from 2020.
As a result, businesses and media outlets have started creating and sharing podcasts of their own.
As podcasts can be about any topic of choice, there is a lot of room for creativity.
Furthermore, you decide how many episodes the podcast will have, who will be featured, how you will advertise the podcast, and how long the episodes will be.
Webinars:
Consider organizing a webinar to educate and draw some hope.
You can also create more diverse content by inviting someone from the industry to join you, thus increasing your brand awareness.
Record these online conducted events and upload them to your website or YouTube channel for continued profit.
Comparative essays and guidelines :
Use comparative articles and guidelines to further teach prospects about the steps they can take to resolve their acute pain points.
This may include comparisons between your products and services, the pros and cons of all the different options available and accessible, or comparisons between your offerings and your competitors '.
This content may offer a lower volume of organic search, but audiences are more likely to focus on the topic at hand.
Content that helps the prospects make that final choice:
Course examples –
Examples, which can serve as client testimonials or client visits, can be some of the most powerful content pieces you can publish on your website.
Being able to prove that a company or client has achieved amazing results by working with your business helps prospects to see how they can be helped by you.
It helps in making people feel more comfortable making that assumption of faith in choosing your company over everyone else.
Live Tests and Demo –
If your company offers a subscription service or membership where customers make a long-term commitment, the content of your exciting prospects includes trial offers to test products before purchasing.
Demos can also help users learn to use them properly and benefit fully from your products and services.
Free consultation offers –
When a person is ready to buy, give access to someone who can deliver the process, no matter what happens in person.
Ask them to meet with you and discuss their options, free of charge. Indicate to help, not sell, so that your consumer feel comfortable disclosing their problems and exploring solutions with you.

Now that you have understood what types of content work best for the consumer journey, here's the strategy details you need to follow to execute marketing mode efficiently.
Now the question comes, how to start with your content creation and how to make sure it reaches the right people at the right time.
How to get started with content marketing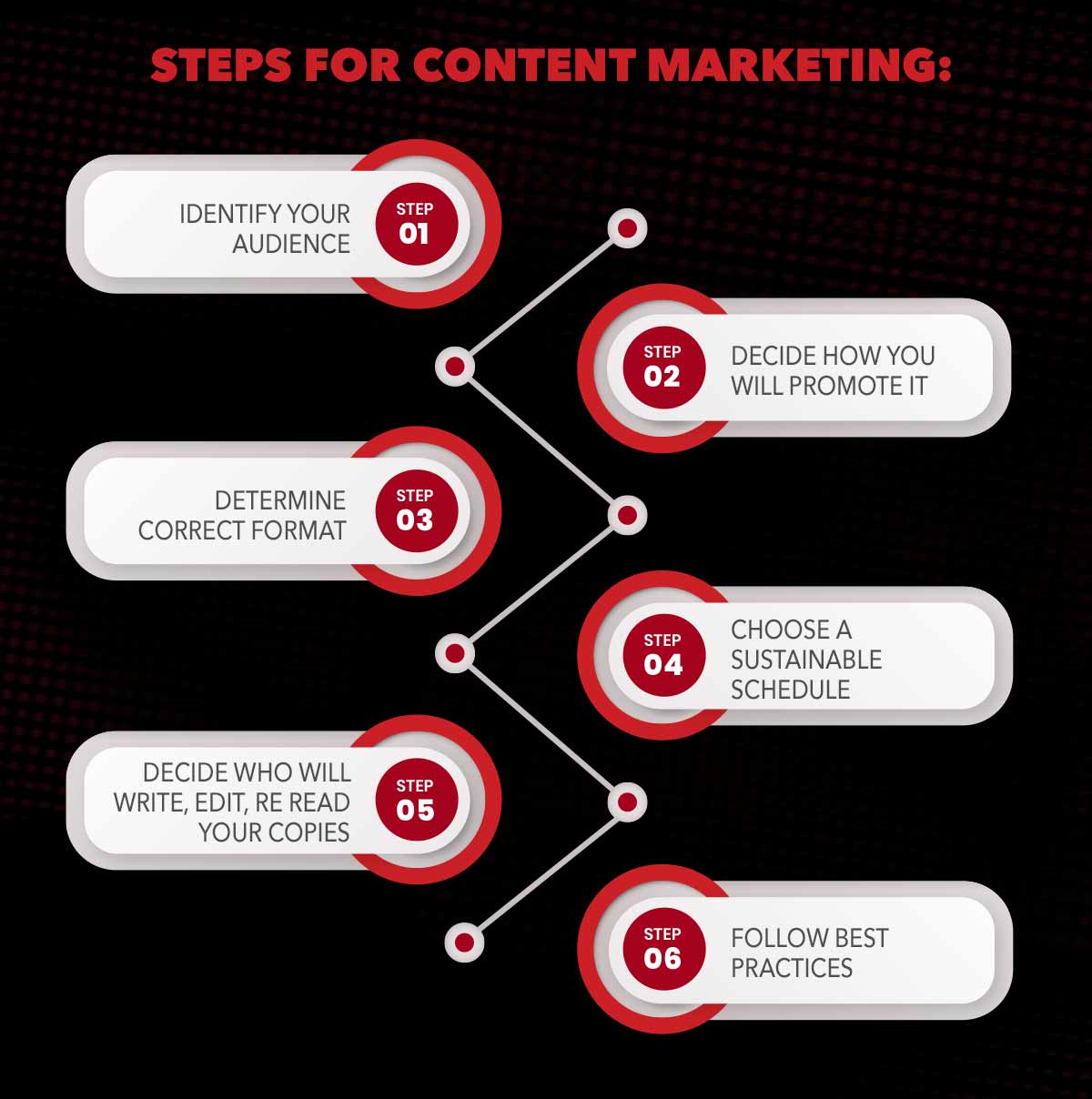 Content marketing may feel overwhelmed, but it should not be. A successful content marketing campaign strategy is supposed to be manageable and stable. Take the following steps to get started:
Identify your audience.
To create content for every particular reader, you must have a clear idea of ​​his or her priorities, challenges, and interests. Create profiles for your audience members and prospects before starting.
Determine the correct formats.
The correct format depends on which category of sales you are opting for your content.
Other important considerations include which formats will be most helpful to show value. For some, this will be a video; for others, a checklist.
Decide who will write, edit, and re-read your copy.
Audiences will judge your content according to your quality, and you should too. Identify the appropriate resources, internal or external, to create the content.
No matter who created it, hire a proofreader to review anything before it goes out in the open.
Decide how you will promote it.
Are you going to post content on your site, email it to people, or print it out for an event?
Start with "where" you know your audience possibly might be, and choose sensible formats.
For example, an article makes sense to email, a checklist or worksheet can be posted on social media, and a buyer guide is good voice tracking.
Choose a sustainable schedule.
It is easy to create an overly interesting content marketing program.
Once you know the target audience and formats, create an interim plan (3-6 months) of the actual number of content items you can create, according to your budget and resources.
Keep track of how long it might take you to create each piece of content, so you can build that time into your system.
Follow the best practices.
Compelling content is explicitly written, with the exception of jargon that will be known only to you and your peers.
It should also include advice on how to give advice.
A short, relevant, useful piece of content is best.
After you are sure of your content and approach you need a perfect content marketing strategy for proper execution.
What exactly is content marketing strategy?
Content Marketing Strategy is a program for creating high quality content designed to turn the target audiences into customers.
Many people think this should be complicated, but that is not true.
let's dive deep into the steps you'll want to work through in order to develop an effective content marketing strategy.
Set SMART goals.
The initial part of the content marketing strategy is setting SMART goals.
This should be clear to your business – it will probably be in line with your broad marketing goals with the company.
Here are some SMART goal examples:
Improve the brand awareness
Boost revenue
Increase your conversion rate
Improve the brand loyalty
Increase your customer engagement
Build rapport and trust among prospects and your customers
Attract strategic partners.
Determine your KPIs.
Next, set the key performance indicators (KPIs) for your SMART goals.
KPIs are measurable data points that you can use to measure your absolute performance against your goal.
Decide on the type of content.
Next, select the type of content you will create.
You need to start by thinking about your target audience and the consumer population.
Answer the following questions concerning your target audience to help you narrow down the appropriate types of content:
What do they need from you?
What challenges do they face?
Why do they need particularly your product or service?
How can you help them to succeed?
Where do they spend their time?
Then, look back at the different types of content we reviewed earlier to determine what types of content you will create.
Choose your content channels.
Once you have established on the type of content you will be marketing, it is time to choose your specific content channels. Where will you share your content? Where will it stay and be shared?
For some types of content, the channel you need to work with will also be clear.
For example, if you create Facebook content, your channel will be a social media platform.
Set a budget.
Now, it's time to set your budget.
Decide on the type of content you're creating and which channel or media you are opting for marketing that content on.
Then, ask yourself the following questions to find out your budget:
Do you need to buy any software or technology for content creation (for example graphic designing software like Adobe Photoshop, a subscription to Canva, or a camera to take high-quality photos and videos)?
Do you need or require to hire any content marketers or designers (such as artists, writers, editors, or designers)?
Do you need to pay for ad space?
Do you need access to particular tools or resources to enhance or measure your specific type of content?
Make note of how the responses impact your budget — whether that's an increase or decrease in what you may have already estimated.
Create and distribute the content.
Create and promote your content for your audience to use – and perhaps transform.
To ensure consistent content and sharing between your opportunities and customers, use a social media calendar or content planning calendar.
It will help your team stay on top of all the content being built and also allow you to plan ahead.
Analyze and measure results.
Lastly, analyze and evaluate your results to make any changes needed to improve your content marketing efforts and reach more audience.
Keep a check on your SMART goals and KPIs to determine the success of your content marketing strategy.
Have you achieved your marketing strategy goals and KPIs? Were you close to achieving them, or were you out of your reach?
Final thoughts on content marketing
Content marketing is good for your business — and your customers.
Categorically, there are four key reasons – and benefits – for enterprises to use content marketing:
Increased sales
Cost savings
Better customers who have more loyalty
Content as a profit center
Content is the present – and future – of marketing
Scroll up and read the description of content marketing once again, but this time remove the relevant and valuable.
That's the difference between content marketing and some sort of waste information you find in companies that are trying to sell you "stuff."
Businesses send us information all the time – just that most of the time it is not very important or irrelevant (would you say spam?).
That is what makes content marketing so effective in today's area of ​​thousands of individual marketing messages per day.
Marketing is impossible without great content
Regardless of the type of marketing tactics and strategy you use, content marketing should be an internal part of your process, not something separate.
Quality content is intricate part of all forms of marketing:
Social media marketing: before your social media strategy comes content marketing strategy.
SEO: Businesses that publish quality, consistent content are rewarded by search engines.
PR: Successful PR strategies should focus on addressing issues readers care about, not their business.
PPC: You need great content for PPC to work.
Inbound marketing: To drive inbound traffic and leads, content is the key.
Content strategy: Content marketing strategies revolves around the content.
You can hire BrandLoom as your content marketing agency to get the best ROI results, we are India's leading marketing agency.
Content marketing is like investing in index funds. In the short term, the return is small.
But over time, it can produce significant returns, but only if you stick to it and keep investing.
It is the same agreement with content marketing.
It takes effort to get started, and it takes time to work. But focus on it for a long time, and you will get results.
FAQs
How content marketing is used in digital marketing?
Content marketing is one of the key marketing strategies used to attract, engage, and make sure that the audience retains by creating and sharing relevant articles, videos, podcasts, and other media.

The approach is to establish expertise, promote brand awareness, and assure that your business stays at the top of customers' minds when it's time to buy what you sell.
How effective is content marketing for modern businesses?
According to a survey, 80% of people choose a series of articles against an ad; 70% of people agree that content marketing makes them feel closer to a product or business, while 60% of credit content helps them make better product decisions.

So from data, it's pretty clear that content marketing is an effective approach for modern businesses.
Why is content important for social media?
Content plays an important role in achieving business and social media goals such as product recognition, thought leadership, audience engagement, and advanced productivity. It allows you to concrete your position as a go-to destination for your customers, whether it be for entertainment, education, or inspiration.
What are the benefits of implementing an effective content strategy in your marketing strategy?
Content marketing is not just propaganda; it is a necessity in today's digital marketing environment. Here are the top 5 benefits of content marketing.
1. Additional Site Content: It may seem like a simple precaution, but the more time spent on advertising means that you will have more content on your site.
2. High visibility in search engines: Every new post you add to your blog is another page that Google will point to.
3. Higher domain authority: More writing, higher quality content will increase your considered information, authority, relevance, and trust of your site.
4. Additional forwarding traffic: This depends on your commitment to the guest publishing section of your content strategy. If you contribute to the external publication as a guest, you will have the opportunity to link back to your site.
5. More social traffic (and followers!): Post your content on your social media for more exposure. When you do this, more and more users will see and read your property – and, users will have the opportunity to share your content with their friends and followers, greatly enriching your fan circle.
What are content marketing examples?
Content marketing includes things like educational articles, e-books, videos, entertainment, and webinars that answer specific questions that people have and give them something they can find elsewhere. It is the best way to turn your product, no matter how common, into something unique.
What are the 5 Winning types of content marketing to grow your business?
You can use any type of content in this. But it is not content marketing unless the content is actually promoting your business and in line with the distribution strategy.

Let's go through a few types of content marketing to see how they work in real life.

Blogging for SEO
Blog posts are a popular type of content. Many businesses publish them regularly. However, most posts do not get traffic. Even if they are promoted through social media, they often get a spike in the beginning but end up missing out.

Video marketing for YouTube
With over 2 billion monthly sign-up users, YouTube has an existing audience that you can access when you create videos. However, there are many competitions, and your videos need to be improved and made available.

Podcasting for brand awareness
Like blogging, podcasting is an excellent form of content that builds audiences and promotes your brand. But many podcasts also lack traction and end up being abandoned a few months later.

Email marketing to nurture leads
This works like a flywheel: email distributes blog content to an existing email list, while blogging builds up the list through exposure to new visitors and capturing their contact information

Social media marketing for brand building
Do not expect to be successful in social media with any content. In order to successfully promote your product on social media, you need to understand what works in a particular area and publish indigenous content.