Businesses always look for credible ways to share information. Any communication aims to get an advantage in the marketplace. Credibility comes from one on one relationship. Businesses achieve this with public relations via Press Releases.
Press releases are one of the earliest forms of business to consumer communication.
For almost 100 years, it was a way to pass on authentic business information. Thus, it became a major part of organizational and brand communication strategy.
But, a lot has changed in last decade with the evolution of digital media.
Today digital tools enable easy two-way communication. Businesses leverage websites, search engines and social media to disseminate information.
Even then press releases have not lost their advantage even today. As a business owner, it is still one of the best ways to share your innovations, updates & other business news.
What is Press Release?
Press Release is a written or recorded message from a business for its audience in the news media.
Organizations create these messages to announce something new or interesting. Companies share press releases by post, fax or e-mail with the editors and journalists.
A press release is also known as the "news release" or "media release" or "press statement" or "video release".
Mostly, anything knowingly sent to an editor or a journalist of a news media is a press release.
To increase the odds of inclusion by the editor in his news, it is better to write a press release in a particular format. In this article, I will also share with you how to write a proper press release.
How to write a Press Release
To ensure coverage of a press release, you need to approach journalists in a particular manner.
You need to send a pitch along with 3-5 bullet points for context. Your pitch needs to communicate why this press release works for that particular news media.
Your press release must follow a particular format.
Press Release Format
The standard elements of a press release are as follows:
Headline : It summarizes the news and catches the attention of the journalist and the readers.
Dateline : Date of the press release and the city it is originating from. You must mention the embargo date if any. Embargo dates help a journalist understand your desired date of press release publication.
Introduction : It is obviously the first paragraph of the media release. It must answer the 5W's or Who, What, When, Where and Why.
Body : Body text provides further explanation in the form of statistics, background etc.
Boilerplate : A short descriptionon about your business that provides background information about the firm.
Close : Symbol indicating the end of the press release.
Media Contact Information : Name, phone number & email address of the public relations team.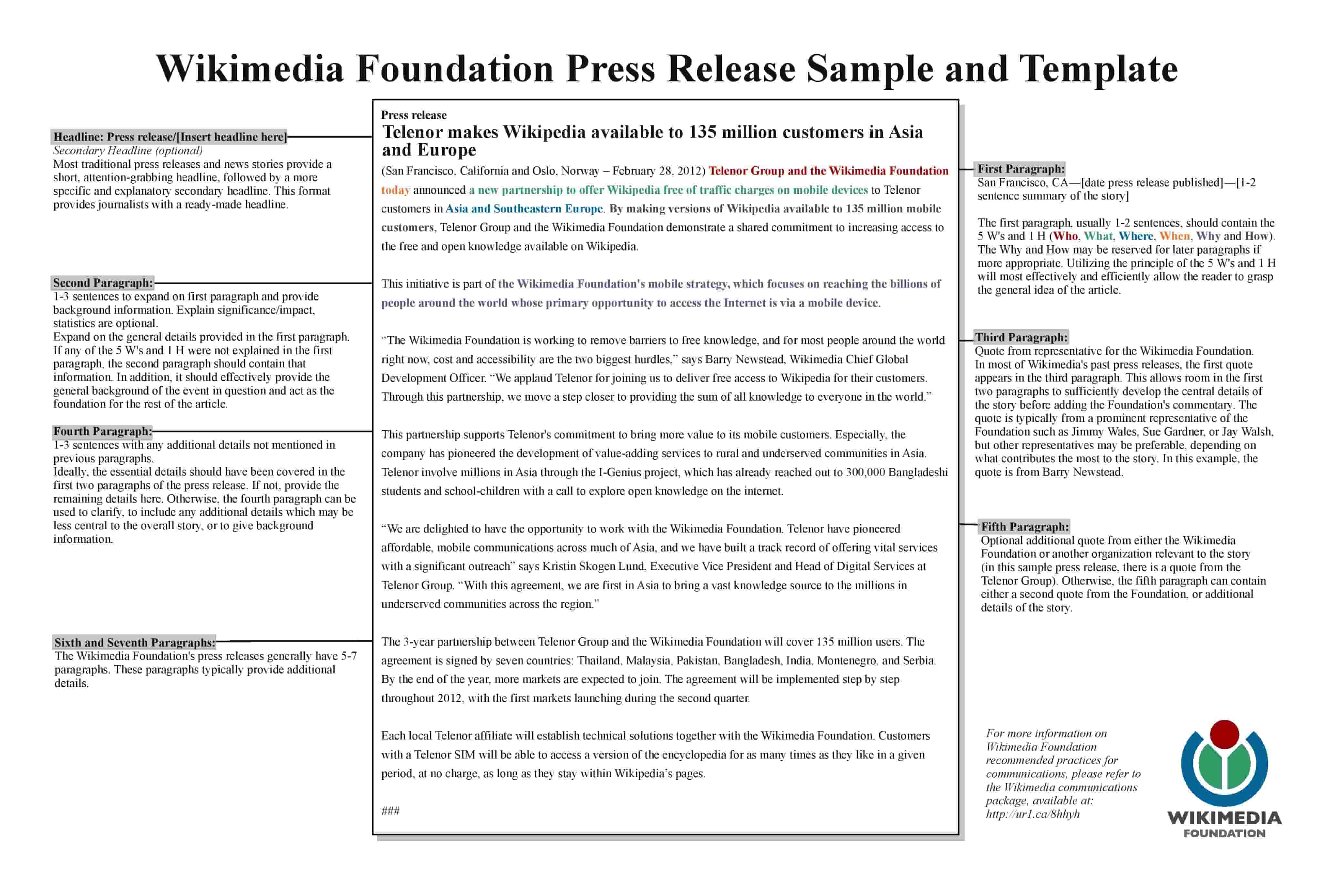 Press Releases in the Digital World
Today Internet is revolutionizing communication between business and its audience. It has started influencing press releases as well. Press releases today are becoming more like a finished article.
They get coverage beyond news sites. Today, Coverage of press release is happening from many online-only publications. The Internet has given birth to several websites that provide coverage of press releases.
Some of these websites have become a force to reckon with. A few of the leading names are:
15 Tips on How to Write Press Release for a Digital World
Please consider what an excellent press release is. Creating and sharing a press release for the heck of it is not a good strategy.
Below are a few tips to help you write a press release for the digital world:
1 Newsworthiness:
Before you send out that news release, please consider if it is newsworthy. Have you considered what a journalist is looking for?
2 Why of the story:
It is important to consider: why are you sharing the release. Do include 5W's of the press release as mentioned above.
3 Grab attention first:
Journalist gets several press releases in a day. Thus it is a must that you catch their attention first. To do that include most important information first in the story. Also, consider that journalist start editing press release bottom up. So if you put the crux of the story first, you have a good chance that it will be in the news.
4 Tonality:
You are creating a press release for the non-technical audience. Thus avoid usage of technical terminologies.
5 Use Correct Grammar and Punctuation :
Use a tool like grammarly, or simply edit your press release in a word processor which takes care of the basics.
6 Short is sweet:
Ensure that your press release is between 300-500 words max.
7 Create an interest:
Include an interesting quote, if possible.
8 Include images with suitable captions :
Images have better recall value than text. So if you can share relevant images, that's a plus. Do remember to appropriately caption them.
9 Boilerplate:
Include a Boilerplate along with contact details.
10 Provide external & internal hyperlinks:
To add authenticity to the story. This also enables a curious journalist to do extra research.
11 Provide release in an editable word or pdf format
12 Pre-optimise for SEO:
Put in extra work to ensure that your press release is pre-optimised for search engines. Include appropriate keyword phrases you want to rank for.
13 Plan for digital leverage:
You can add elements that make it easier to leverage the digital tools. For example with the addition of an infographic or a video. Digital tools can also leverage the release.
14 Target the Right Media:
Research well before you reach out to a specific journalist. You press release should address their needs or area of interest.
15 Target Bloggers:
Do consider bloggers from your industry. Research what they are interested in.
How to promote news on Press Release sites
The Internet has made it easier for business to promote themselves through press releases.
It is no longer required to hire an expensive public relations agency. You can use some of the paid and free press release websites to submit your press release.
Here is the deal:
If you use some of these press release submission sites, you will get more traffic and SEO benefits.
To get the most benefit, you need to ensure that your press release is information rich and adds value to a reader. You can also use press releases to announce the launch of your eBooks or white papers.
Today Google considers you responsible for inbound links to your website. Thus, you need to choose only the best paid and free press release sites for press release submission.
Tips to choose Best Free & Paid Press Release Submission Sites
You can choose the Best Free & Paid Press Release Submission Sites with the following tips:
1 Check the credibility of press release Sites:
To test the credibility of press release site, you can use the following two metrics:
Moz Domain Authority
Majestic Trust Flow
2 Check the SEO Functionality of the press release sites:
Check if the site allows Search engine optimization. What functionality does it allow for SEO. You must check how many outbound links it allows,  the more, the better.
3 Check what Rich media elements you can add to the press release sites
Check if the press release site permits the addition of images or videos. If you have to pay for a press release site, it is better to use one that allows you to enter pictures or videos.
4 Their search positions:
Check out their position in search engines. Press release sites with better search positions have higher traffic. The sites with higher traffic will help you get more traffic to your website.
5 Do Follow vs No follow Links
Go for press release sites that provides do  follow links.
6 Press release sites inbound links
Try to find, how many inbound links these sites have. Higher the number of incoming links better would be the traffic.
Difference between Paid & Free Press Release sites
The primary difference between free and paid release sites is as follows:
1 Support for rich media:
Free press release sites only allow text-based news releases. But paid press release sites may enable you to include photos, videos, or HTML formatted content.
2 Distribution of Press release:
Free press release sites are just the repository of press releases, and a journalist may use them to acquire a piece of information.
But, paid press release sites distribute releases to journalists.
3. Drafting support
Free press release sites do not provide any writing support. But paid press release sites may allow, SEO, grammar support etc.
Free press release submission sites
Some of the best Free press release submission sites are ( along with Site Majestic Trust Flow / Moz Domain Authority scores)
| | | |
| --- | --- | --- |
| PAGE AUTHORITY | DOMAIN AUTHORITY | MOZ RANK |
| 82.89 | 59.68 | 4.82 |
PRLog is my favourite free news release site. This service was started to support small, medium and large businesses and organizations in their online activities. PRLog offers the following services, most of which are free:
Press Release Distribution
Press Room Hosting
Business Directory
Job Listings
Expert Directory
You can submit free press releases on this site. It offers following services for submission:
Search engine optimized web page
PDF version
Selectable location, industry & tag listings
Video Press release
Spam protection on your email address
Links in the press release body
As for as news release distribution is concerned it offers following services free of cost:
Distribution to search engines
Numerous javascript, html & RSS feeds
Customizable realtime/daily/weekly alerts
Social media integration
Your own Press Room
Discounted distribution to news sites & journalists
| | | |
| --- | --- | --- |
| PAGE AUTHORITY | DOMAIN AUTHORITY | MOZ RANK |
| 79.03 | 63.1 | 6.31 |
PR.com is another news release submission site, that you can use. Sme of the services on this site are free and some are paid. When you register with them, be careful and you will be able to create a free account with them.
This site also provides directory of businesses, products and services, a press release distribution service, job search website, and online publication of articles, reviews and celebrity interviews.
| | | |
| --- | --- | --- |
| PAGE AUTHORITY | DOMAIN AUTHORITY | MOZ RANK |
| 69.44 | 51.51 | 4.35 |
PR-Inside is another free press release submission site.
| | | |
| --- | --- | --- |
| PAGE AUTHORITY | DOMAIN AUTHORITY | MOZ RANK |
| 59.04 | 51.67 | 4.81 |
This is another freemium service. To take advantage of its free press release service that will be live for 90 days, you need to ensure that:
There is only 1 Live URL In The Media Contact Area
Search Engine Optimized Title And Meta
Maximum 1 Submission Per Day is allowed.
| | | |
| --- | --- | --- |
| PAGE AUTHORITY | DOMAIN AUTHORITY | MOZ RANK |
| 21.64 | 25.34 | 4.45 |
PR4us is a free news release submission site.
http://www.free-press-release.com/
| | | |
| --- | --- | --- |
| PAGE AUTHORITY | DOMAIN AUTHORITY | MOZ RANK |
| 67.92 | 55.94 | 4.78 |
Though the name suggests that it is a free news release site, it is actually a freemium service.
Paid press release sites
Some of the best paid press release submission sites are ( along with Site Majestic Trust Flow / Moz Domain Authority scores)
How to promote your Business with Press Release sites
To promote your business with press release sites, please follow the steps below:
Identify a Newsworthy information

This is what will make or break your first overture with news media. Ensure that your press release has quality information about your business.

Write an attractive press release

Follow the steps above to write a good press release. If possible add infographic, Video and images to make it useful in many formats.

Choose your free or paid press release site

Choose one of two free press release submission sites. You can choose a paid one as well if you have budgets.

Post your press release on your chosen press release submission site.
Set Google alerts for your press release keyword so that you can find an appearance of your press release in any media.
Tweet and share your coverage on social networks to maximise its mileage.
Reach out to select industry bloggers with the press release and ask them also to cover your story. If required offer them a unique perspective for a unique story.
Create a running list of press release coverage on your website and your Linkedin page.
Build a list of journalists and bloggers, who covered your story.
Reach out to all them with a direct mail thanking them for their effort in covering the story. Continue to build a long-term relationship with them.
Summary
News releases could be a great strategy to promote your business with little or zero investment. It is up to you, how you leverage it.
Have you used press releases? How did it go? Pros? Cons? Drop your feedback in the comments.
Save
Save
Save
Save
Save