Are you looking to use the best url shortener and therefore exploring Google url shortener. Let us begin with the basics then. URL shortener is a trend that came in because of the new small space trend which was popularised by social media platforms like Twitter.

What is a URL Shortener?
URL shortening is a technique on World Wide Web in which URL (Uniform Resource Locator) can be made shorter and direct to the required page.
What it means is that the shorter links are still redirected to the web page that has a long URL.
For example:

the URL "http://example.com/assets/category_B/subcategory_C/Foo/"

can be shortened to

"https://example.com/Foo"

and the URL "http://example.com/about/index.html" can be shortened to "https://goo.gl/aO3Ssc".
The redirected link is often shorter than the original one. The small URLs are also called friendly URLs. Such short urls are generally used in messaging technologies and in sites that have character limits.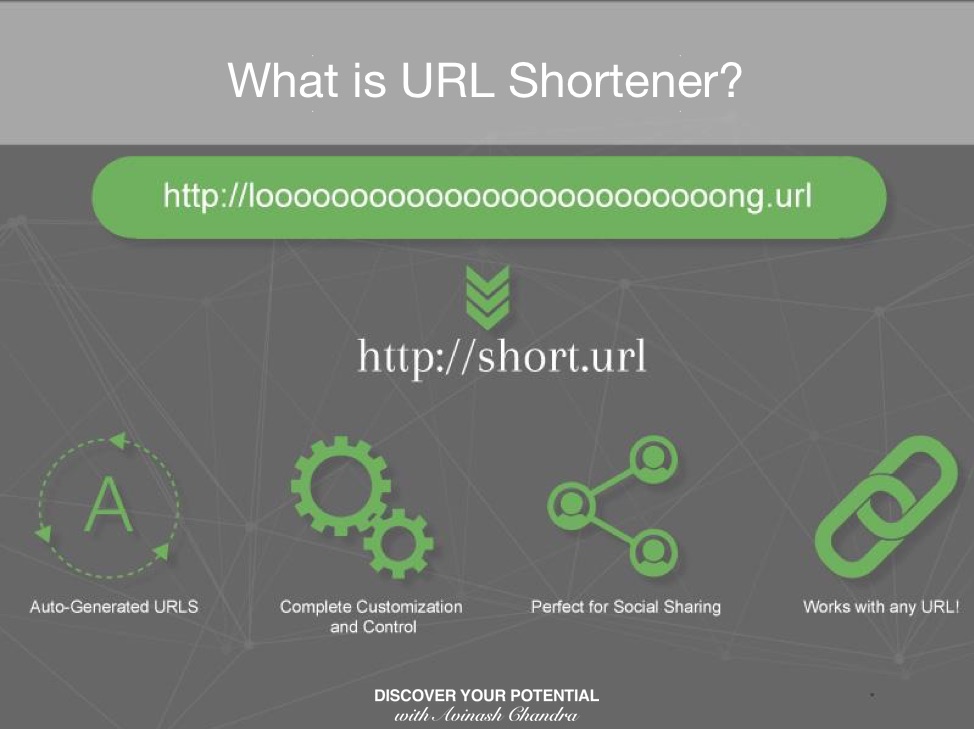 What is Google URL Shortener
Google has its very own URL shortener. Just like any other Google product it is a popular choice and gets the job done very swiftly. It will visible with "goo.gl" prefix with any url shortened the tool by google.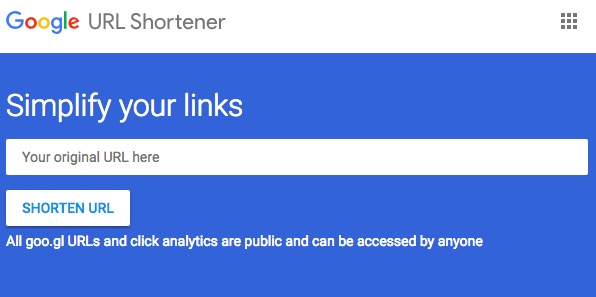 The shortened link is displayed along with its longer version. You can also check the number of clicks your shortened URL has received. A visual glimpse of your engagement is also possible for a better perspective.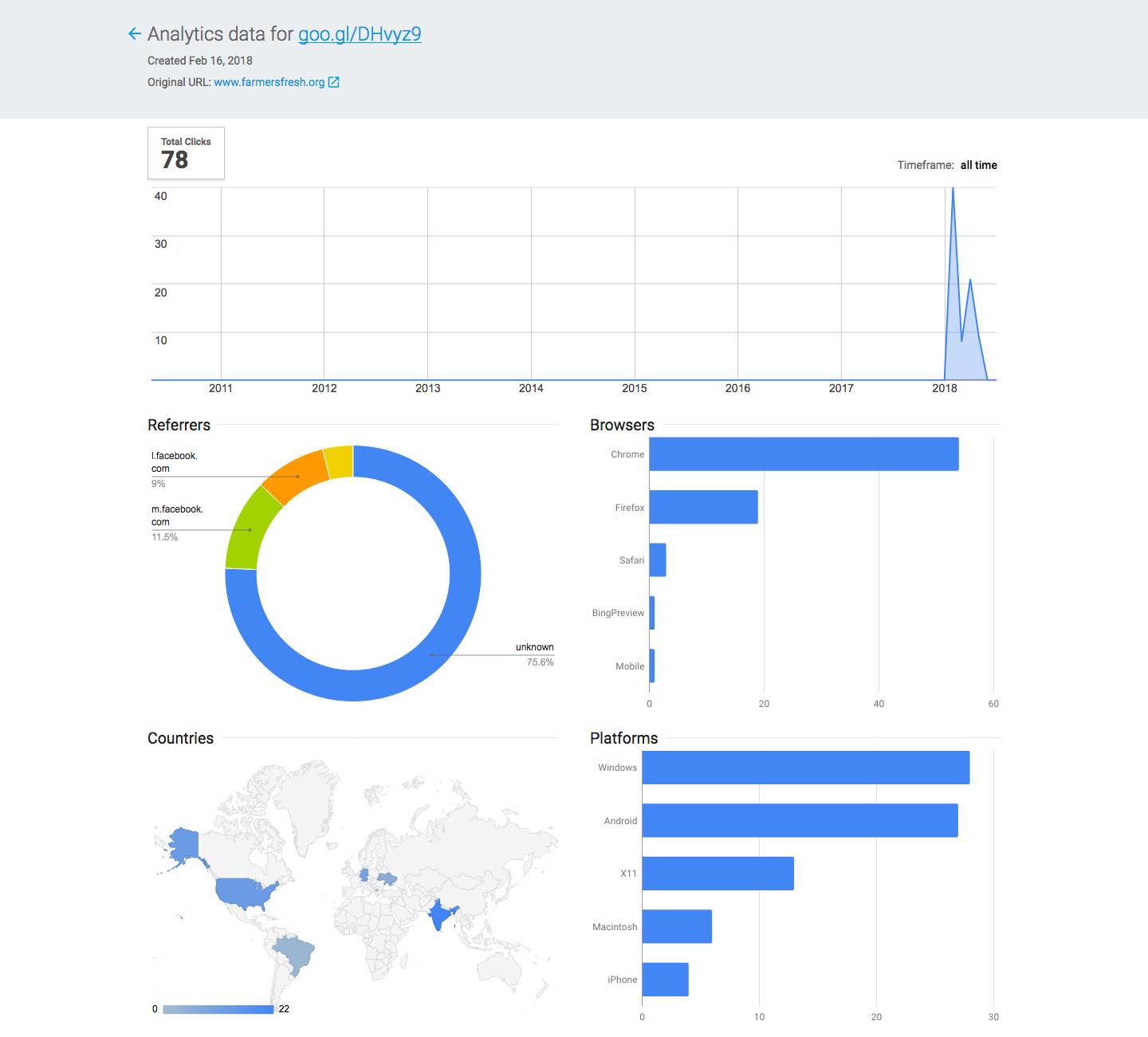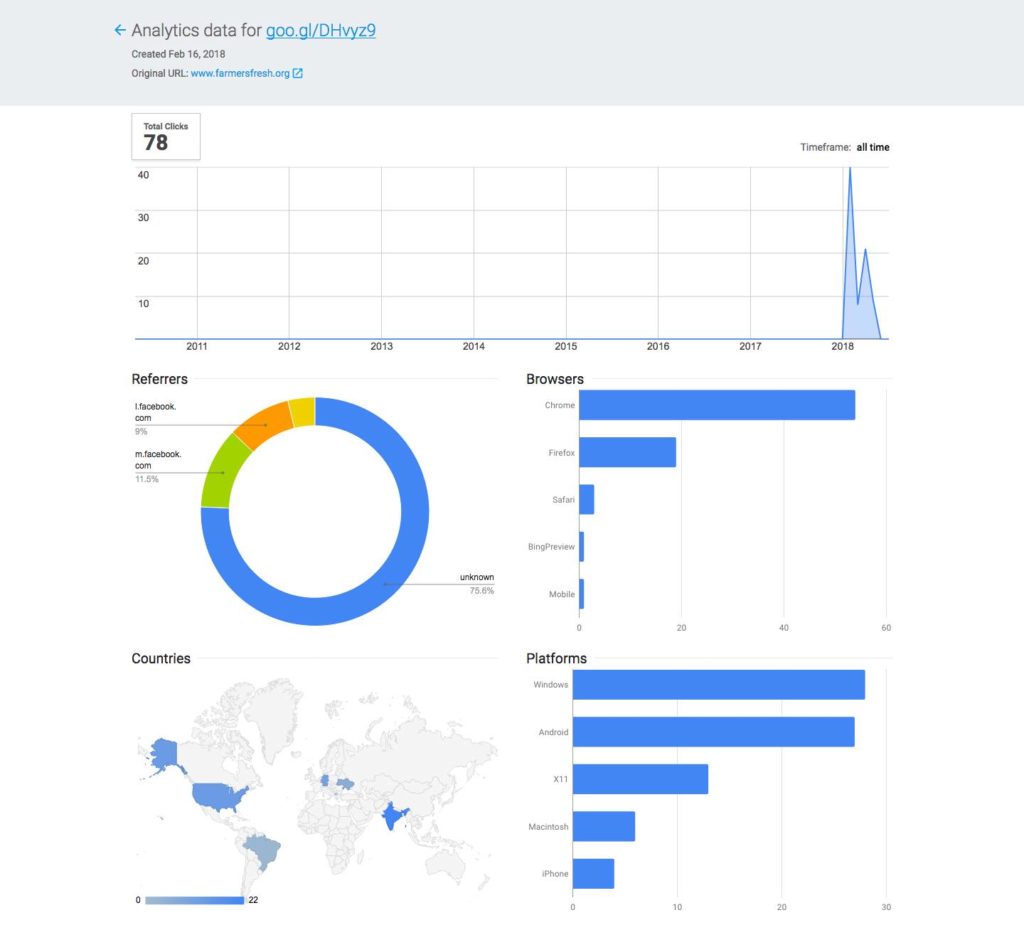 How Google Shortener works?
Here is how to make short url with Google url app.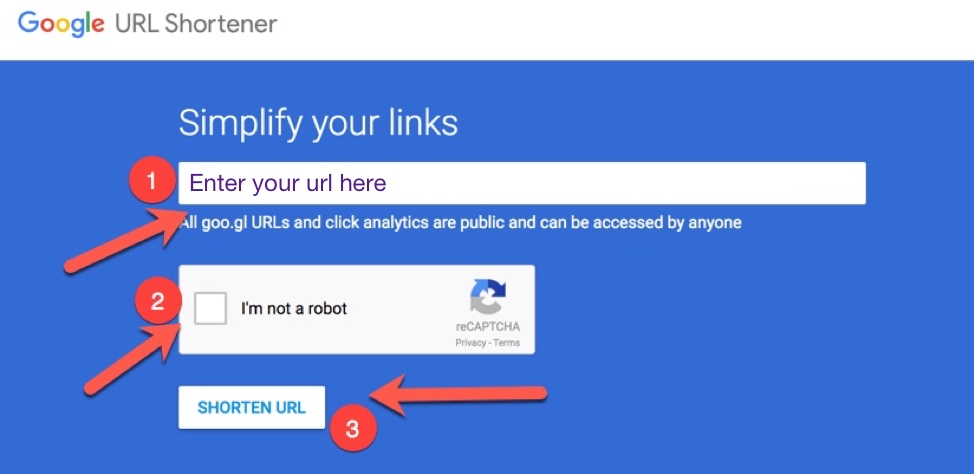 Why shorten a URL with Google Link Shortener?
URL Shortening was invented basically to tackle with the Twitter less character rule. To share more content on Twitter, various companies came up with the idea of link shortening. Eventually these websites also developed techniques of tracking and measuring capabilities. It is important to lessen the link size to keep a track on the clicks that it receives.
Large URLs take up large spaces and have a clutter which has a negative psychological impact. Copying small URLs is easier, smaller URLs are easier to remember and is also good for permalink. Courtesy Twitter, short links are very much in demand.
There are various other uses of shortening a URL, it also tends to beautify the look and feel of the content, it helps in tracking clicks (many URL Shortening websites like Bitly give you this benefit) or to disguise the underlying address.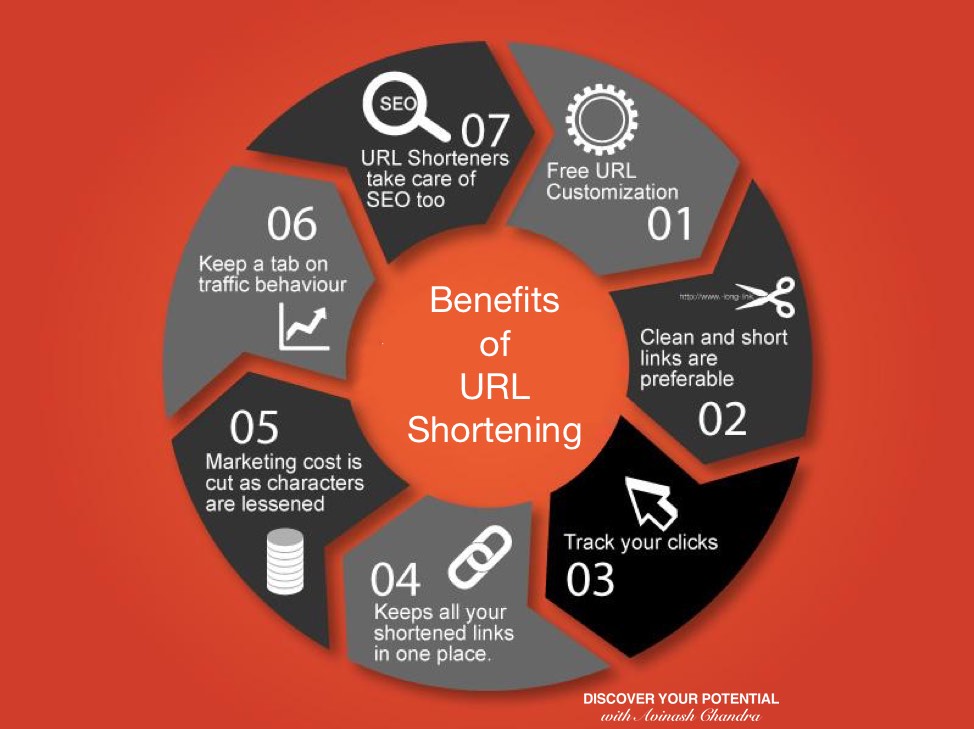 Benefits of Short URL
1 URL Shorteners help in managing links better
You will know the difference in an instant, which is easier to share: https://my.textmagic.com/free-tools/url-shortener or this – https://goo.gl/MNthpS?
This helps you manage long links better.
2 URL shorteners help improve customer experience
Customers wouldn't have to see long, cluttered URL instead they will see your content that is clutter-free and clean. Small links keep the space clean and have a positive psychological impact.
3 Sharing is encouraged
If your links are small, the sharing of your content improves many times. It does not clutter the space in sharing on platforms like Twitter and encourages more sharing.
4 Enough space is left for adding more text
Due to link shortening, many big links are shortened to be shared on various platforms. This encourages more content to be added as a definition to the link added. This helps in enhancing visibility and communication of the link before it is opened even.
5 URL Shortener websites help in tracking and compiling click data
Some websites like Bitly have this data management aspects. It helps in data compilation and keeping a tab on the number of clicks being generated. You can easily improve and change your marketing techniques because of the data generation.
6 Easy to remember, engages traffic
Short links are easy to remember and help in engaging with larger traffic as more people would look into something that is clearly stated. It also helps in generating leads and more engagement is processed.
7 Enhances brand awareness and attracts visitors in your website
Short URLs increases your visibility width and people tend to keep your product in mind, short URLs also build up a psychological impact on the user. This way more shares and clicks are generated which in turn builds your name in the minds of your customer base.
8 Free URL Customization
You can easily customise your URL to give some meaning to your URL. Giving meaning to the link makes a compelling choice for the traffic. It doesn't have to be a set of random words and bizzare combinations of words and letters, not necessarily.
9 Clean and short links are preferable
Here is an example, would you like this:
https://www.livechatinc.com/url-shortener/8-reasons-why-to-use-url-shorteners/?partner=quora.com&utm_source=quora.com&utm_medium=referral&utm_campaign=post352346
Or this,
http://lc.chat/why-to-use-url-shorteners
Short links are eye pleasing and do not push traffic away with their glaring letters patched together. And if there is an option of shortening your bizzare huge link then you should definitely go for it!
10 Track your clicks
It is very easy to track traffic on your website now, with companies like Bitly and Owly, you can keep a tab on how many clicks do you recieve on your post per day and thus you can alter your marketing strategies accordingly. Keeping a tab on effectiveness of each link is very crucial now that such a feature is available.
11 Keeps all your shortened links in one place.
Many URL shorteners provide you with the feature of keeping a tab on all your short links and all generated links. The clicks and insights data is also provided. All links are kept in a pace, it is mostly a paid feature in the sites except where some sites let you do it by signing in only.
12 Marketing cost is cut as characters are lessened
More the number of characters you have on your sending tab, more is the cost that you have to give for your message. To lessen the marketing cost of sending per message, shortening of URL matters a lot.
13 Keep a tab on traffic behaviour
You need UTM Parameters, to see how traffic behaves on your website. 90% of Online Marketers are not aware of these parameters. In many cases, you will need a Google URL Builder and a random URL Shortener to do so.
15 URL Shorteners take care of SEO too
SEO is very important in Google Analytics and links have a very important role to play in generating good SEO leads. You should always check if the shortened link has a 301- type redirect. The good thing is that majority of link shorteners use it by default.
Why is everyone sad
Google decided to drop support to Google URL shortener, needless to say everyone is sad about it.
This is what Google say about the furture of its url shortening services.
Starting March 30, 2018, we will be turning down support for goo.gl URL shortener. From April 13, 2018 only existing users will be able to create short links on the goo.gl console. You will be able to view your analytics data and download your short link information in csv format for up to one year, until March 30, 2019, when we will discontinue goo.gl. Previously created links will continue to redirect to their intended destination.
Why is Google shutting its URL Shortener?
Google started offering its URL Shortener called goo.gl, way back in 2009.
On Google Developers blog, Firebase software engineer Michael Hermanto explains that the way of surfing on the web has changed since 2009 when the URL Shortener was launched. The trend of clicking through mouse on the desktop has passed on to smart devices, mobile devices, home assistants and apps. A simple URL shortener wouldn't be of much use if redirects taking the consumer where they should be directed to.
Google is replacing goo.gl with Firebase Dynamic Links (FDL). This would initiate a deep linking and the link would be automatically tweaked according to who the user is, where are they linking from and what hardware is being used. The same FDL will work across all devices- laptops, mobile and even apps. The user experience will be seamless, correct destination will be chosen as clicked.
What is Firebase Dynamic Links
FDL's are links that work the way you want, on multiple platforms, and whether or not your app is already installed.
With Dynamic Links, your users get the best available experience for the platform they open your link on. If a user opens a Dynamic Link on iOS or Android, they can be taken directly to the linked content in your native app. If a user opens the same Dynamic Link in a desktop browser, they can be taken to the equivalent content on your website.
In addition, Dynamic Links work across app installs: if a user opens a Dynamic Link on iOS or Android and doesn't have your app installed, the user can be prompted to install it; then, after installation, your app starts and can access the link.
Best URL Shortener Alternatives
There is no dearth of options where you can get your link shortened, some sites provide additional services like keeping a tab on the number of clicks that you receive or link bookmarking.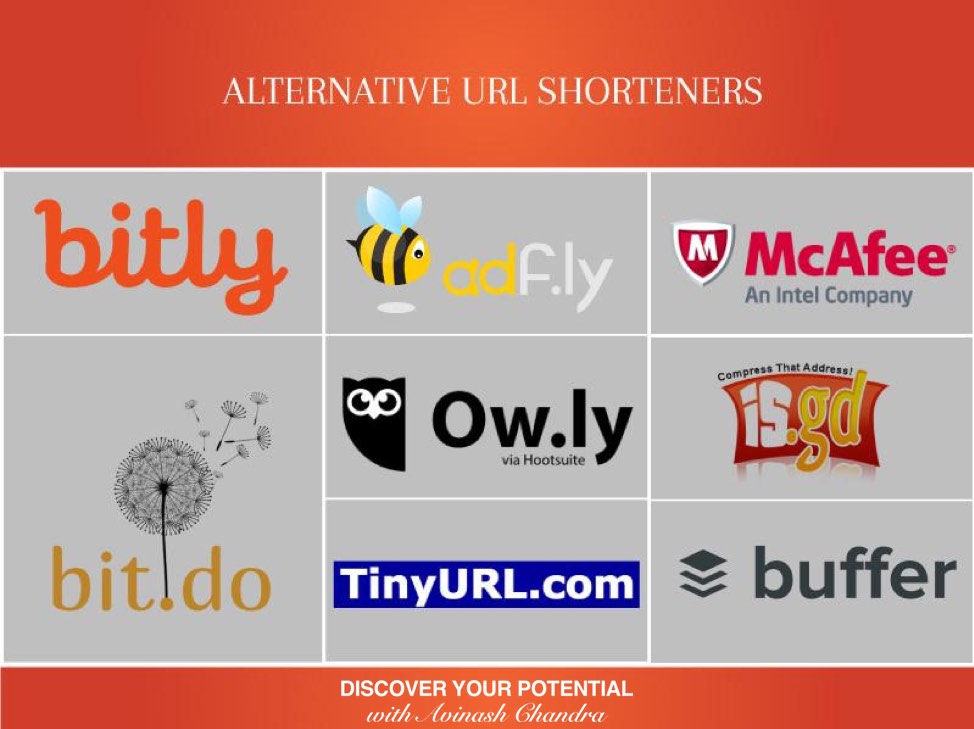 Free URL Shortener
Here are a few free URL shortener services that are available in the market.
Bitly is one of the most popular URL shortening website. It is very widely used and provides with a lot of services as well as third party apps like TweetDeck and TwitterFeed. With bitly.com you can also track clicks on your link and bookmark and organise your links on your own personalised dashboard.
TinyUrl.com was a giant once in the URL Shortening industry. It is still used a lot today but it has more characters usually as compared to others like Bit.ly and Goo.gl. TinyUrl gives you the leverage of customising numbers and end letters in your shortened link for heightened branding. For example, the shortened link maybe: http:/tinyurl.com/digitalworld.
3 Ow.ly
Ow.ly is also a very popular alternative in the Link shortening game, it bears from a leading social media application known as Hootsuite. You can shorten the link right away without much a do but you will have to prove that you are not a robot! The conjunction with Hootsuite itself is enough for your social media marketing. You can share files, images and videos easily with Ow.ly in all formats.
This is one simple website to carry your work with. They just provide you with a tab space to write your long link to be shortened. The website does not provide you with extra services and much features as additions so it is advisable to just shorten your link and get done with it. Signing in would require info produce and captcha note which would be unnecessary.
All of us have heard of Buffer, haven't we? Buffer is easily one f the most popular social media management tools out there. Whenever you paste a link into the Buffer tab, it shortens the link automatically. You can also sign in into Buffer and track your logistics and number of clicks on your link. With Buffer you can do so much more, get on the website and try cool tricks for yourself! You can also download the Buffer app on your mobile.
You can receive money from here yes! This is an interesting approach taken up by AdF.ly by offering this service of money-making by getting as many clicks. Though the amount per click is very small but if you are able to attract a lot of clicks, you will have a good amount on you. You also receive a detailed statistics for every link when you sign up for your account. You are paid via paypal for any amount of money, small or big.
It is one of the lesser known but a great alternative, it is both simple and powerful. You can use this service in your own domain, customise characters at the end of the link according to your branding strategies, get real statistics of the clicks and you can even track which countries the clicks are coming through!
8 Mcaf.ee (No longer working now)
McAfee, we all know about! It is a leading web and computer security company that deals in antivirus, firewall, encryption, email security and much much more to its customers. You should know that with its own link shortening feature, your links would be as safe as they can get. Your long links are secure in the database too and are kept safe and secure for your visitors. However, there are a couple of more characters in Mcaf.ee than Bit.ly or Goo.gl.
9 Droplr
Droplr is an Apple Mac book short url appIt is like your own personal URL shortener.
Branded or Custom URL shortener
Custom URL shorteners allow you to create your own unique short url's.
A Custom short link is also a shortened link just like what you get from Google URL shortener or Bitly. What differentiate a custom short link from a standard shortened link is that it has been customised before sharing it.
You need not compromise with url's such as goo.gl or bit.ly or ow.ly, you can create your own names such as:
Pepsi has a uniue short url pep.si
Virgin has a unique short url vir.gin
Newyork times has a short url nyti.ms
Starbucks has a short url sbux.co
Verizon has a short url vz.to
It is clear from the example above that brands have started creating their own unique branded URL.
To customise a short link you need to buy a paid url shortening service which allow you to customise a link.
All such services are known as Branded URL shortening services. Below are some such services:
1 Bitly
Bitly offers a customised bit.ly version. This service allow you to use your own domain name for a branded short link. These links can easily be shared on Facebook, Twitter and other such sites. Bitly enterprise edition, which powers branded and customised short url's supports multiple domains. Purchase your own tiny URL shortener domain now.
2 Clkim
Clkim is a white labeled URL shortener. It enables you to use your own domain to convert any links into branded customised URL's.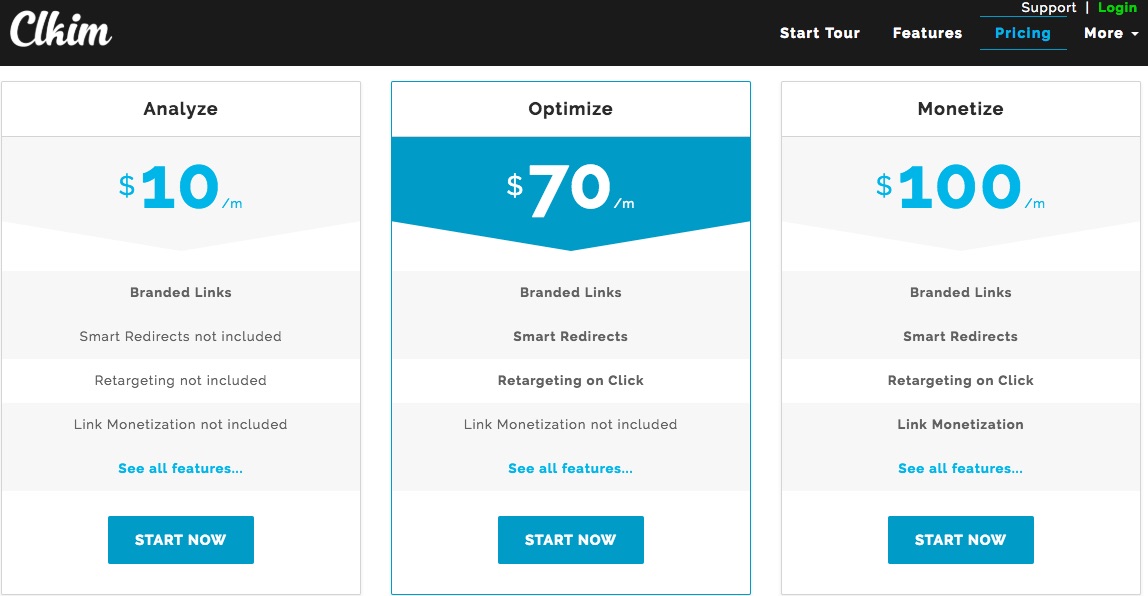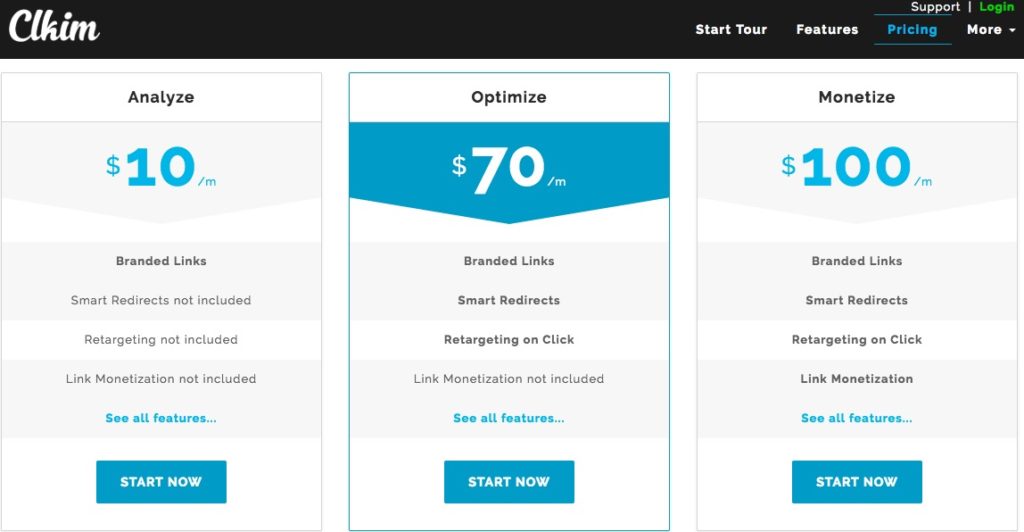 3 CloudApp Short URL app
CloudApp is a short url app. It allow you to share links, images, videos, audio etc. from Apple Mac Book menu bar. This service allow you to use your own domain name and their plan starts at just US$5/month.
4 Geniuslink
Geniuslink offers URL shortening services with your own custom branded domain. This is primarily suited for ecommerce users as it automatically route users to the location they're most likely to purchase the products you're promoting.
5 Rebrandly
Rebrandly helps you get a customer short url with its services.
6 Short.cm
Short.cm is another service that allow you to create your own branded short links with your own domain.
7 Shortswitch
Shortswitch is a hosted URL shortening service that allows you to use your own custom domain for sharing links.
8 T2mio
T2mio.com is another url shortener service.
Choose a URL Shortener for your Business
Google has been very clear on the usage of FDLs instead of its URL shortening service. It also suggests you to use Bitly or Ow.ly for your url shortening services. The existing links are going to work of course, but you won't be able to access the console itself after March 30th, 2018.
Therefore if you are looking to shorten your url's choose one of the paid or free url shortening services from the above.
FAQ's
Q1 How to create short url?
To create short url, follow the following steps:
Visit the Google URL shortener site at goo.gl.
If you aren't signed in, click the Sign in button in the top right corner.
Write or paste your URL in the Paste your long URL here box.
Click Shorten URL.
Q2 How to shorten a url with www goo gl
To create short url, follow the following steps:
Visit the Google URL shortener site at goo.gl.
If you aren't signed in, click the Sign in button in the top right corner.
Write or paste your URL in the Paste your long URL here box.
Click Shorten URL.
Q3 After Google URL shortener is closed what will happen to existing google link?
Previously created links will continue to redirect to their intended destination.
Q5 What is custom short link?
A Custom short link is also a shortened link just like what you get from Google URL shortener or Bitly. What differentiate a custom short link from a standard shortened link is that it has been customised before sharing it.
To customise a short link you need to buy a paid url shortening service which allow you to customise a link.
Q6 How does google url shortener work
Here is how Google URL shortener work.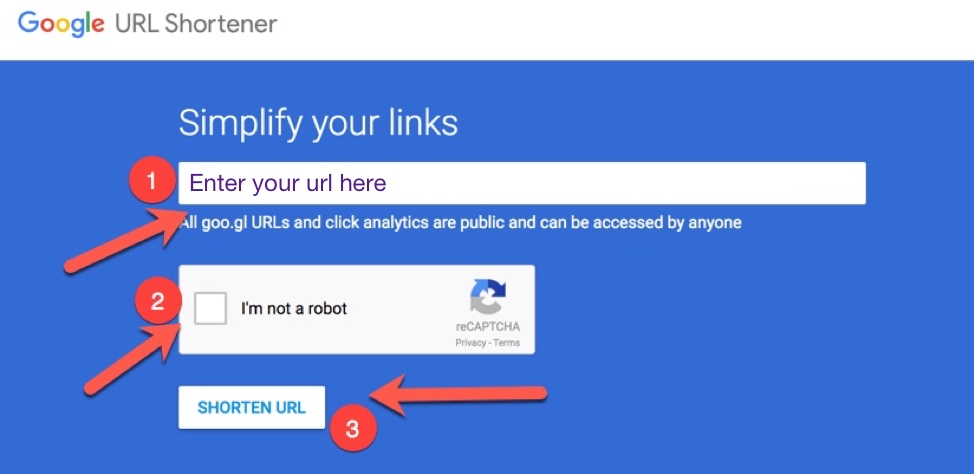 Q7 What is google url shortener?
Google URL shortener is a free service that allow anyone to shorten their url with goo.gl as a prefix followed by a few characters that helps google server redirect the click to the original url.
Q8 Does google url shortener give free traffic
No, Google URL Shortener does not give any free traffic. It is just a method to help you shorten your long url link.
Q9 How long does google url shortener work
Google URL shortener will work till March 2019. After that the it will not be available. All preexisting links will continue to drive to the original links.