The WhatsApp Business App is here to let you engage better with your customers. Though it has been rolled out to big enterprises globally, if you are a small company you can extract even great benefits from it.
Here's why:

1.3 billion people use WhatsApp actively to communicate with their family and friends.
So it is quite natural that WhatsApp (read Facebook) is going to leverage it in some or the other way to generate revenue. Therefore, WhatsApp, the world's biggest messaging app has officially announced its pilot program for companies.
The initiative will enable better communication between companies of all sizes and their customers. This is an initial step towards monetization of the free WhatsApp messaging platform.
WhatsApp COO (Chief Operating Officer) Matt Idema told the Wall Street Journal "While we do intend on charging businesses in the future, we don't have the details of monetization figured out yet."
So you can try it out for free, until WhatsApp  (Facebook) figures out, how they are going to charge you.
What is WhatsApp Business App?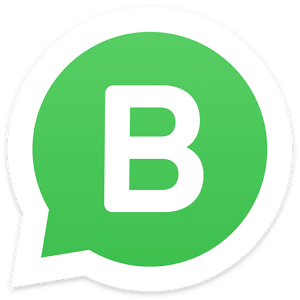 WhatsApp Business App is a new offering for Businesses. It enables you to:
Have a business presence on WhatsApp
Communicate more efficiently with your customers
Grow your business.
If you have separate business and personal phone numbers, you can have both WhatsApp Business and WhatsApp Messenger installed on the same phone, and register them with different numbers.
In addition to the features available in WhatsApp Messenger, WhatsApp Business includes:
BUSINESS PROFILE: Create a profile for your business to help your customers find valuable information — like your website, location, or contact information.
BUSINESS MESSAGING TOOLS: Be more responsive to your customers by using Away messages to indicate that you're away.
LANDLINE/FIXED NUMBER SUPPORT: You can use WhatsApp Business with a landline (or fixed) phone number and your customers can message you on that number. During verification, select the "Call me" option to receive the code over a phone call.
RUN BOTH WHATSAPP MESSENGER AND WHATSAPP BUSINESS: You can use both WhatsApp Business and WhatsApp Messenger on the same phone, but each app must have its own unique phone number.
WHATSAPP WEB: You can more efficiently respond to your customers right from your computer's browser.
WhatsApp Business is built on top of WhatsApp Messenger and includes all the features that you rely on, such as the ability to send multimedia, free calls*, free international messaging*, group chat, offline messages, and much more.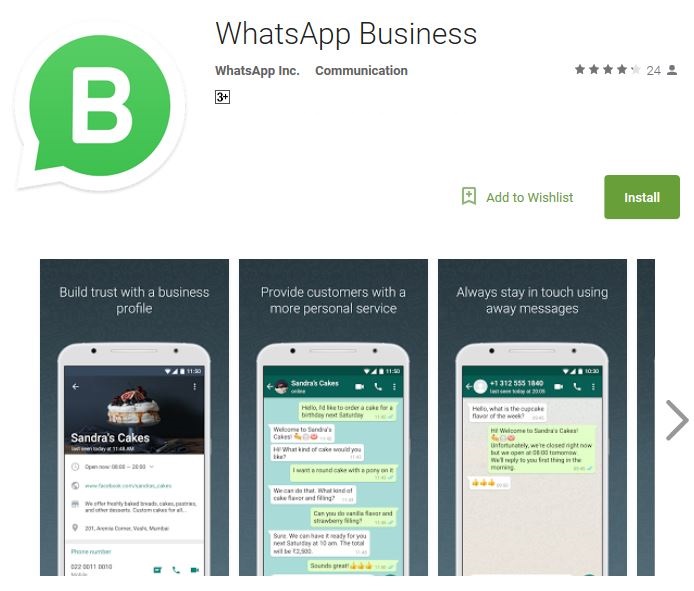 Why WhatsApp is launching Business App?
Thus far companies (both small and big enterprises) have been using the basic app meant for individuals.
I have seen small companies use WhatsApp messenger to announce new offers/discounts or send festival wishes to their customers. Big Enterprises has been using it to get their teams on the same page by creating corporate groups.
Some people also use WhatsApp to order grocery or share health reports with their family doctors.
No doubt, it is a very efficient one-to-one or one-to-many platform for direct communication and has the potential to become a potent marketing tool. But the communications so far were happening in a rudimentary fashion.
Companies (Both large and small) want an official presence where people can trust their authenticity and respond easily to their messages. Similarly, people want an easy way to communicate with the companies they want to do business with. Needless to say WhatsApp scores over any other method.
WhatsApp has now understood this need of modern companies. WhatsApp Business is a pilot program to develop a functional tool to fulfill all the above requirements.
Features of WhatsApp Business
WhatsApp Business will be testing out these new features through a closed pilot program. The expected features of WhatsApp Business are:
1. Profiles for Official WhatsApp Businesses:
Businesses can now create their profiles with basic information such as company address, small description of product or service offered, hours of operation, website link, customer care number, etc.
According to the WhatsApp blog page(1), businesses always wanted to have a profile as it builds trust among consumers and also increases business credibility.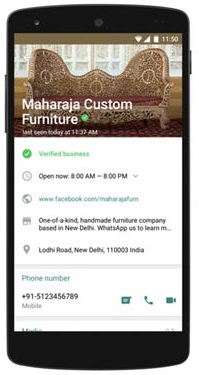 2. Verification Badge:
A green check mark badge placed next to a contact's name. This mark indicates that the phone number of the contact belongs to a business account which has been verified by WhatsApp.
In India, BookMyShow already has a verified profile on WhatsApp. A verified profile means, people can now distinguish a business from personal accounts and fakes.

3. Message Management
Tools to help businesses manage bulk messages and consumers at one place.
4. End-to-End Encryption
Conversation between the user and the businesses will be encrypted and can't be read by third parties like WhatsApp, Facebook or government agencies. However, service providers (deployed by companies) for managing the chats will be able to read these communications.
5. Identification of the Business
If a phone number of a business account is not in your contacts, its name will display as registered on whatsapp, instead of just their number.
How Small Companies can benefit from WhatsApp Business?
I believe small companies will be in a better position to benefit from whatsapp business unlike big enterprises.
Here is why:
A verified business profile will create a sense of trust and security among consumers to connect with small companies and start further communication.

Small businesses lack credibility. Any form of verification adds to their advantage.
With the verification stamp, a consumer will be more confident of the authenticity of the business.
A Small business will be able to provide focused communication compared to a large business.

The new tools will enable companies to provide customers with useful notifications or alerts. These notification or alerts like discounts, new product launch, train/flight timing, booking details, delivery confirmations, and other updates can be delivered on WhatsApp itself.

Something like this was simply not available to small companies at an affordable rates earlier.

The new tools will enable the small company owner to manage chats/messages and consumers at one place.

It will be quite easy for a small companies owner to keep track of consumer communication in one place. It was difficult to do that earlier in a meaningful way.

WhatsApp is also looking to bring in UPI payments to the platform.

UPI payments in India where WhatsApp has a user base of 200 million could add another dimension for small companies.
Small companies can collect payment easily from customers, without bothering about bank account details etc.

With the new tools, companies will be able to establish direct contact with consumers seamlessly while ensuring authenticity.

Technology will be at fingertips of small companies and verified badge will provide authenticity and credibility to these businesses.
The tools are still in beta testing phase. So if you are interested in testing whatsapp's business app, you can fill out the WhatsApp survey form and see if you are sent an invite to use it.
FAQ's on the new WhatsApp Business App
Q1. What is WhatsApp Business Account?
WhatsApp Business Account is a new App service from WhatsApp. It allows a company to communicate with its customers through the free WhatsApp messaging service. While doing this communication companies can showcase their account as a verified WhatsApp Business account. WhatApp Business App will be a completely new application, separate from the traditional whatsapp that you are using now. It will be available on Android, iOS and Windows Phone.
Q2. What happens if you want a WhatsApp Business Account on your Personal number that is already running WhatsApp personal account?
WhatsApp Business App is a totally new App and it can coexist along with your WhatsApp personal App. Therefore you can run both WhatsApp traditional and WhatsApp business app on the same mobile phone and number.
Q3. How to create a WhatsApp Business account?
Today the tool is in beta testing phase, and if you are interested in testing the app, you can fill out the WhatsApp survey form.
However, once the App goes live, to create a new WhatsApp Business account you need to download this App from Android, iOS of Windows store on your mobile phone. Once you have installed the App you can create a WhatsApp Business profile and accept the new WhatsApp Terms of Service and the Privacy Policy in order to use this app.
Resources: