With the rise of eCommerce businesses across the globe more and more brands & small businesses are going online. One question which arises from the most of the the budding online businesses is "How to Choose the Best payment gateway for small business".
I have heard this question from multiple brands and businesses of all sizes. This article is an attempt to answer this very question.
If you are in hurry and just want to identify the best payment gateway for small business, here is the list of top 10 payment gateways in India.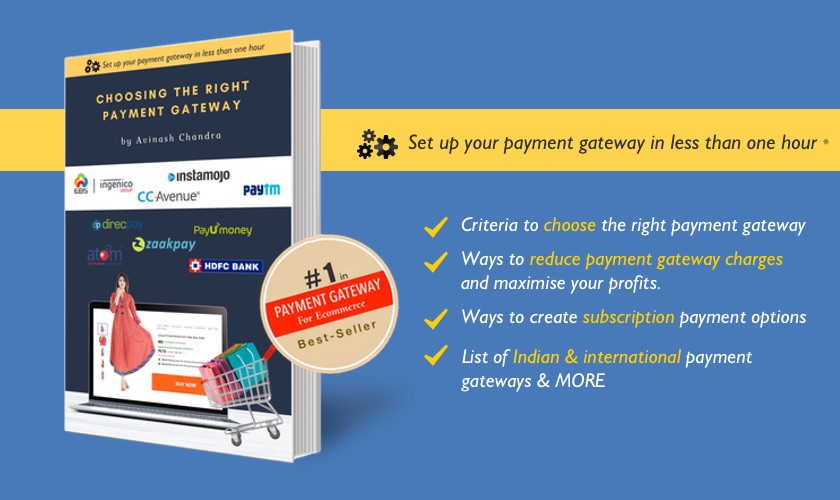 10 Tips to Choose Best Payment Gateway for Small Business
It could be quite difficult to choose Payment Gateway services most appropriate for your business.
Do not choose the one you come across for the first time, you must invest time to choose the one which suits your requirement.
If you go ahead with popular ones such as PayU Money, PayPal or Skrill, you will find their transaction charges to be very high. However, if you choose smaller ones such as Citrus, they have great features and low transaction fees.
However, your choice of payment gateway can not be taken just on the basis of cost. Choose what suits your business objectives with the following 10 Tips to Choose Best Payment Gateway in India:
1. Choose which type of Payment Gateway you need
Whatever may be your idea or business and your website or mobile app, its success regarding business depends on the ease of transaction experienced by a customer.
This is where payment gateways have a significant role to play. If you consumer trusts your store and finds ordering hassle-free the sale will go through.
The type of payment gateway you choose can have a bearing on the above.
Therefore, this is the first question you must answer before you decide "the best payment gateway" for your business.
Types of payment gateway
Payment Gateways are primarily of two types:
Hosted Payment Gateway
Integrated Payment Gateway
1.1 Hosted Payment Gateways
Hosted payment gateways are hosted away from your website, however as a consumer very well knows these payment gateways, it may add a seal of authenticity to your site.
One of the best examples of Hosted Payment gateway globally is Paypal, WorldPay, Nochex, PayTM, PayUMoney and PayUBiz.
If you use hosted payment gateway for a transaction, it will redirect your customers to their processing platform for the transaction for some time. Once the transaction is complete your consumer is redirected back to your website or app.
1.1.1 Benefits of Hosted Payment Gateways are:
Hosted Payments are easy to setup.
Payment Gateway is responsible for compliance with Data Privacy Laws as the transaction happens on their platform.
Hosted Payment Gateways may add a seal of faith as sometimes they also run buyer protection programs.
Hosted Payment Gateways advertise globally to build their brand and thus have a high recall among consumers, which could be helpful for a new brand or a startup.
1.1.2 Challenges with Hosted Payment Gateways are:
Redirection from a merchant site to a third party website may create doubts in the minds of consumer who is not aware of these payment gateways.
Redirection adds an extra layer of a transaction and could reduce your conversion rates.
1.2 Integrated Payment Gateway
As the name suggests, integrated payment gateways are integrated within your website itself.
What it means is that the transaction happens over your eCommerce platform instead of the payment gateway provider. Integrated Payment Gateways enable purchase on your eCommerce website via the API or a plugin build with the API.
While making the payments, a customer is directed to the payment page and not out of your website.
One of the best examples of Integrated Payment gateway globally is CCAvenue, Atom.
1.2.1 Benefits of Integrated Payment Gateways are:
Customer transact on merchants (sellers) website, and it is quicker
Smooth and seamless experience.
1.2.2 Challenges of Integrated Payment Gateways are
Not easy to setup, you need to have technical expertise to integrate the Payment Gateway
Merchant is responsible for compliance with law
It is time-consuming as merchant needs to obtain a merchant account
2. Payment gateway charges: Choose between Setup Fee or Transaction Charge
Most of the payment gateway charge as below:
An initital fixed setup fee (anything between US$ 20 to US$ 100)
Annual usage or account maintainence charges (anything between US$ 20 to US$ 100)
Transaction charges on every successful transaction (anything between 0.75% to 5% of the transaction value)
For a startup testing out waters, ever penny matters.
Therefore, if you are a startup you would not like to pay an initial fixed fee and annual maintainence charges. In such a situation it would be better to pay higher transaction fees and choose a payment gateway which does not charge or give waiver of the initial setup fee and annual maintainence fees.
However, if are an established business with significant traction for your business you may pay the fixed charges and maintainence fee and ensure that your transaction charges are low (in the range of 0.75% to 2%) with assumption that you will build traffic quickly.
3. Do you need Automatic Billing Support:
Most of the ecommerce businesses (such as Amazon, eBay, Baidu, Flipkart) sell ondemand products and services. Such businesses just need a payment gateway for a transaction on the click of a customer button.
However, there are businesses which sell products and services on the basis of periodic subscription. Therefore, if the product or service you are selling needs subscription, you need to choose payment gateway which allows automatic payment of recurring plans. Payment Gateways such as PayPal offers such support.
4. Review the Purchasing Funnel:
Consumer experience and ease of transaction are supreme for the success of an eCommerce site. Your consumer should be able to pay for your services in 2 or 3 clicks on your site or app.
Therefore, you must consider the number of steps required to get to the payment confirmation page, if there are too many steps, consumer may drop off. In such a scenario going for an integrated paymnet gateway will be preferable over hosted payment gateway.
Ask yourself if you are asking for too much info., are you just a via-media to build payments gateways business (as some of them such as PayU Money ask consumers to create an account with them).
If you are asking for too much information, its a recipe for disaster.
Review the purchasing funnel on Payment Gateways website or ask them to show you the demo. This is a good way to get an idea of how the process will actually function on your store.
Please note that you do not have much liberty with Hosted Payment Gateways, however Integrated Payment Gateways offer you more flexibility.
On Integrated Payment Gateway you can opt for a one-page checkout, multi-page checkout, style form fields as you prefer. With the usage of Analytics data you can eliminate the barriers to conversion.
5. Ensure that you can integrate your CMS with your chosen Payment Gateway
Your website or mobile app is a huge investment in terms of cost and time. If you are reading this article, I am quite sure that it is almost ready.
I must say you are late to choose a good payment gateway.
Nevertheless, better late than never.
Not all payment gateways provide plugins for CMS available in the market today. It does not matter if you are a large corporate as you will have budgets to spend on integration.
However, if you are a startup with almost ready site and limited funds, you will have a limited choice in terms of payment gateways. Now, you will have to settle for a payment gateway which povides plugin for an easy integration.
I know, I know, you might say that your technical team will develop a customised solution, but remember it is an investmnet of time and resources. It is better to deploy these resources on customer acquisition and business development.
6. Reputation above payment gateways cost
If you are a new business, you may like to use the payment gateways reputation as a seal of trust on your website. After all, a familiar name on an unfamiliar website adds a bit of confidence in consumers mind.
Some payment gateways also provide consumer protection facilities to protect them from fradulent eCommerce merchants. Using any such payment gateways mostly tells a custmer that you value your customers and guarantee delivery of service or product.
Some of these payment gateways might be expensive. However, the cost might pay for itself with increased conversion rates on your website.
7. Customer support
Well, this one is a no-brainer.
In the age of internet, you will still come across businesses, which do not value their relationship with a consumer.
Just call up the customer support numbers of a payment gateway and follow the steps below.
If they pick up your call, proceed further otherwise just run away from them.

If they ask you to leave your number so that they can call up. Not a right choice, you would not like to be at their mercy. Choose another payment gateway.

Great, so they picked up your phone. Now, if the customer support answers all your questions, proceed further otherwise just dump them.
Fantastic so you got your answers. Now, if they provide you easy to understand cost structure, move further otherwise they are not worth your money.
If they confirm that they have a official plugin for your CMS. Well you know you have hit the jackpot.

Otherwise now you know that you have lost a partner in success and you have to look for another one now.
8. Currency Support
Do you serve overseas customers. If yes, you must choose a payment gateway which support payment in international currency through a foreign debit or credit card.
9. Affiliation with Payment processing networks
Traditional payment processing systems globally are Visa, Mastercard, American Express and Discover cards. However, not all payment gateways support all of these networks.
Therefore you need to be carefull that your payment gateway support all these processign networks.
10. Settlement Cycle
Generally payment settlement cycle is T+2 Days. Ask your chosen payment gateway about their cash settlement period. The shorter the better. Why would you allow them to sit with your money for even a minute.
However, in reality the payment settlement cycle is anything between 2 days to 7 days. Some payment gateway release payment on the basis of proof that you have delivered the goods or service.
Choosing the Best Payment Gateway for Small Business
You are not married to a Payment Gateway.
Start with whatever payment gateway make sense to you. In the beginning what is most important is that you receive payment from your customer.
Keep on improvising.
It is easy to move from one payment gateway to another (unless you have paid hefty setup fee).
If possible, keep Multiple Payment gateways on your website. Allow customer to choose how she wishes to pay. If you are a new business, it make sense to have multiple payment options as it may create faith in your new customer.
Consider cash on delivery (COD) as an added option.
Cash on Delivery or CoD is a very popular payment method in India. You can not ignore if you want to build your consumer franchise. User will start paying once they have couple of transactions with you. CoD is a must for eCommerce success in India.
Related Article: The top 10 payments gateways for online businesses in India
Related Article: Payment gateway for recurrent subscription payments for your online business.
FAQ: Payment Gateway Services
Q1 Why online payment gateway services are critical for an online business?
Online payment gateways enable an online business to receive payment electronically over internet. As most of the online businesses operate with an asset light model, receiving payments online is a must for their survival.
Q2 What is Online Payment Gateway?
Online payment gateway is noting but a payment gateway. All the payment gateways are online.
To put simply payment gateway is way to receive payment from a customer online.
Payment Gateway is an eCommerce application that processes payments on a website, or an App or over any other digital channel through credit card or debit card or online bank account.
Payment Gateway service automates the payment transaction between the shopper (buyer) and merchant (seller). It is a third-party service that is a system of computer processes (that process, verify, and accept or decline credit card transactions) on behalf of the merchant through secure Internet connections.
The payment gateway infrastructure allows a merchant (seller) to accept credit, debit card and another form of electronic payments.
Several independent service providers provide Payment Gateway services. It facilitates the transfer of information between a payment portal (such as a website, mobile phone or interactive voice response service) and the Front End Processor or a bank.