Online businesses are increasingly becoming global in nature. Several Indian businesses today have customers from hundreds of countries. Well, when your customer buy something online, they have to pay online too, ain't it? To make this process encrypted and safe, to make transactions between buyer and seller more safe and secure, several international payment gateways are available.
These international payment gateways have a critical role to play in transactions and online purchasing management.
Why Indian Merchants need International Payment Gateways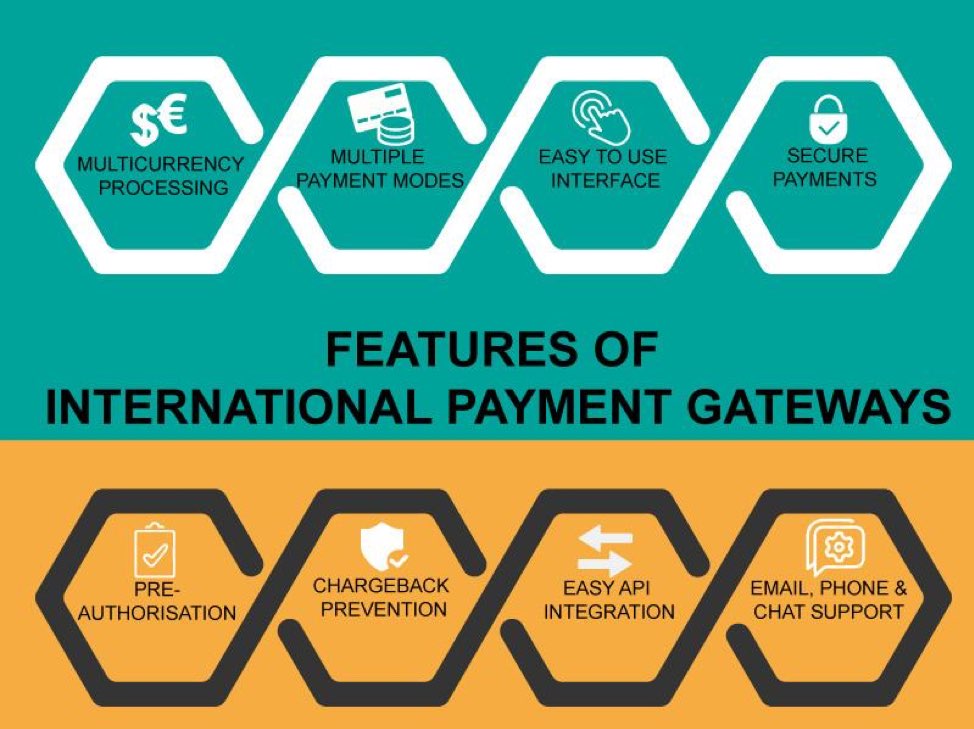 Indian merchants have the reach and customer relationship to several countries of the world. Merchants need access to International payment gateways as:
1 We live in a multi-country & multi-currency world.
International Payment Gateways let merchants offer their international customers the ability to pay in the currency they know best – their own.
Chances of customer conversion increases when a prospective customer sees the price of a product or service in their currency.
Customers can easily benchmark prices if it is their known currency. Well, I hope you remember the last time you travelled to the US or China or the UK or any other country, any expenditure is preceded by a conversion to the Indian rupee.
2 International Payment Gateways are well know
Unknown Indian merchants can leverage brand awareness of well known international payment gateways such as Paypal and Stripe.
Payment Gateway solutions authorise the transfer of funds to the seller from the buyer with the intermediate bank transfers.
3 Transaction security
In larger financial suites Payment Gateway also have the responsibility of processing money, client verification, calculation of tax amounts and much more along with the independent and integrated modules.
Every country has a different PCI compliance standards, payment gateways have to adjust according to that and they also have to set up maximum security to prevent any kind of fraud.
4 Helps you save money
Payment Gateways also help you in decreasing TCO (Total Cost of Ownership).
According to Forbes' article on the future of B2B Commerce in 2016:
The nature of the companies have seen a shift to a more unified and global view in selling activities. This view of globalisation cannot be completed without a very reliable, responsible and trustworthy payment gateway solution.
Payment Gateways in nature, simplify and accelerate transactions. The companies garner trust of their customers through efficient and apt payment solutions. Nobody wants a prick on their finances, do they?
How to choose right International Payment Gateway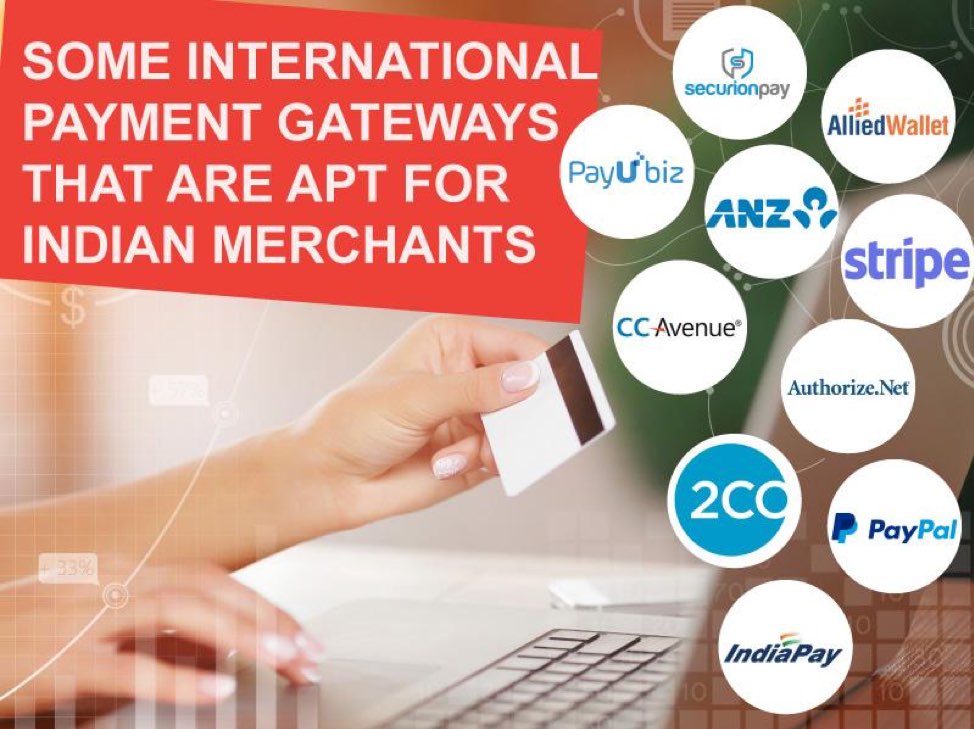 Now, to choose the right payment gateway solution for your company you must keep a few things in mind as all the payment gateways have different features that would suit different interests altogether,
First things first, you will have to check on the transition fees and keep the track of expense within your budget.
If your payment Gateway option is asking you to sign up, well avoid that gateway solution!
If you are looking to expand your business globally, you will have to search for gateways that allow multi-currency transactions.
Every payment gateway has a different set of terms and conditions. To know more about what product range is covered in the gateway solution, go through their terms and conditions specifically.
Gateway solutions must be all encompassing in the modern day, it must accept credit cards, debit cards and echeck etc. and more.
You have to keep one thing very straight in your mind that no customer likes unnecessary details to fill. Nobody would want to share unneeded details and this can harm the repute of your company too. Make sure that all the field fills are legit and okay.
Report predicts that US Online Processing Market has the worth of $10.7 billion by the beginning of 2017. As they say, the modern gateways are predecessors of a total online-to-online (O2O). The payment will be digital, as you see with Airbnb and Uber.
Top 10 International Payment Gateways for Indian Merchants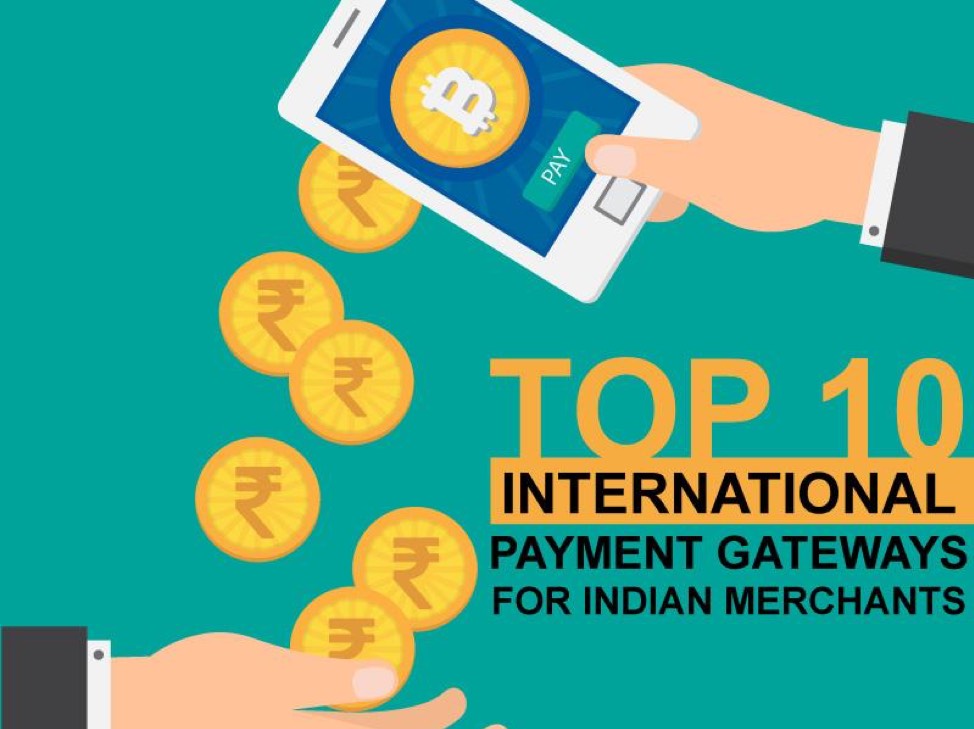 Well, well, well, It is clear from the above that choosing the perfect International payment gateway could be tricky, time-consuming and risky. Therefore I did some extensive research and decided to bring to you top 10 International Payment Gateways for Indian Merchants.
The List Of Multi-Currency Payment Gateways in India:
Let us look into some International Payment Gateways that are apt for Indian Merchants,
1. Payubiz: An Indian Payment Gateway with Multi-currency capabilities
As Payubiz notifies- only 30% of the Indian merchants access an International Payment Gateway option. Rest 70% are still far off the solution. Payubiz is one of the most popular International Gateway Solution and it enables your customers to make international payments using their local cards and net banking options.
Only 30% of the Indian merchants access an International Payment Gateway option.
The features of Payubiz are:
A hassle-free set up without engaging with a local setup. It is all self-integrated, no independent setup is required.
Payubiz is the leading payments provider across the growth of 16+ countries
Easy Integration
Best Conversion Rate you will find out there
Settlement clear and crisp in 125+ currencies
Partnership with Global banks to reduce Forex risk.
White Labelled Card Vault
Less Flow of CVV
OneTap Payments
For the pricing of PayUBiz, visit here!
2. 2Checkout
One of the instantaneous gateway solutions, 2Checkout is a prominent gateway from the US which enables mobile and online payments of all kinds, well, mostly! They are almost never delayed and are have a very strong and secure digital wall.
16 years in the market now
Served over 50 thousand merchants
Built over 300 fraud prevention techniques and rules
Level 1 PCI Compliance
Supports 8 different payment types
Supports in 87 different currencies
Operations in over 200 global markets
Customisation according to language and currency. Also localised payment options.
PCI Security is level 1 justified
Integration of 100+ shopping carts and accounting system
You can learn more about the features of 2Checkout here!
Related Articles:
3. Allied Wallet
Allied Wallet is one of the best high-risk payment solutions network. It also gives you modern day features like NextGen Dashboard to give you transaction data immediately at al hours of the day. Keep a track of your sales with their most efficient means. It is user-friendly and fairly priced, they provide you with newgen user interface which makes it easier to track and keep a record of your sales.
One click Payments
Efficient Chargeback Prevention
Keeps a track of recurring billing
Excellent fraud prevention measures
Affiliation Management- get your individual payments to record in ago and updated over each transaction
Hassle Free Integration, expert services
PCI Compliance
ACH Solutions
For more informations, visit here!
4. PayPal
Everybody has heard about PayPal, haven't they? PayPal is one of those big names that have a global impact. It is one of the most popular and extensively used Payment Gateways. It accepts both credit and debit card payments. PayPal is absolutely user friendly and thus it has has the largest number of active users. This is available worldwide and it integrates with a lot many numbers of shopping carts- can be used for as many number of shopping carts. PayPal also allows payments by sending links to your customers thereby imposing more on sales.
341,497, approximate to that is the count of websites that use PayPal daily.
No Setup Fee and a very transparent Transaction charge
Accepts both Credit and Debit Card
Pay after a Sale is Drawn. Fair enough?
Buyers Protection and Refunded Returns service
24/7 transaction monitoring, fraud prevention and Seller protection
210 million happy customers
5. Authorise.net
It is one of the necessities in retail and service environs as it works in a similar fashion as the respective order management practices of various companies. The pitch for its development was to help merchants have more selling at local and online stores. Authorise.net has now earned trust with small and medium businesses by providing an affordable and secure payment solution.
Free mobile POS app for Android/iOS
A free website payment seal
Free kit for Fraud Prevention tools
24/7 free support by experts
Immense tutorials and training materials.
Robust Online Payment System
VPOS- Personalised Virtual Point of sale system integration
Electronic Check Payment fully integrated
Customer Integration Manager (CIM) lets users tokenize and store the sensitive payment information on secure Authorise.net's servers
Find more about their services here!
6. Securion
Are you looking for a considerable improvement at your conversions and cross-sales? Then SecurionPay is your best bet! They offer you a fast, steady and simple way of transaction, with its highly flexible API- the specific needs for the businesses is catered to. The payment flow is simple and straight, there are options that make fast transactions happening in one click.
You will also have a 'remember me' option for better recurring listings. Clicks and the structure is reduced to bare essentials, which means that cart abandonment would be a hefty process which solves the problem which leads to enhanced conversions.
Customizable Checkout Popups
Fast Checkout, one click advancement
High customizability and Personalisation
Very advanced and highly secure payments
Proven improved cross sales
Easy testing for the test phase
7. Stripe
A full-fledged finance management tool which is equipped to handle major business fundamentals. It was originally designed to facilitate recurring billing, but it grew up to support and process online money transactions too. Due to its specific designing, Stripe is at times considered as the autopilot of billing owing to the ability to streamline and automating payment operations. The customer doesn't lose control over payments but the math is left for Stripe to conduct. For instance, if a customer cancels his/her subscription halfway, the Stripe will bill the amount that is legit only for the last period.
Set up plans in 139 different currencies
Localised payment solutions with credit cards, Bitcoin, Alipay and ACH transfers
Billing solution for recurring customers
Well equipped to handle complicated subscription structure
Organised and listed customer information
Migration Assistance, upto the mark support from a team of experts
Stripe API- Make connections in the marketplace with leaders and third-party software to reach out to new audiences. Maximise your renewal!
8. ANZ
ANZ has amazing structure and offers for Indian Merchants, depending on your business size and the requirements for your Startup plan or Business plan or Community Select Packages. The services include merchant account services too. And you wouldn't believe the newbie offer, you get a fee waiver for 12 months with unlimited transactions! They have fair customised deals for all other packages.
Help with Planning, forecasting and setting up accounts- if you are still looking into business development from scratch!
Take direct payments from customers
Efficient products and tools to help you manage expenses and cash flow gaps
Management of employees, yes!
Insurance specific and prevention of foreign exchange risk
Importing, exporting and managing foreign exchange
Find more about their plans here!
9. EBS Payment gateway
EBS payment gateway from E-Billing Solutions Pvt. Ltd enables eCommerce stores to collect payment from the end customers through net banking, credit and debit cards.
As a payment gateway provider, EBS payment gateway allows an eCommerce store to use payment collection facility offered by various banks, cash cards and many other payment processors onto a single platform with minimum technical integration requirement with eCommerce stores.
EBS is the first Indian merchant account provider to achieve the PCI DSS 3.0 standards of compliance. It is also certified by security and process adherence followed and audited by ISO 27001- 2013 standard. This achievement makes EBS one of the most secured online service providers in the world.
eCommerce stores using EBS payment gateway can design payment page in one of the seven different languages of India. The languages available are English, Hindi, Bengali, Gujarati, Tamil, Telugu & Marathi. This could be a significant advantage for eCommerce stores build to tap the regional language power.
Type of Payment Gateway: Hosted Payment gateway, with a possibility to retain your logo on EBS payment gateway processing page.
Domestic Credit Cards supported: Visa, Master, AMEX, Diners, JCB, Discover

EBS payment gateway charges in India

Initial Setup Fees: ZERO as a special promotion instead of Rs 9599 they usually charge.
Annual Maintenance Charges: Rs 2400
Minimum Annual Business Requirement: ZERO
Applicable Fee per Transaction:

Domestic Credit & Debit cards on Visa, Mastercard, Maestro, RuPay: Flat fee @ 2%
Wallets: Flat fee @ 2%
IMPS, Cash cards & UPI: Flat fee @ 2%
Amex, ezeClick, JCB and Diners: Flat fee @ 3%
International Credit Cards on Visa, Mastercard: Flat fee @3.5% to 6%
Taxes extra as applicable from time to time

International Payment / Credit card Support: Supported. Your eCommerce store can represent your product pricing in any number of currencies. Your customers can check-out on the HDFC payment gateway using their desired currency with Multi-Currency payment Gateway that supports 16 foreign currencies.
Multi-Currency Support: EBS payment gateway offers multi-currency support to enable eCommerce stores to deliver localised buying experience and avoid conversion disputes. EBS Payment Gateway supports 11 major foreign currencies:

Indian Rupee (INR)
American Dollar (USD)
British Pound (GBP)
Euro ( Eur)
Arab Emirates Dinar (AED)
Qatari Rial (QAR)
Omani Rial (OMR)
Canadian Dollar (CAD)
Hong Kong Dollar (HKD)
Singapore Dollar (SGD)
Australian Dollar (AUD)

Multi-currency transaction charges: 4.99% per transaction

Withdrawal Fees: Zero.
Settlement days: Settlement takes place within 2-3 days. Their committed structure is T=+2 that is transaction date + 2 days of lag for settlement.
Customer Support: Not available over weekends. However, over weekdays, you can easily talk to their customer friendly staff to get your issue resolved.
Documentation required: Bank accounts details.
No of Days to start a transaction: Merchant can go live with EBS payment gateway on day 1 of online activation.
EBS Payment Gateway Login: To login to please click here

Supported eCommerce CMS system on EBS Payment Gateway

EBS payment gateway has plugins available for the following popular CMS systems

Magento
Zencart
Opencart
Tomatocart
Prestashop
WordPress Eshop, E-commerce, woo-commerce, WordPress Easy digital download
Joomla virtuemart, Hikashop,  Akeeba subscription
Joomla Joomshopping

Mobile App Integration: Available for both Android, iOS.
EBS Payment Gateway Contact Details: +91-8080807401
10. CC Avenue
CCAvenue is probably the largest payment gateway in India. Its claim to fame is its real-time, multi-currency, multiple payment support solutions, something which is unparalleled in the country.
It offers integrated payment gateway helping you provide a seamless experience to your customer. It provides integrated transaction-processing, advance shopping cart, auction payment collection facility, fraud control, financial reporting and order tracking.
Type of Payment Gateway: Integrated Payment gateway
Domestic Credit Cards supported: Visa, Master, AMEX, Diners, JCB, Discover

CCAvenue payment gateway charges in India

Initial Setup Fees: ZERO, yes ZERO
Annual Maintenance Charges: Rs 1200
Minimum Annual Business Requirement: ZERO
Applicable Fee per Transaction:

Domestic Credit & Debit cards on Visa, Mastercard, Maestro RuPay: Flat fee @ 2%
Wallets: Freecharge, Mobikwik, OlaMoney, Jiomoney, Paytm, PayZapp, Jana Cash, SBI Buddy, The Mobile Wallet: Flat fee @ 2%
IMPS & UPI: Flat fee @ 2%
International Credit Cards on Visa, Mastercard, American Express, JCB and Diners Club: Flat fee @ 3%
Taxes extra as applicable from time to time

International Payment / Credit card Support: Supported on CCAvenues. Your eCommerce store can represent your product pricing in any number of currencies. Your customers can check-out on the CCAvenue payment options page using their desired currency with Multi-Currency payment Gateway that supports 27 foreign currencies.

Multi-Currency Support on CCAvenue payment gateway:

CCAvenue enables you to collect payments in 27 major foreign currencies and allow your customer to pay in the currency they know best. The currencies supported by AAAvenue are:

Indian Rupee
Singapore Dollar
Pound Sterling
American Dollar
Omani Rial
Bahraini Dinar
UAE Dirham
Euro
Canadian Dollar
Swiss Franc
Baht
Sri Lankan Rupee
Malaysian Ringgit
Qatari Riyal
Hong Kong Dollar
Kuwaiti Dinar
Bangladesh Taka
New Zealand Dollar
Australian Dollar
Nepalese Rupee
Chinese Yuan Renminbi
Japanese Yen
Kenyan Shilling
Mauritius Rupee
Philippine Peso
Saudi Riyal
South African Rand

Multi-currency transaction charges: 4.99% per transaction

Withdrawal Fees: Zero. Domestic Friday and International Tuesday
Settlement days: CCAvenue settles payments on a weekly basis for all amounts over & above of Rs. 1000, which is the minimum amount required to be kept.
Customer Support: Their website claims 24x7x365 days of Voice, Chat and emails support. However, their chat was off on the weekend. IVR system says that they are closed over weekends. However, their sales and the technical team responds very well and also coordinates well internally.
Documentation required: Bank accounts details.
No of Days to start a transaction: Though CCAvenue claims on their website that account gets activated within 1 hour of your registration, in practice, it will take anything between 3 to 6 days. CCAvenue will approve your site and will ask for physical copies of documents before you start transacting through their payment gateway.
Supported eCommerce CMS System: CCAvenue has developed API for most of the shopping carts such as Buildabazaar, Cubecart, Drupal, Interspire, Joomla, Magento, Magento Go, Martjack, Moodle, NopCommerce, Opencart, OsCommerce, PrestaShop, VirtueMart, WHMCS, WordPress, ZenCart.
Mobile App Integration: Available for both Android, iOS and Windows.
CCAvenue Contact Details: Call on +91 22 67425555 / 26000816 / 32913622 / 66920419
CCAvenue is the most versatile payment gateway. So if you have several international customers and a large number of transaction you can depend on CCAvenue.
Summary
We hope that one of the above-mentioned payment gateways works for you and you can achieve your global business expansion.
Best wishes.