I could have surfed 10 other websites in half the time this crap took to load!

Your Anonymous Website Visitor
If you're tired of getting such slams from your visitors, probably this is because you haven't considered your Page Experience seriously yet.
But now you will HAVE TO!
Google has finally arrived at making page experience a major ranking factor. And now the search engine giant is working on a new algorithm, the PAGE EXPERIENCE, which is expected to hit in 2021. (Source)
And it is not just limited to the page loading speed! There are multiple aspects that would combinedly change the face of SEO in the coming years.
So, want to know more about the upcoming google ranking factor?
Read on.
Why a New Google Ranking Factor
There are almost 200 Google ranking factors in its search engine algorithm. These Google ranking factors are what helps Google take action to enhance a site visitors experience.
The stats are in, and the results are undeniable. Take a look.
The above statistics make it pretty clear that user experience is what that matters the most. And Google has been hinting us every so often about how it can affect our website's ranking.
Let us take a recap: In 2010, Google announced that it'd take into account site speed in their search rankings. Later, in 2018, it released the page speed update for mobile searches. And now, it is finally coming up with a whole new set of metrics related to responsiveness, speed, and visual stability, to help site owners measure the page experience of their users.
Let us know in detail about the Page Experience.
What is Page Experience?
Google explains page experience as, "The page experience measures aspects of how users perceive the experience of interacting with a web page. Optimizing for these factors makes the web more delightful for users across all web browsers. This also helps sites evolve towards user expectations on mobile. This will contribute to business success on the web as users grow more engaged and can transact with less friction".
In short, the purpose of this update is to ensure that websites that rank higher do not offer bad experiences to their users. You can also understand this as now only user-friendly websites will rank higher in the search rankings.
So, this brings us to our next question:
What makes Page Experience is So Important for google search ranking?
In simple words, Google will favour a brand that users like to approach. Let us take an example to understand.
Imagine there are two mobile showrooms next to each other. One of them is poorly built with cracked walls and outdated design. As you step inside the store, you see there are no signboards, no proper seating and untrained staff serving the customers in an unprofessional manner. You get annoyed and immediately step out. The next moment you see another showroom with an eye-catching façade, decorated with proper lighting and modern built. You like it and step inside the space. You further discover that the staff people are well-dressed and communicating politely with the customers. All the products are arranged properly in their order of categories. You find a proper seating arrangement and good hospitality. Which one will you prefer to visit recurrently? Obviously, the second showroom!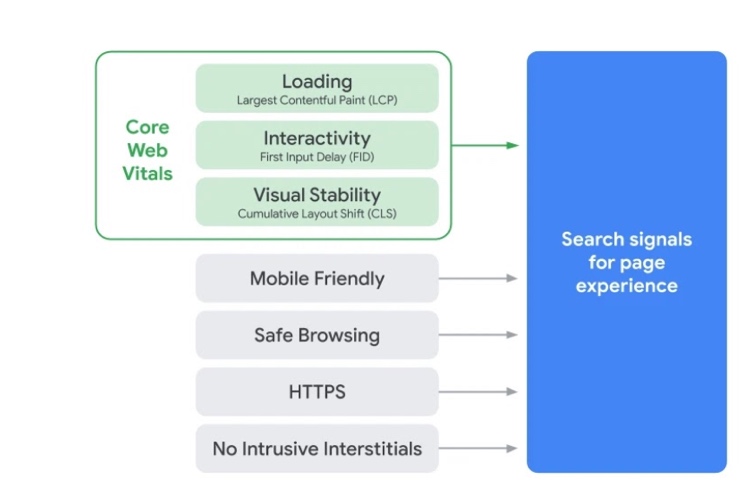 The same applies to the page experience! Google prefers websites or pages that users love the most. Pages that are user-friendly, nicely designed with the faster loading speed and quick response time offer good user experience. And hence are more likely to get top rankings in the Google SERPs.
Latest Google Update 2020: What all it Covers (Google Page Experience Factors)?
This latest google algorithm update (Google's Page Experience update) will cover aspects, like:
Whether the webpage loads quickly.
If the page/site is user-friendly.
The presence of intrusive ads.
If it runs on HTTPS.
Whether the content jumps around when the page loads.
Moreover, the Page Experience update will also cover aspects of several existing Search ranking factors, including the page speed update, mobile-friendly update, safe browsing penalty, HTTPS ranking boost, and intrusive interstitials penalty. Google has included all these refined metrics in its guidelines, the Core Web Vitals.
Other Articles on Search Engine Optimisation
Google's Core Web Vitals Metrics
Web Vitals comprise real-world, user-centric metrics (as Google explains) that measure the user experience for a particular page. These metrics include:


Largest Contentful Paint (LCP): Latest Google SEO update for you
This metric corresponds to measuring the perceived page load speed. Having a webpage that loads faster is a way of crafting a great page experience. LCP marks the point when the largest content element/biggest file (above-the-fold) has completely loaded on the user's device. It should load in less than 2.5 seconds. To get there, site owners should ensure:
All the background scripts are running efficiently.
Using high-quality images that are compressed to load quickly.
Careful usage of plug-ins so that they don't hinder the load times.
First Input Delay (FID): Second among Google Site Ranking Factors
FID is a metric to measure page responsiveness. It measures the time from when a user interacts with a page by performing any action like clicking a button, to the time when the page responds to it. Google believes this metrics to be significant for determining page. This is because the time a page takes to respond to a user-action creates the first expression on the user accordingly. Hence, latency issues play a crucial role in creating an overall bad page experience.
To fall under offering a "good user experience", the FID of a page should be less than 100 milliseconds.
Cumulative Layout Shift (CLS): Third among Latest Google Search Update
CLS focuses on measuring visual stability and how stable the page's layout is. Layout shifts cause great inconvenience to the users, leaving them with a poor page experience. Check out this Google clip that explains how annoying it is for users to experience layout shifts.
For good user experience, google explicitly states that websites should maintain a CLS of less than 0.1 for each of the pages.
A few things to consider:
All these three metrics should be used in combination to achieve a good page experience. For instance, if the LCP of a page is good enough, but if you have poor CLS and FID, it won't aid in increasing the overall page experience of your website.
Google, in its announcement, also emphasizes "page experience" and not "website experience". This means it is likely that Google will focus on a page-level basis for this algorithm. However, this doesn't mean that your website should offer a poor page experience.
How to Determine your Website's Core Web Vitals?
You may use several tools that Google offers to measure your current site metrics. These tools will analyse your page for the core web vitals, as well. With these tools, you can analyse your site and find areas for improvement.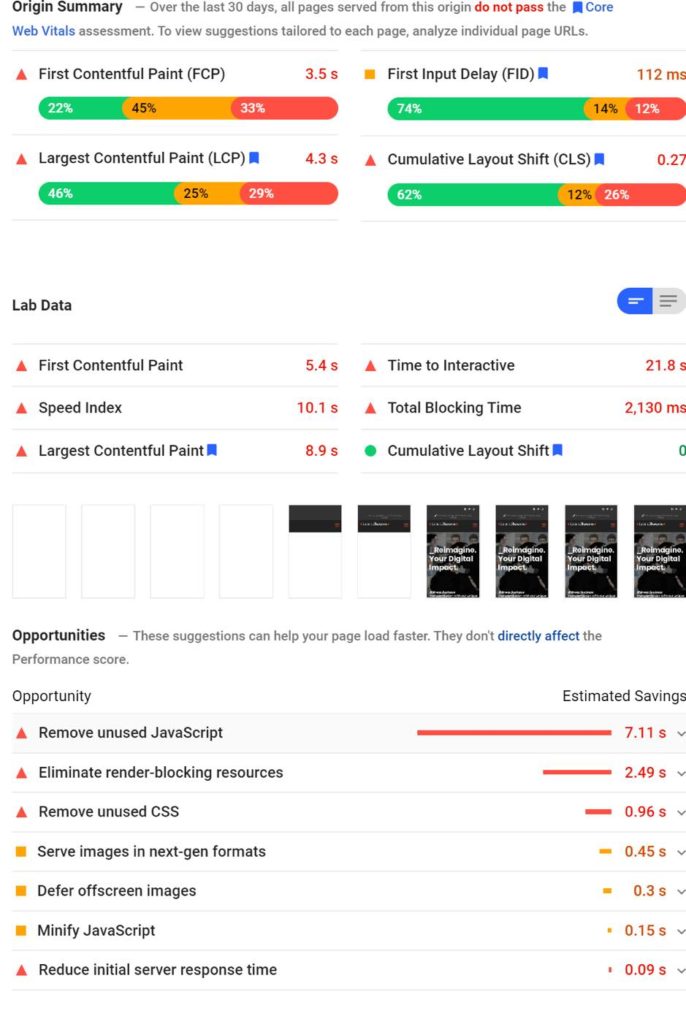 Follow the below-given steps:
With Google Page Speed Insights tool, you can get help if your site needs improvement. How? Google offers a complete, detailed list of factors that affect your site's performance. Besides, it also provides you with opportunities and solutions that you can take to improve your score.
Other Landing Page Experience Tool
Other tools that you can use to determine your site's Web Vitals include:
Lighthouse: You can install Lighthouse Extension for Chrome and inspect your site for the web vitals.
Web Vitals Chrome Extension: To help you measure LCP, CLS and FID on your site pages, Google has created a complete extension. Get the extension and download it for Chrome.
dev Measure Tool: Go to https://web.dev/measure/ and analyse your web pages for Core Web Vitals data.
Chrome UX Report API: Website owners can use the APIs of the Chrome User Experience Report to collect the page-level analysis of Web Vitals.
Is Page Experience More Important than Other Ranking Factors?
Certainly not! Google has placed page experience next to high-quality, relevant content. It has clearly stated in its announcement that it will prioritize the web page with the best information, even if it fails to fulfil some aspects of page experience. Hence, it is clear that quality content will still be a crucial factor for higher rankings in Google search than the Page Experience. In the case of multiple pages with similar content, however, Google will consider page experience more for search rankings.
So, what's the take away for webmasters and marketers here?
Suppose the content on your page is relevant to your competitor and is of similar quality. Further, if that competitor has better page experience, then their page will likely outrank yours.
So, what should you do next?
How to Optimize for Page Experience Update
The good news is that Google hasn't yet announced the launch date of this new update. Besides, it has also promised to give six months' notice to prepare and improve your sites before it goes live.
So, here's how you can optimize your user experience:
Step 1: Optimize the Speed of your website
The first thing you must do to improve your user experience is to work on optimizing your page speed. The faster each of your page loads, the better user experience it creates. As suggested by Google, try to get your page load speed for both mobile and desktop in less than 3 seconds. For the best results, try to achieve the page loading speed in the 1-second range.
Step 2: Reduce 404 Errors
How annoying it is to see the prompt, "Page Not Found", especially when you are looking for something crucial? It is obvious for the user to run away from your site and never look back again. Hence, to offer a good page experience, ensure there are no broken pages on your website. Try to redirect your older/broken links to the new/active links and eliminate the potential risks of 404 errors.
Step 3: Improve your Site's Design
Analyse your website for usability issues and eliminate them. You can use tools like Crazy Egg to test your site. Removing the usability issues is a great way to achieve a positive user experience. It allows your users to explore your website and access the information they are looking for easily. Improve your website for responsiveness, typography, and all other aspects of its design that make it user-friendly.
Step 4: Optimize Mobile Top Stories
As a marketer, you would be aware of Mobile Top Stories! These stories are an important aspect of organic results in mobile SERP. Google uses the Top Stories section to display the best or trending stories related to a particular search phrase. These stories comprise AMP results allowing users to enjoy fast and visually rich page experience. Mobile Top Stories aim to offer the user with the best results on the first position itself.
However, with the new Page experience update, Google will eliminate the AMP as a potential factor for Top Stories. Instead, it will prioritize PAGE EXPERIENCE metrics as an important ranking factor for Top Stories. This means any page that offer a great page experience could be featured as a Top Story. However, Google will continue to support AMP and AMP linking when applicable.
The Final Take Away
It is clear that the page experience ranking factor is Google's another move to blend SEO and UX. Over time, Google is emphasising more and more human interest. It seems like what's best for the users is best for Google or search engines.
So, if you want to impress Google, you will have to impress your users. It's like if everyone loves a site, Google will eventually make sure that the site ranks high (considering the Core Web Vitals).
Also, it is important to keep creating exceptional content that offers true value to the users. If that happens, Google will continue to reward your site. Simultaneously, if you work on improving your CX (customer experience), you stand great chances to reap real rewards search rankings with the algorithm update.
If you are still stuck with understanding the Page Experience update or need any professional assistance regarding optimizing your web pages for the upcoming Page Experience update, get in touch with the experts' team at BrandLoom.
Frequently Asked Questions